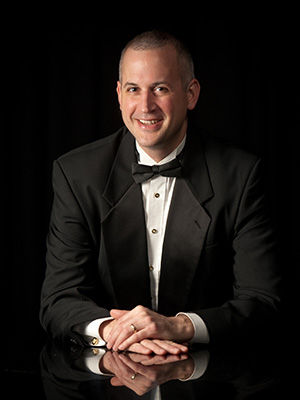 Music faculty
Email
matt.schloneger@hesston.edu
Affiliated Departments or Programs
Education
A.A., Hesston College, 1992
B.A., Goshen College, 1995
Certificate in French language, Cours de Civilsation Française de la Sorbonne, Paris, 1995
M.M., University of Cincinnati (Ohio), 1998
Rotary Scholar, Civica Scuola di Musica di Milano, 1999-2000
Ph.D., University of Kansas, 2014
Publications
Schloneger, M. & Hunter, E. (2015). Assessments of Voice Use and Voice Quality Among College/University Singing Students Ages 18-24 Through Ambulatory Monitoring with a Full Accelerometer Signal. Journal of Voice, In press.
Schloneger, M. (2012). The A Cappella Oratorio: An Investigation of Interactions between Ethos and Fine Art in Choral Singing Among Old Mennonites at Hesston College (1912-1949). International Journal of Research in Choral Singing (4) 1, 60-79.
http://www.choralresearch.org/articles4/ijrcs4_1_schloneger.pdf
Schloneger, M. (2011). Graduate student voice use and vocal efficiency in an opera rehearsal week: A case study. Journal of Voice (25) 6, e265-e273.
Personal Statement
One of my greatest joys as a teacher happens when students take a leap of faith, step out of their comfort zone and achieve something they never knew they could accomplish.
Professional Affiliations
Courses Taught
Mus 161/162/261/262 Private Voice
Mus 116 Class Voice
Mus 137 Class Guitar
ThAr 125/126/225/226 Drama Participation
In Addition …
What draws you to the field of music?
Music is an activity through which we experience community. Through music, we share stories, cultures and emotions in ways that go beyond that which mere words can express. Whether that musical expression takes place in the context of a group singing an a cappella hymn together or a soloist belting out a musical theatre showstopper, music connects us as human beings and draws us closer to our Creator.
What are your favorite courses to teach?
I enjoy Private Voice lessons because of the close personal relationships I am able to develop with students and because of the amazing growth I so often see over the course of two years. I especially enjoy our weekly voice master classes in which students sing for one another. I find that Hesston students consistently help to create a supportive and nurturing environment in which everyone is validated encouraged.
How has your background and experience shaped you as a teacher?
I developed some serious vocal health problems while I was pursuing a performance career in opera at a major conservatory. My own personal struggles led me to begin seriously examining the way our complex vocal instrument works and the science behind it. Now as a doctoral candidate with an emphasis in voice science and health, I've been able to develop a strong understanding of how the voice functions. One of my greatest joys is being able to pass on that knowledge to Hesston College students so that their vocal gifts are protected and developed in a healthy way.
Bio
Matthew Schloneger joined the music faculty of Hesston College in 2001, where he teaches Private Voice, Class Voice, Class Guitar and musical theatre. He chairs of the Department of Fine Arts and directs the Hesston-Bethel Performing Arts series.
Prior to teaching at Hesston, Matthew served as adjunct voice faculty at The College of Mount St. Joseph in Cincinnati, Ohio. A 1992 graduate of Hesston College, Matthew first became interested in a music career while singing in the Bel Canto Singers and taking voice lessons at HC. He has completed post-graduate studies at the Civica Scuola di Musica di Milano in Milan, Italy, where he was a Rotary Scholar. He holds a Ph.D. in vocal pedagogy at the University of Kansas, an M.M. in voice from the University of Cincinnati (Ohio) College-Conservatory of Music, a B.A. from Goshen (Ind.) College in music and sociology, an A.A in liberal arts from Hesston College and a certificate in French language from the Sorbonne in Paris, France.
An active performer in opera and oratorio, Matthew has performed principal roles with Opera Theatre of St. Louis, Operafestival di Roma, Wichita Grand Opera, Opera Kansas, Whitewater Opera, Sorg Opera, Opera for the Young, Opera Theatre of Lucca and others. Favorite roles include Nemorino in L'elisir d'amore and Nanki-Poo in The Mikado. As a concert artist, he has performed as tenor soloist with the Wichita Symphony Orchestra, the Newton Mid-Kansas Symphony Orchestra, the Messiah Festival of Music and Art in Lindsborg, Kan., the Wichita Choral Society, the Coro Bach di Milano and the Lucca Festival Orchestra (Italy), among others. From 1996 to 2000, he served as a cantor at both Hebrew Union College and at St. Mary's Catholic Church in Cincinnati. Matthew performs frequently with The Sunflower Trio, a vocal chamber music trio which includes his wife, violinist Rebecca Schloneger, and HC music professor Ken Rodgers, piano and organ.
Matthew's research interests have focused on singers' health. He is the 2017 winner of the Van Lawrence Fellowship of the National Association of Teachers of Singing (NATS) and the Voice Foundation, honoring one voice teacher nationally each year for excellence in teaching and voice science. His research has been published in the Journal of Voice and the International Journal of Research in Choral Singing. Refereed research presentations include the Physiology and Acoustics of Singing International Conference 6, the NATS National Conference, the Voice Foundation Symposium, the Phenomenon of Singing International Symposium and the National Association for Music Education National Conference. He has studied vocal pedagogy with James Daugherty, Ingo Titze, Richard Miller and Tom Baresel and has studied instructional methods in both classical and musical theatre/pop singing techniques. In 2005, he was one of twelve young teachers selected nationally to participate in the NATS Intern Program in Rochester, N.Y., where he studied under the tutelage of NATS National President Jane Dillard. While not all students desire to pursue professional singing goals, Matt hopes each student will develop an increased love for vocal music and will develop improved self esteem and confidence through the process of learning to sing and perform for others.
Personal Interests/Information
Related Links