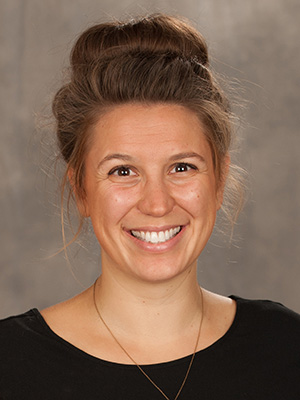 Education and English faculty, Director of First-Year Experience
Email
marissa.king@hesston.edu
Affiliated Departments or Programs
Education
A.A., Hesston College
B.A., Eastern Mennonite University (Harrisonburg, Va.)
M.A., Northcentral University (Prescott Valley, Ariz.)
Research Interests: Transition Pedagogy, Stereotype Threat, Race, Inequity, and Language in Education, School Reform Issues, Urban Education, Teacher Education, Access and Equity, Self-Assessment, Developmental Writing and Source Integration, First-Year College Students
Courses Taught
Educ 103 Introduction to Education
Educ 104 Field Experience
Educ 210 Diverse Learners
Engl 103 ESL Intermediate Writing
Engl 104 ESL Intermediate Grammar
Engl 100 Basic Writing
Engl 125 College Writing I
SCS 101 First-Year Seminar
A 2012 education field trip to Tulsa Central High School - and the New York Times take on the trip
In Addition …
What are your favorite courses to teach? Why are they favorites?
In Introduction to Education, we examine the education system through a lens of equity for all students. Equity of access and achievement gives us a measuring stick with which to evaluate historical development, models of education and address many of the persistent and difficult questions that plague our systems of schooling. The course is particularly wonderful to teach because, instead of using one "expert" author or textbook, students wrestle with multiple sources representing varied perspectives.
Class is shaped around spirited discussion and group work that always returns to our guiding questions: Who benefits and who does not? Whose voices do we not hear? Who is responsible? Is it equitable? While central to our understanding of education, these questions are not meant to only live behind classroom walls. Rather, we can ask these questions when reading almost any text, analyzing a new idea or discussing policy. After all, equity is everybody's business.
How has your background and educational experience shaped you as a teacher?
After completing my undergraduate degree, I worked and lived in Phoenix, Ariz. I taught first grade at an elementary school full of vibrant students whose parents not only cared deeply about the education of their children but also called to see if my windows needed to be fixed after hail storms and brought over plates of steaming food while my house was being renovated. As I dedicated my days and evenings to students, their families invested in me as well.
I worked long hours during my first year as a teacher but I ended the year very proud of my students who were prepared and confident as they headed to second grade. The thought of returning for a second year was encouraging.
During my much needed summer break I spent time with folks who eagerly inquired about my first year as a teacher. "It must have been so hard to work in that neighborhood," some would say. "What do you do when parents just don't care?" See, my school was in a neighborhood labeled "poor" and sometimes called "dangerous" or "scary" by those passing through. To me, it was home.
On 43rd and Van Buren, we had problems just like everybody else but we also had a spirited sense of community. When I rode my bike to school, I passed my students holding out their palms for a teetering drive-by high-five. As I pedaled past, parents checked in on student progress and confirmed the obvious: academic progress was a team effort. "I signed Gustavo's reading log!" they would shout. On days when I stayed late to coach girls' junior high basketball, Hillary's mom often sent a plate of steaming spaghetti. On the weekends, I ate carne asada, compliments of a former students' family. Even the mail carriers gave a wave out the window or stopped to inquire about my new puppy.
I wonder how my year would have been different if I had thought that parents don't care or that my students or their siblings were "dangerous." My first year of teaching cemented what the best teachers already know: what we believe about our students and their families matters. My students met my expectations because, well, it was expected. And I looked for the good in my neighborhood because I was expecting to find a home. What the folks at 43rd gave me was more than I could have hoped for.
How have your role models influenced your teaching philosophy?
My first assignment of my first class of my first year of college was returned with a note from my professor: "Do it again."
After a few tears and a stomach ache that medicine could not cure, I examined my pride. College was a new game and so far, I wasn't getting gold stars. Like many first-year students, I arrived at college with my expectations warped from a senior year topped with a homecoming crown, a solid basketball record and a busy schedule that was light on academics.
My professors, it turned out, were not distracted by my past "accomplishments" nor my busy extracurricular schedule. They wanted excellent work now. So I sat and worked on my art project and wrestled with the command that came to define my first semester of college: Do it again.
Although I can't remember many of the assignments I completed my first year of college, I know that I did them more than once. I restructured my art projects, completed rough drafts, corrected spelling errors and began to embrace the process instead of just the outcome. The art professor who demanded better work taught me to take myself seriously and hold myself to high expectations regardless of the class.
Adrianne Rich said it best when she noted that being serious about education means "recognizing that the most affirming thing anyone can do for you is demand that you push yourself further" (Rich, 1977). So to my students who have and will continue to receive notes that contain some variation of my first feedback in college, take it as an affirmation that I care, and of course, do it again.
Related Links