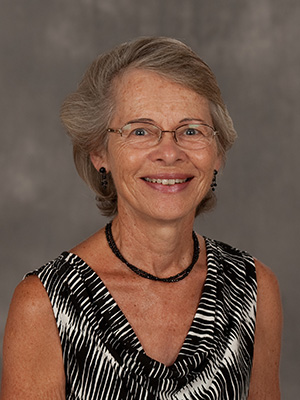 Spanish faculty
Email
maria.day@hesston.edu
Affiliated Departments or Programs
Education
B.A., Goshen College, 1973

Personal Statement
I believe teaching is about experience, the experience students have in the classroom and my own personal encounters with each one. Each day in the classroom is different than the last, which allows for growth for me and for the students as lifelong learners. My joy as a teacher and as a learner is to create meaningful experiences which "educate and nurture each student within Christ-centered community, integrating thought, life and faith for service to others in the church and the world."
Professional Affiliations
Courses Taught
Engl 100 Basic Writing
SCS 101 First Year Experience
Span 101 Elementary Spanish
Span 102 Elementary Spanish II
Span 201 Intermediate Spanish
Span 202 Intermediate Spanish II
In Addition …
Resource for Students:

Tecla - Online Spanish magazine with postreading activities
What draws you to the study of Spanish?
When I was eight years old my family immigrated to the United States, and as part of that transition, it was necessary to learn a second language and to adapt to a different culture. As a third grader, I was placed in the first grade due to the lack of English skills; there were no English as a Second Language classes. It became obvious that in order to learn the language, one had to practice by speaking and be willing to make mistakes. While in high school, I studied Spanish as my third language. Although my plan of study for college was a different discipline, when it was time to declare my major, the passion of continuing with the study of Spanish language and culture revealed my choice of language education.
In a world that is increasingly interdependent, we can no longer afford to remain monolingual. An integral part of learning another language is experiencing the cultural environment in which it is used. By engaging in learning another language and experiences representative of the culture, students will gain knowledge and acquire insights into how the members of the culture talk, think and act. This will expand their world views in terms of learning about another culture and will provide an opportunity for a better understanding of their own. Improved understanding of cultures will lead to students' increased confidence in their ability to deal with individual and global differences, as well as similarities.
What about teaching energizes you?
I teach Spanish in a dynamic style, creating an active learning environment, which actively engages students and makes the content more comprehensible. My lessons are based on dialogue and discussions, which also foster life-long learning. One requirement is to have ganas (desire) to learn. I believe that nothing can be achieved in life if there is not desire. My philosophy of teaching is also based on my own language learning experience. I like to share with my students some of personal anecdotal stories of my struggles and accomplishments as a second or third language learner. When a student demonstrates the ganas, the effort to communicate in the target language, it provides me the ganas to continue to develop additional creative learning experiences.
How has your background and educational experience shaped you as a teacher?
The strategies that I implement and modify in my class are a result of my reflective teaching and interest in lifelong learning. I am continuously preparing myself professionally by attending educational conferences and by learning how to integrate technology in my classroom. I believe that technological tools can foster students' learning. Therefore, I design assignments that require students to use technology for assessment and additional practice, as well as creating an awareness of cultural connections.
Related Links