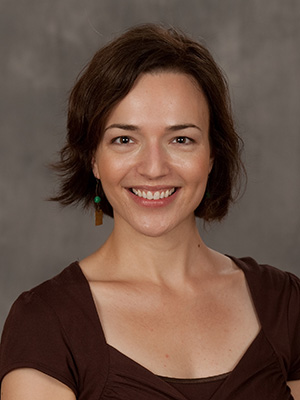 Theatre faculty
Email
laura.kraybill@hesston.edu
Affiliated Departments or Programs
Education
B.A., Communication, Goshen College, Goshen, Ind., 2004
M.A., Theatre Education, Emerson College, Boston, Mass., 2010
Research interests: Theatre in Ministry, Theatre for Social Change, Theatre across the Curriculum
Publications: Several articles in The Mennonite, contributor to Anabaptist prayer book, Take Our Moments And Our Days
Personal Statement
I teach at Hesston because here students learn the art of collaboration and leadership in a faith-based environment. In a two-year college, leadership opportunities are plentiful. This is especially true in Theatre, where students hold lead roles in plays, direct One-Acts, or run the lighting board in their first two years of college. One of my greatest joys is observing the growth that occurs in this intensive artistic community. I have seen students shine as they develop their leadership skills or as they wrestle with characters very different from themselves.
Courses Taught
ThAr 115 American College Theatre Festival
ThAr 125/1126/225/226 Drama Participation
ThAr 127 Acting
ThAr 141 Music Theatre Workshop
ThAr 211 Drama in the Church
Hum 203 Theatre Appreciation
In Addition …
What draws you to theatre?
I am drawn to theatre because I love the way it draws actors and audience members to experience someone else's life. Acting is enforced compassion in that we must care about the character we are portraying, whether we like them or not. This is a Christ-like action that pulls us out of the bubble of our own judgments. Audience members are drawn to look at the lives of others in ways that shed light on their own lives or conceptions of the world.
What are your favorite courses to teach? Why are they favorites?
I enjoy directing more than anything because I get to guide students as they make discoveries about themselves and their characters. Watching a character come to life on stage after the hard work of rehearsing is immensely gratifying. Nothing beats the way time is suspended as actors and audience members enter the world of the play during performance.
How has your background and educational experience shaped you as a teacher?
As a missionary kid, I grew up all over the world .This multiculturalism shapes the way I employ diverse cultures and opinions in my teaching and play selection. I've also learned about the art of teaching through my studies in graduate school. I am more effective as a teacher because not only have I studied my craft, but I have learned how to communicate that craft in meaningful ways.
Who are your role models or mentors?
As someone with a keen interest in the ministry arts, I have been influenced by Eleanor Kreider, June Alliman-Yoder and Michele Hershberger, all Mennonite professors who have taught the art of worship and preaching. I have also been influenced by Augusto Boal, an internationally known teacher of Theatre of the Oppressed, which empowers impoverished communities to resist oppression through theatre.
How will Hesston's Theatre program challenge students academically?
Through classes in Theatre Appreciation, Acting, Drama in The Church, Musical Theatre Workshops, and in productions, students will be challenged to learn divergent ways of thinking and make connections with their own lives.
What are the advantages students in theatre find coming to Hesston?
The opportunity to be involved in theatre right away is a huge advantage of this two-year institution. At four-year schools, students would have to wait for those larger leadership opportunities until their junior or senior years. At Hesston students make an impact in the world through theatre. They use theatre to shape the church and the communities in which they live.
What do you most want to know about prospective students?
I want to know what background they are coming from, either theatrically or personally. It is important that as I create classes I am able to tailor them to the learning needs of my students. I also like to know what their goals are in theatre so that we can together work out a strategy for reaching those goals.
How do students and faculty in this program connect beyond/outside the classroom?
At Hesston there are many opportunities for students and faculty to interact outside of the classroom. Whether it is eating together in the cafeteria, connecting over a cup of coffee in the school coffee shop or visiting in my office, I am frequently engaging with students in non-structured environments. This connection builds a professional relationship that often develops into friendship. I love working in a place where that can and does happen.
What do high school students need to know about Hesston's learning environment?
They need to know that Hesston is a place where they can succeed academically, no matter what their background. I am impressed with the tutoring and study groups set up that help many students achieve their academic goals.
Where do this program's alumni go and what do they do after Hesston?
The slogan "Start Here. Go Everywhere" really means what it says. Students have found future employment or study in about as many fields as there are available. The great thing about Hesston is that it provides a solid intellectual, emotional, spiritual and social base from which any student can "Go Everywhere."
Related Links