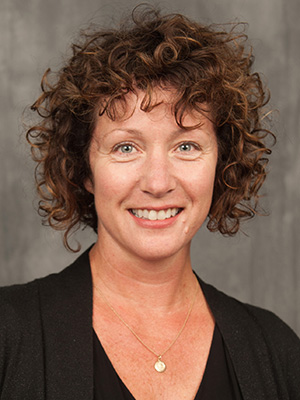 English faculty
Email
karen.levan@hesston.edu
Affiliated Departments or Programs
Education
B.A., English, Bethel College (North Newton, Kan.)
M.A., English, University of Oklahoma (Norman)
Ph.D., English, University of Oklahoma (Norman), 19th and 20th Century American Literature
Research Interests: Medical Humanities and Health Communications; Teaching and Learning; Performance Studies; Gender and Identity
Publications
Sheriff LeVan, Karen and Marissa King. "Built-in Self-Assessment: A Case for Annotation." Faculty Focus (December 2015). Web.
King, Marissa and Karen Sheriff LeVan. "Annotated Learning: Moving Past "You Didn't Try." The Teaching Professor (September 2015): 4-7.
Sheriff LeVan, Karen and Marissa King. "Team Teaching: Active Learning Practice for Teachers. The Teaching Professor (February 2015): 4-6.
Sheriff, Karen. "Signifyin(g) and Re-membering the Self in Toni Morrison's Beloved." Semiotics 1996. Eds. C.W. Spinks and Terry Prewitt. New York: Peter Lang, 1997: 290-300.
Presentations - collaborations
Sheriff LeVan, Karen, Marissas King, and Marelby Mosquera. "Creating Schools and Classrooms of Reconciliation: Confronting Stereotype Threat." Mennonite Educators Conference. National Conference Center, Leesburg, VA. 6 February 2016. Keynote Address.
King, Marissa, Karen Sheriff LeVan, and Marelby Mosquera. "Mind the Gap: Combatting Stereotype Threat." Mennonite Educators Conference. National Conference Center, Leesburg, VA. 5 February 2016.
Mosquera, Marelby, Karen Sheriff LeVan, and Marissa King. "School Counselors and Stereotype Threat." Hesston College Professional Development Series. Hesston College, Hesston, Kansas. 4 November 2015.
Sheriff LeVan, Karen and Marissa King. "Everybody's Business: An FYE Framework to Prioritize Teaching and Learning." First-Year Experience Conference. National Resource Center. San Diego, CA. February 2014.
Sheriff LeVan, Karen and Marissa King. "This is Me Loving You: Stereotype Threat on Mennonite Campuses." Mothering Mennonite Symposium. Bethel College, North Newton, KS. October 2013.
Sheriff LeVan, Karen and Dwight Roth. "Intergeneration Conversations on Aging and Diversity." AARP Conference. Chicago, Illinois. May 2009.
Presentations - individual
"Intergenerational Conversations on Aging and Identity: Honoring Liminality and Narrative Competency." Mennonite Education Agency Marpeck Conference. Conrad Grebel University College. University of Waterloo. Waterloo, Canada. 1 June 2014.
"Breathe In, Breathe Out: Yoga as Spiritual and Cultural Practice." Convocation. Krehbiel Auditorium. Bethel College. North Newton, Kansas. April 2010.
"Spoken, written, and silent narratives: Catastrophically ill care receivers and givers re-member." 2nd International Congress for Qualitative Inquiry, University of Illinois, Urbana-Champaign. May 2006.
"In/between Identities: Liminality and Care in Louisa May Alcott's Adult Writings." National Communication Association Conference, Performance Studies Division. Chicago, Illinois. Nov. 2005.
"Responding to Writing Experience(d): Intellectual Hospitality in College Writing." Oklahoma City Community College Writing Symposium, Oklahoma City, Oklahoma. April 2005.
"Grant Writing and Research 101," Sarkeys Foundation Tool Box Series, Development Workshop, Norman, Oklahoma. March 2005. May 2004
"Successful and Creative On-line Grant Research." Southwest Regional Leadership Forum, Sarkeys Foundation, Norman, Oklahoma. November 2003
"Performance and Identity in Martha Graham's Lamentations and Frontier." American Literature Association Conference, San Diego, CA. May 1998.
"Performance, Body, and Identity in Alcott, Mukherjee, and Morrison," Articulating Conflicts in Cultural Studies Conference, University of Arizona, Tucson, AZ. February 1998.
"Metonymical Re-membering and Signifyin(g) in Beloved: Toni Morrison's Theory of Subjectivity and Resistance," Semiotic Society of America Conference, Santa Barbara, CA. October 1996.
"Performance, Subjectivity, and Semiotics: Peirce, Greimas, and Stan Kenton," Semiotic Society of America Conference, San Antonio, TX. October 1995.
"Vocalizing the Self: A [Michelle] Shock[ed] to the System." National Women's Studies Association Conference, Norman, OK. June 1995.
"How do you tell the dancer from the dance?: A Peircian Analysis of the Body in Dance." National Women's Studies Association Conference, Ames, IA. June 1994.
Professional Affiliations
Courses Taught
Engl 100 Basic Writing
Engl 125 College Writing I
Engl 135 College Writing II
Engl 225 Advanced College Writing
Engl 112 Studies in Literature
Engl 216 Modern Literature
Engl 217 Literature of Race, Ethnicity and Gender
Engl 220 Creative Writing
SCS 101 First-Year Seminar
In Addition …
What draws you to literature and writing?
In literature readers meet characters who represent the complexities of being human that authors find dear, defining, and threatening. In college papers, students represent their own developing ideas and manifest what they are learning from others' writing. In both of these written forms — published texts and student writing — I consider it an honor to read another person's carefully crafted text. The page is as much a meeting place as anywhere else; it's a place that magnifies one's participation as either the reader or the writer. Both are roles I take seriously and with great love. To help a writer express more fully what she or he intends is a thrilling and humbling experience.
Literary theory, as much as fiction, poetry, drama, or essays, draws me to the discipline of English. I believe we write our life experience, and that it is essential we develop awareness of the critical lenses we use to interpret texts, one another, and the world. Of course, experiences happen to people that cannot be put into words, and bodily memory is strong, but sense-making and sharing of memories and identity requires language. I believe as Ludwig Wittgenstein asserts, that "the limits of our language are the limits of our world," and that it is critical we carefully develop abilities to express and interpret the diverse complexities of the human condition. Being a small part of that great effort is what draws me to literature and writing.
What about teaching energizes you?
Teaching keeps me constantly learning and growing. I do not know a context more consistently challenging or rewarding than the classroom — especially the literature and writing classroom where nothing is given and everything is open to interpretation and representation.
Close reading, critical inquiry, and successful writing require attention to one's approaches, assumptions, and meaning-making habits. Students in my classes study diverse writers, question texts as they would their closest friends or kin, and apply literary approaches that expand their ways of thinking and writing.
My favorite and most certain idea about literature is that in it readers encounter diverse people and psychological, historical, and cultural circumstances they otherwise would not. Writing and literature, I believe, simply make people more fully developed human beings.
Who are your role models and mentors?
My mentors include writers and teachers who model for me the value of distinguishing and honoring individuals' feelings, backgrounds, circumstances, and choices of expression and representation. My father, John Sheriff, who has been an English professor for most of his life, taught me to interpret texts with a lens that is generous, curious, and critical — and therefore respectful. American transcendentalists such as Ralph Waldo Emerson and Walt Whitman helped me think critically and passionately about language, nature, community, and identity. Poets such as William Wordsworth, Emily Dickinson, and Robert Frost enhanced my love of place, showing me the mutually transformative relationships of words, punctuation, time, and space. Modernist and postmodernist writers display for me the crippling, human reality of angst and loss as well as the hope and peace that with them can eventually come — "for peace comes dropping slow," to quote William Butler Yeats. Nineteenth- and twentieth-century women writers such as Louisa May Alcott, Edith Wharton, Willa Cather, Julia Alvarez, and Toni Morrison taught me how playing with themes and conventions can destabilize and reshape them as well as confirm them. Writers of all ages and abilities continue to teach me that carefully constructed narratives have the power to change the ways we think about and experience race, ethnicity, gender, age, and class. These and many other writers and teachers have taught me to speak and read and write knowing that every word matters.
Of course, in real time and off the page, I am mentored by my family who keeps me grounded in the stunning power and beauty of the miraculous mundane and by Hesston College colleagues and students who continue to challenge me with the rhythms and tensions of teaching and learning.
Related Links