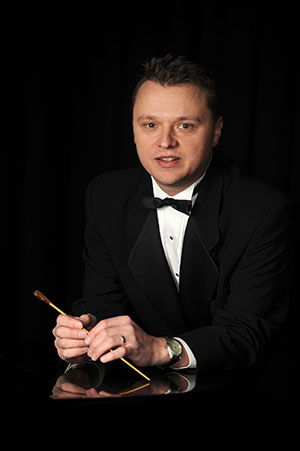 Music faculty
Email
bradley.kauffman@hesston.edu
Affiliated Departments or Programs
Education
B.A., music education, Goshen College, Goshen, Ind.
M.A., choral conducting, University of Iowa, Iowa City
Personal Statement
I am drawn to teaching at Hesston because of a strong culture of possibility in this place. It is a joy to grow together with students and colleagues, learning about life, faith and vocation
Courses Taught
Mus 108 Introduction to Conducting
Mus 111/112/211/212 Bel Canto Singers
Mus 200, 201 Music Theory I, II
Mus 250 Independent Study in Composition
Hum 240 International Choir Tour
In Addition …
Bio
Bradley Kauffman teaches courses in music theory and conducting and conducts the Hesston College Bel Canto Singers. A native of Ohio, Bradley taught vocal and instrumental music in Iowa and Indiana before moving to Kansas in 2007. Under his direction, the Bel Canto Singers was selected to perform at the 2012 Kansas Music Educator's Association in-service workshop. Bradley earned a B.A. in music education from Goshen (Ind.) College in 1996 and an M.A. in choral conducting from the University of Iowa (Iowa City) in 2002, where he studied under Dr. Timothy Stalter. He studied composition with Alice Parker and Jeffrey Jacob. Bradley accepts invitations to speak on topics of music education and church music and is active as a guest conductor and clinician. Bradley lives in Newton with his wife, Renee Kanagy, daughter, Lucca, and son, Rowan.
What draws you to the study of music?
Music has always been the most powerful way I experience story. It has helped me understand the stories of people from different times and places and guided the ways I understand and express my own story. A significant part of this is how music illuminates the biblical narrative.
What about teaching energizes you?
I thrive on the challenge of creating space for students to be dramatic musical story-tellers.
What are your favorite courses to teach? What do you like about them?
I am drawn to the many profound moments that occur Hesston College ensembles. I am excited about mentoring aspiring performers and music educators. Students who enroll in Music Theory and Conducting are especially driven to pursue lifelong music making. These students are great fun to teach.
How will Hesston's Music program challenge students academically?
Our music department offers a unique degree of personal attention, giving the student both an outstanding artistic experience while challenging them in the theory classroom and private studio. Opportunities for leadership including solo performance and student conducting are abundant.
What advantages will music students find at Hesston?
Immediate and frequent performance. First year students have instant access to prominent roles. Instead of competing with juniors and seniors, our freshmen and sophomores earn performance experiences they would otherwise postpone until the final years of college. Studying at Hesston will accelerate your musical development.
What do you most want to know about prospective students?
Where do you want to go with your music making?
How do Music students and faculty connect beyond the classroom?
Our department carries out a great deal of co curricular programming, including touring, performing in local churches, and concerts on campus. We develop strong bonds among students as they focus on achieving high levels of artistry and community expression.
What do high school students need to know about Hesston's learning environment?
You won't find a more supportive environment than Hesston College. Faculty members are invested in students as individuals. We are a small campus that will make a big impact on your life story.
Related Links