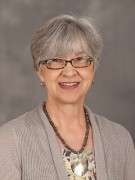 Director of Nursing
Email:
bonnie.sowers@hesston.edu
Office Location:
Lemons Center (L-3)
Affiliated Departments or Programs
Educational Background
B.S.N., Goshen (Ind.) College, 1969
M.S. in Nursing, Ohio State University (Columbus), 1975
Personal Statement
The quality of instruction and caring relationships are at the
heart of the Hesston College nursing program, creating a nurturing
environment where each of us can learn, develop and grow in faith.
Theres no other place where I would rather work than with our staff
and students!
Courses Taught
Nurs 110 Medical Terminology
Nurs 212 Fluids and Electrolytes
Nurs 285 Cooperative Education
In Addition …
Hesston College Nursing faculty member 1970-72, 1975-present
Areas of responsibility:
Director, Division of Nursing
Associate Academic Dean, Hesston College
Coordinator for Clinical Observational Experiences in Nursing IV
Classroom instruction for Nursing Integration Seminar and Biblical Literature
Curriculum development and program evaluation emphasis
Program Evaluator, National League for Nursing Accrediting Commission