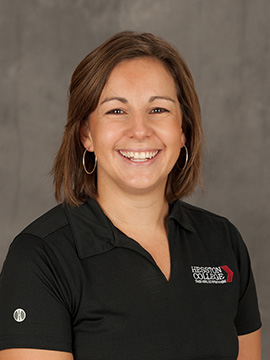 Director of Nursing Education
Email
becky.bartell@hesston.edu
Office
Charles Hall (C-22)
Affiliated Departments or Programs
Education
B.S.N., Bethel College (North Newton, Kan.), 2002
M.S.N., Fort Hays (Kan.) State University, 2013
Licensure and Certifications
R.N., Kansas
Certified Nurse Educator (CNE)
Personal Statement
My goal as a nursing instructor is for each student to develop into a passionate, caring nurse and see nursing as a service to humankind.
Courses Taught
Nurs 300 Nursing Foundations I - lead faculty
Nurs 302 Foundations II and Maternal/Child Nursing
Nurs 402 Acute Care Nursing II - lead faculty
Nurs 406 Healthcare Informatics, Quality and Safety
In Addition …
Hesston College Nursing faculty member 2010-present
What draws you to the field of nursing?
Nursing is a natural extension of who I am. I chose nursing because of the care and compassion involved in nursing, it is truly a calling.
What about teaching energizes you?
I love working with students who are excited to learn and I find that students continue to push me learn more and understand concepts more deeply.
How has your background and educational experience shaped you as a teacher?
I received my undergraduate degree as a "traditional age" student right out of high school and later went back for my graduate degree online while I worked full time and had a family. These educational experiences help me relate to almost any student who walks through the door. Time and stress management are key to being a successful nurse and I hope each of my students can learn not only how to care for their patients holistically, but also care for themselves.
Related Links