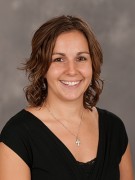 Nursing faculty
Email:
becky.bartell@hesston.edu
Office Location:
Charles Hall (C-22)
Affiliated Departments or Programs
Educational Background
B.S.N., Bethel College (North Newton, Kan.), 2002
M.S.N., Fort Hays (Kan.) State University, 2013
Personal Statement
My goal as a nursing instructor is for each student to develop into a passionate, caring nurse and see nursing as a service to humankind.
Courses Taught
In Addition …
Hesston College Nursing faculty member 2010-present
Areas of teaching responsibility:
Campus lab and clinical instruction for Nursing I and II
Alternative experience coordinator for Nursing IV (home health, hospice, renal care/dialysis)
What draws you to the field of nursing?
Nursing is a natural extension of who I am. I chose nursing because of the care and compassion involved in nursing, it is truly a calling.
What about teaching energizes you?
I love working with students who are excited to learn and I find that students continue to push me learn more and understand concepts more deeply.
How has your background and educational experience shaped you as a teacher?
I received my undergraduate degree as a "traditional age" student right out of high school and later went back for my graduate degree online while I worked full time and had a family. These educational experiences help me relate to almost any student who walks through the door. Time and stress management are key to being a successful nurse and I hope each of my students can learn not only how to care for their patients holistically, but also care for themselves.