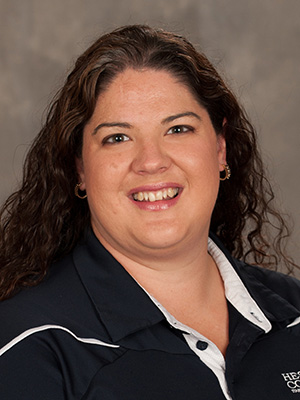 Chief Flight Instructor
Email
amy.birdsell@hesston.edu
Office
Newton City-County Airport
Affiliated Departments or Programs
Education
A.A.A.S., Hesston College, 2001
B.A., MidAmerica Nazarene University, 2003

Personal Statement
I teach at Hesston because I love sharing the joy of flight!

Professional Affiliations
AOPA (Aircraft Owners and Pilots Association)

Courses Taught
Instrument Ground School
Private Pilot
Instrument Rating
Commercial Pilot
Certified Flight Instructor (CFI)
CFI - Instrument
Multi-engine

In Addition …
How did you choose to study Aviation?

I have been passionate about aviation ever since my first flight in a small airplane when I was about 12. Flying broadens my worldview quite literally into a three-dimensional world. My worldview is expanded also by the people I meet and the places I am able to go because of aviation.

What are your favorite courses to teach? What do you like about them?

I am responsible for the the Aviation department's Instrument course. I love teaching new instrument pilots to be smooth and precise, and really get into the ATC system. It's really fun to take a student into the clouds for the first time and to see their smiles when they break out on top with the magnificent views!

How does your background and educational experience shape your teaching at Hesston?

I am a 2001 graduate of Hesston College's aviation program. I spent the next few years flight instructing in the Kansas City area while obtaining my B.A. in religion with a music minor. My well-rounded academic experience helps me understand students from a variety of perspectives. The leadership training and experiences that were part of the religion major have helped me take on a variety of roles, such as being responsible for the development of the department's Instrument program. My music education also allows me to stay connected with the music program on campus.

What do you most want to know about prospective students?

I want to know what motivates them. Why do they want to fly? What kind of energy are they going to come with to help them succeed in this program?

How do you connect with students in the program?

Working at our airport facility provides unique challenges because I do not get to the main campus on a regular basis. However, when students arrive at the airport, they are very willing to just sit down and talk about their lives and what is happening on campus. This helps them connect with me as an instructor and relieve some stress so they can transition into a focus on their flight lessons. I always listen to the unique challenges that each student brings and try to address their specific issues and learning styles.

What do prospective students need to know about Hesston's learning environment?

Hesston, and especially the aviation program, is a place where you learn to take responsibility for your own success. Sometimes this is a quick process and other times it can be a struggle. However, you have a wonderfully supportive faculty and staff who want to facilitate this process in whatever way they can.

Where do alumni go and what do they do after Hesston?

Aviation alumni are flying every type of airplane in all parts of the world. We have several in mission organizations flying people and resources to remote parts of Africa. We have airline pilots at all levels flying for carriers such as American and Delta. Several teach at Flight Safety International, the premier training center for business aircraft. Our alumni work for the FAA, AOPA, Cessna, and other highly respected organizations. They do medical evacuations, flight instruction, and demonstration flights for prospective buyers of business jets. Alumni of have opportunities to Start Here, Go Everywhere!

Related Links