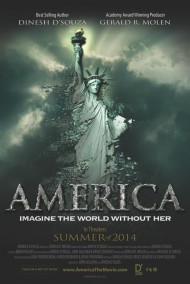 This summer, as movie-goers flock to one of the summer's most talked about films, New York Times best-selling author Dinesh D'Souza's America: Imagine the World Without Her, they will hear music from a man who started at Hesston College.
Brian "Bryan" Miller '86 (Valley Village, Calif.), is the founder of Sensory Overload Music, the company providing the original score to America, a follow-up to the movie 2016: Obama's America (2012).
As a Hesston student studying music and composition, Miller's goal was to compose a unique piece of music that pushed the assignment's boundaries.
"I intentionally tried to make my compositions sound different and stand out," said Miller.
Those unique compositions led him to more experiences, including Azusa (Calif.) Pacific University, the Grove School of Music (Los Angeles) and University of California, Los Angeles.
"Hesston was an essential first step," Miller said. "I got to where I am from one humble job to the next. It's really about serving and becoming valuable – basic biblical principles put into action."
Today, Miller's clientele list spans some of the industry's largest companies, and his work has been featured in projects including American Idol, The Big Bang Theory, Dancing with the Stars and commercials for Nike, Taco Bell, Ford, the NFL and more. He also has a personal passion for working with charities and humanitarian organizations.
For America, Miller composed about 85 minutes of music ranging from orchestral, American, Mexican, Irish, Native American, high tech electronic and patriotic and uplifting themes, and worked with world-class musicians and vocalists.
"Film and television are powerful media that can be used positively or negatively to great effect," said Miller. "I'm working to be very intentional about the projects I'm involved with. It's a wonderful feeling when you have the opportunity to be part of a winning team that wants to bring positive change to the world.
"I like Hesston's tagline, 'Start Here, Go Everywhere'," said Miller. "When you are starting out, you have hopes, dreams and ambitions, but it takes real skills, determination, perseverance and hard work to accomplish goals."