Relationships and connections are an important part of how Katie Boyts '02 (Baltimore, Md.) approaches her day-to-day life. Boyts' unique creativity and curiosity in people and in food have opened doors for her to pursue a career as a full-time pastry chef and sometimes blogger.
Boyts' passion for creating is evident in the eloquent ways she tells stories of food and those who prepare it, and also in her culinary creations like the whimsical Fruity Pebble Oatmeal cookie – her claim to fame.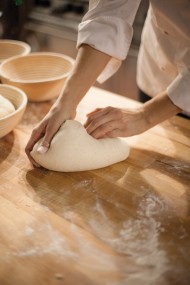 Her interest in people's lives began to blossom while she was a student at Hesston College, where she says she learned how to effectively interact with people and how to have meaningful relationships. After Hesston, she earned degrees in peace, justice and conflict studies and women's studies from Goshen (Ind.) College. Following college, she began a career in domestic violence advocacy work in Portland, Ore.
"I began to get burnt out working in social work," she said. "I could see it was not a sustainable career path for me. I started spending more time cooking and baking and found myself wondering how my grandmothers made the traditional Mennonite food."
Having grown up with the influence of strong Mennonite women cooks like her grandmother Belle (Stoltzfus) Ac51, '53 Boyts, and with questions burning in her mind, Boyts started The Shoofly Project, a blog exploring and telling the food stories of Mennonite women.
"Spending my time cooking, baking and blogging was a refreshing thing to come back to," Boyts said. "I felt engaged and encouraged by connecting with a lot of different people, and I got to use food as an access point."
As she spent more and more time in the kitchen, Boyts decided to make her passion a career and enrolled in the Robert Reynolds Chef's Studio in Portland, where she developed a strong interest in pastry baking.
Her baking career began as an apprentice to bread bakers at Cloud Cliff Bakery in Santa Fe, N.M., and as a pastry chef at Two Boroughs Larder (Charleston) where she first created the Fruity Pebble Oatmeal cookie, which was inspired by Christina Tosi of Momofuku Milk Bar in New York City. The cookie was discovered and reviewed online by Bon Appétit magazine in January 2013. Boyts also worked at Brown's Court Bakery in Charleston, S.C, and in July 2013, she helped open Dooby's, a café-restaurant in Baltimore where she also works as head pastry chef, mentoring others with her creativity and passion.
Boyts has quickly transitioned from student to teacher while building and maintaining relationships that she found to be such a connection point through The Shoofly Project. Approaching those relationships with respect and understanding servant leadership allow her to be an effective and encouraging mentor.
"Hesston gave me the ability to work with people and approach relationships confidently and with a core understanding that the relationship and person matters," Boyts said. "I began to build that framework at Hesston, and the ability to maintain a positive relationship has always led me to something valuable."