Nelson Kilmer's quiet demeanor and wisdom, Hugo Boschmann's infamous "quizzies" and Lorna Harder's passion for birds – regardless of whether Hesston College alumni had classes with these legendary science and math instructors, their idiosyncrasies, reputations and stories are familiar to more than two generations of alumni.
The end of the 2013-14 academic year marked the end of an era and a major transition within the department with the retirement of these beloved instructors who gave much of their lives in service to Hesston College and thousands of students who started here.
Nelson Kilmer – 46 years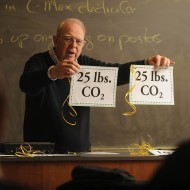 Nelson Kilmer is known among the Hesston College community for his gentle and passionate approach to teaching. Students and alumni know of his passion for solar energy, and many have worked on solar power projects under his tutelage and expertise. But Kilmer's vast knowledge encompasses much more than the physics and calculus classes he taught for decades. He leaves his mark on 46 years of Hesston College history from faculty and administrative roles.
"I have worked in enough different areas at Hesston College that my work has never been boring, and it's made for an interesting career," said Kilmer.
Kilmer accepted a science and math teaching position at Hesston Academy in 1963, fresh on the heels of receiving a bachelor's degree in education with a physics major and math minor from Goshen (Ind.) College. He taught high school science and math courses until 1965 when the Academy was phased out, then left Hesston to pursue a master's and Ph.D. in physics from Kansas State University (Manhattan). In 1970, he was invited to return to Hesston College to again teach science and math. In 1973, dean Clayton Beyler invited him to make a move to the position of associate academic dean.
Though he continued to teach physics throughout his tenure with the college, Kilmer served for seven years as associate academic dean, then for 19 years as director of Finance and chief financial officer where he managed the college's budget and finances, was instrumental in the startup of the Aviation program, supervised the departments within auxiliary services and helped plan and oversee 16 major building projects. In the early 2000s, he returned full time to the classroom, serving as chair of the science department and chair of the natural science division at various times. He has also been a leader in academic assessment and analysis where his efforts, partnered with others', have led to significant improvements in students' academic and overall Hesston Experience.
"Not only has Nelson fulfilled many roles at Hesston, but he led with vision, thoughtfulness, wisdom, creativity and humility, with no need to impress others," said colleague and nursing director Bonnie (Kauffman) Ac65, '67 Sowers.
Beginning in 1970, Kilmer spent five summer breaks conducting post-doctoral research at the University of Alberta (Canada), but he always returned to Hesston College. "I had fun and enjoyed my work in Alberta, but I didn't feel there the goal that I did working with students at Hesston," Kilmer said. "I have always identified with the mission of Hesston College – to educate and nurture students within Christ-centered community – and that felt good to me."
Teaching physics classes has been one of Kilmer's most enjoyable roles – especially the annual hands-on research projects classes conducted.
"I have enjoyed the interactions with students, seeing them come back and hearing about where they have gone," said Kilmer.
Kilmer and his wife, JoAnne, look forward to traveling and visiting family in their retirement, though he notes he will always make time for continued learning and hobbies.
"I have appreciated the relationships that are so easily formed here and the stimulation for creating new ideas that come from students, colleagues and the campus community," said Kilmer.
Hugo Boschmann – 36 years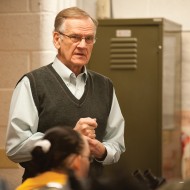 When Hugo Boschmann interviewed for the biology instructor role at Hesston during Thanksgiving 1977, he told administrators he was looking for long-term employment. For 36 years, he has fulfilled that declaration, and leaves a reputation for challenging courses and pushing students to their fullest potential.
"Students will perform at the level you expect of them," said Boschmann. "If you expect great things, they will perform, and it's so rewarding to see them achieve that."
It was only 12 years before his Hesston College interview that Boschmann arrived in the United States from Paraguay, speaking only German and Spanish, to study at Bethel College (North Newton, Kan.). He earned a bachelor's degree in biology and chemistry from Bethel, and a year later, a master of arts in teaching with an emphasis in biology from the University of Chicago (Ill.). He later completed a doctor of education degree in biology with a minor in higher education administration from Ball State University (Muncie, Ind.).
Boschmann's accomplishments could have landed him a job anywhere – and he spent 21 years splitting his teaching time between Hesston and as an adjunct instructor at Wichita (Kan.) State University and Bethel College – yet Hesston always remained his home base.
"Teaching in Mennonite higher education was important to me because of the values instilled in me as a student at Bethel," said Boschmann. "I appreciate the freedom and trust Hesston administration showed me in developing a good program, which gives the department and colleagues across departments opportunities to exercise ideas."
His own academic experiences and the influence of instructors have always driven Boschmann's high-achieving classroom approach, and though they had to spend enormous amounts of time studying and preparing, his students appreciated the standards he set.
"One thing I really appreciate about Hugo's teaching style is that he shows students what they are capable of if they set their minds to it and work hard," said Eyan Roth '14 (Hesston, Kan.).
Boschmann's retirement plans with his wife, Mary Ann, are to travel, volunteer, visit friends and family and spend more time enjoying his hobbies of working with stained glass and violin – a skill he began six years ago.
Lorna Harder – 25 years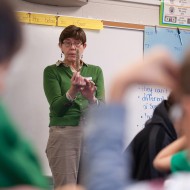 Lorna Harder's love for the environment began at a young age, fostered by her mother's fascination with nature and its systems. Even at age two, Harder could be found lying on her belly watching ants. Through 25 years of service at Hesston College, she has continued to pass along the wonderment of nature and care of the environment to hundreds of students.
Harder's Hesston College start did not begin in the classroom, but as an academic assistant in the science department. With a bachelor's degree in biology from Bethel College, Boschmann told Harder she would be bored in the role. She later served as a loan officer in the Business Office and began graduate work at Wichita State University. She also assisted with Boschmann's labs.
In about 2001, the college added environmental science offerings, and environmental biology was introduced to the curriculum with Harder as instructor. Her courses were taught with an obvious passion. The bird-of-the-day, bird watching and an annual field trip to the Maxwell Wildlife Refuge (Canton, Kan.) to observe the bison were course highlights.
Though she has also taught web authoring and statistics courses, Harder says environmental biology is hands-down her favorite class and she enjoyed watching students' interest in the environment develop.
"The passion Lorna brings to the classroom changes people," said Stefon Duffman-Griddine '14 (Grandview, Mo.). "She changed the way that I study and look at school. I'll carry that throughout my life."
"It is thrilling and inspiring to watch students enter the moment when the lights go on," said Harder. "Hesston College students have continually proven to be agents of change, hope and service, and I think the world needs more of them."
Retirement for Harder is just a shift in the work and learning she already participates in daily. She plans to continue work in prairie restoration and increasing biodiversity on her farm with her husband, Bob, who continues to teach computer science and aviation courses at the college. She also plans to volunteer with several organizations at the state level.
"My time at Hesston College has been such a good run," said Harder. "It's been a place where colleagues and students alike share in common themes, goals, values and care about the same big picture."
Welcome to the Community
Joel Krehbiel will start as the physics and physical science instructor beginning in the 2015-16 academic year upon completion of his doctorate in mechanical sciences and engineering from the University of Illinois at Urbana-Champaign. Krehbiel has a bachelor's degree in math and physics from Bethel College (North Newton) and a master's degree in mechanical sciences and engineering from the University of Illinois.
Honoring a Legacy
Nelson Kilmer's children, Ron Kilmer '85 (Glendale, Ariz.) and Krista Nelson (Shawnee, Kan.) honored their father for his 46 years of service to Hesston College by establishing the Nelson Kilmer Science Scholarship. The scholarship will be awarded to one student per year who displays an aptitude and passion for pursuing a career in physics, engineering or the sciences. To contribute to the Nelson Kilmer Science Scholarship, contact the Hesston College Development Office at 866-437-7866 or contribute online.