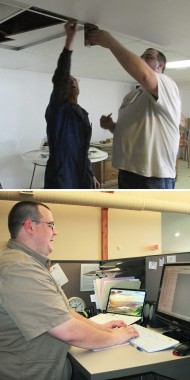 In May 2006, after one year in Hesston College's brand new Disaster Management Program and nine months after Hurricane Katrina hit the Gulf Coast, Brett Troyer '06 (Lancaster, Pa.) spent 10 weeks fulfilling the program's field experience requirement where he served with Mennonite Disaster Service (MDS) in Bayou La Batre, Ala., helping with recovery and rebuilding from the devastating storm.
In 2012, after about a year serving as project logistics coordinator for MDS, Troyer helped wrap up the organization's final Katrina project site – a full-circle moment in his fledgling disaster relief career.
Troyer was one of the first students enrolled in Hesston's Disaster Management Program, which was started in 2005 in partnership with MDS. Because he was entering his sophomore year at Hesston when the program was launched, he only completed one year, but it was enough to spark his passion for disaster response.
"I hadn't declared a major going into my sophomore year, so my adviser encouraged me to try disaster management classes," said Troyer. "It sounded different, interesting and hands on, so I decided to try it. Nowhere else in Mennonite education can you get a trade education and learn hands-on trade skills."
Not only is Hesston the only Mennonite Church USA institution to offer a disaster management program, it is one of only two institutions in Kansas and one of 42 nationwide to offer a two- or four-year undergraduate program, according to the Federal Emergency Management Agency (FEMA).
Nine years ago, Hesston College was a trail blazer in disaster response programs. Now, the program's graduates are fully engaged in careers serving disaster survivors and building relationships across the country and world with the skills and passion that started and developed at Hesston.
The program opens graduates up to limitless career directions from building contractors to managers and social workers. Whether they choose short-term assignments or long-term career positions, it is clear that disaster management alumni have a heart for service and people.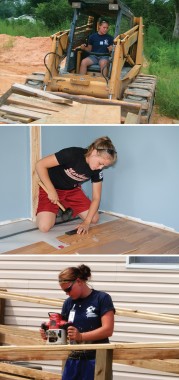 For Jackie (Shaw) '08 O'Brien (Lowville, N.Y.), the program equipped her with skills to lead and volunteer with short-term recovery and service projects.
After graduating from Hesston and completing her final field experience internship requirement with MDS in Diamond, La., O'Brien stayed an extra five weeks as a volunteer. She has since traveled to Nicaragua with a church group to help build and maintain an orphanage, volunteered with Habitat for Humanity's Global Village program where she helped underprivileged people build adequate housing in Romania and Guatemala and she now works as a cook for a non-profit organization and volunteers her physical labor as she is able. She is also planning a church trip to serve with Habitat for Humanity in Africa.
O'Brien is inspired by the words in Phillipians 2:3 – "…in humility, value others above yourselves, not looking to your own interest, but each of you to the interests of others." She finds her motivation in building connections with others.
"I enjoy all the connections I have made in all of my work," said O'Brien. "I have built relationships not only with the other volunteers I work with from week to week, but also with the people we are serving."
Other graduates, like Troyer, find their passion lies in long-term recovery efforts.
In his role with MDS, where he is based from the bi-national office in Lititz, Pa., Troyer assists in setting up and closing down project sites and manages the organization's tangible items to equip volunteers at project sites across the U.S. and Canada. He spends much of his time at the MDS warehouse in Columbus, Miss., making repairs, reorganizing and restocking supplies.
"No matter how prepared a community is for a major disaster, it gets to a point where they can't manage the disaster's consequences on their own," said Troyer. "That's where disaster response comes in – sharing that burden. The world of disaster relief is not like any other business of which you can be a part. It's a big community, and we are here to help each other, regardless of the situation."
Disaster response organizations require employees from all skill sets from construction to management to social work and more. Hesston's program offers starts in all of those areas, opening students to a variety of career options.
Troyer earned a degree in building construction technology from South Central Community College (Milford, Neb.) after graduating from Hesston, but now puts more than just his technical abilities to work in his role.
"I like the relationships that are built through disaster response," Troyer said. "In my position, I don't get out to projects where I am physically helping people recover, but I know I am enabling others to do just that. It's rewarding to see volunteers be rewarded for their service."
For Darin Bontrager '11 (Vicksburg, Miss.), the problem-solving challenges of disaster response draw him to the field.
"I love the challenge of finding creative solutions when communication is limited, resources are limited and there are a lot of obstacles," said Bontrager, who has worked as a support team leader with FEMA Corps National Civilian Community Corps since July 2013.
After gaining hands-on rebuilding experience in his field experience internships with MDS, Bontrager was excited to experience disaster response from the administrative side, supporting teams in the field from a central location.
"I like my job because I get to help people on a daily basis," said Bontrager. "I work in a fast-paced environment, and I do something new every day."
In his role, Bontrager has led construction tool training for 280 peers, designed and built a long-term disaster recovery supply center, distributed uniforms for about 600 people, transported inventory and equipment cross-country between disaster sites. He leads corps-wide events and meetings during transition periods when teams return to Vicksburg for additional training.
After graduating from Hesston, Bontrager attended Goshen (Ind.) College, earning a B.A. in business with a minor in conflict transformation. His academic experiences provided a well-rounded understanding of disaster response.
"Hesston prepared me for a career in disaster response on so many levels," said Bontrager. "Because of the small community, leadership opportunities were plentiful and I learned the value of taking initiative. My classes taught me the value of critical thinking and having conversations with people who have different value systems, cultures and ideas… Living in community taught me that I can work a fun job, travel the world or make good money, but it doesn't matter if I don't surround myself with incredible people. Relationships are what matter."