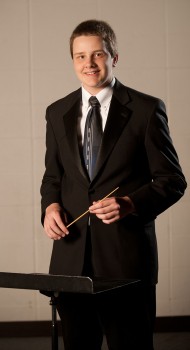 Matt Lind '15 (Harrisonburg, Va.) probably spends more time in the Northlawn music building than any other place on campus.
Lind, a double major of mathematics and music, chose Hesston because he could study all of his music activities at once – Concert Band where he plays saxophone and clarinet, voice as a member of Bel Canto Singers, piano and composition.
Lind came to Hesston with previous composition experiences, having won a composition contest in high school, and discovered that he enjoyed that aspect of music. This spring, he participated in an independent composition study with Bradley Kauffman, where his skills developed even more.
"There's no better feeling than hearing your own ideas produced," Lind said. "You've created a whole being that hadn't existed before."
Lind premiered two of his pieces during the year. The first was inspired by his Biblical Literature inductive Bible study about the death of Absalom and King David's grief. The Bel Canto Singers premiered "When David Heard" as a part of their spring semester repertoire. A violin-piano duet became his next composition, and he is working on a piece inspired by the serial number of the college's new nine-foot Steinway grand piano.
"I find inspiration from my life events or changes – something that affects my thinking," Lind said.
Music and math came together when he was composing the violin-piano duet entitled "Andromeda," named after the galaxy in the constellation Orion. The piece was inspired by the mathematical equation of a spiral. Using numbers that represent notes, he generated the piano harmony by substituting note "numbers" in the spiral equation that would yield a new number or note. A series of slow, five-note arpeggios became the base for the violin melody that Lind wrote to fit over the piano part.
"Since I used a mathematical basis, I was forced to think creatively to work with something else out of my imagination," said Lind.
Kauffman says working with Lind has been rewarding for him because Lind goes beyond what is required for the course. Because music is so deeply engrained in who he is, Lind is always bringing new ideas and thoughts to his studies.
"It's been exciting to work with Matt," Kauffman said. "He has a mature set of musical skills and curiosities of many styles."
Though Lind favors different composers and genres of music on different days, he consistently enjoys 20th century style music, some of his favorite composers being Copland, Gershwin, Mahler and Stravinsky. He also appreciates Impressionist composers such as Debussy and Saint-Seans, as well as jazz and classical, which he frequently performs on clarinet and saxophone.
For Lind, practicing piano became a method of relaxation in his musical and academic-packed schedule. Because he already had years of study with the clarinet, saxophone and voice when he arrived at Hesston, he says there were certain expectations to meet. But with the piano, everything is new. The freedom to learn and be able to make mistakes drives Lind's love for the instrument and motivates him to practice and improve.
"It became one of my favorite things," Lind said. "Playing piano is like playing a whole orchestra at once. You are able to hear the full piece with just yourself."
Lind diligently studied his new instrument by taking lessons and devoting practice time each day. Even as a beginner, he appreciates how his instructors took him seriously, and he was quickly introduced to professional repertoire.
"At Hesston, I've been able to completely immerse myself with individual attention and emphasis in many different areas," Lind said. "I have gotten to choose where I want to grow rather than having to focus on something of which I'm not sure."
While Lind loves to practice his music, sometimes it is difficult to balance everything at once. He tries to practice each instrument an hour a day, participate in music ensembles, take 17 credit hours and have a social life. He will also be a ministry assistant and writing fellow for his sophomore year and will lead a student pep band. Although a full schedule may be overwhelming for some, Lind says that being busy makes him productive.