Northlawn gets used by many students every year for a variety of performing arts and other events. Students like Matt will benefit greatly from the impending renovations – especially sound proofed, temperature controlled practice rooms, dedicated rehearsal space for individual choirs and instrumental ensembles and much more.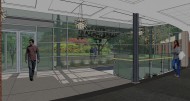 Fundraising for the Northlawn and campus entry renovation project progressed well during the spring semester. Informational campaign events were held in Goshen, Ind.; Denver; Lancaster, Pa.; Glendale, Ariz.; and on campus, which highlighted performing arts students' talent with performances and tours of the building.
Since January, the amount left to be raised of the $3.8 million price tag has gone from $1.2 million to less than $600,000. Fundraising must be completed by December 2014 in order to begin renovation work before the end of the year, with work slated to be finished in August 2015.
Thank you to those who have offered financial and prayerful support of this project to enhance performing arts students' opportunities and experience and increase campus visibility among the wider community.
To give to the renovation project, contact the Development Office at 866-437-7866 or give online.