As the home for performing arts and campus worship, Northlawn plays an integral role in Hesston College's ability to deliver on the promise of a high-quality education. Participation in performing arts has increased in recent years, with more than twice as many students taking private voice or instrument lessons than 10 years ago. Theatre performances regularly sell out. Campus worship has blossomed and weekly attendance has increased as students share their spiritual journeys.
The facility is well utilized, but the expansion of program offerings and a corresponding increase in student foot traffic have caused the building to feel cramped in recent years. An inefficient heating and cooling system has made it uncomfortable for students to log the practice hours they need. Rather than tear down an existing structure with a vibrant history, the college is raising funds to renovate Northlawn.
The Northlawn renovation will include:
New windows, HVAC system and other energy saving measures
Acoustical work to isolate and calibrate sound
Creation of dedicated spaces for theatre, campus worship, Hesston College Chorale, Bel Canto Singers choir rehearsal and Concert Band rehearsal and instrument storage
An additional classroom
Student gathering spaces
Northlawn at a glance
Constructed in 1971, the facility is home to Hesston College Performing Arts and Campus Worship
Shared space among theatre, Campus Worship, Bel Canto Singers, Chorale and Concert Band requires frequent space reconfigurations to meet student needs
Music program has expanded with addition of instrumental music, and the number of private music lessons offered in a semester has doubled in last 10 years
Studio theatre can seat audiences of up to 100 individuals
Theatre department produces four shows each academic year
Building received new roof in summer 2012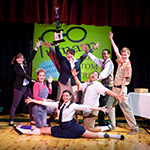 "Renovations to Northlawn will be an asset for students who utilize the space daily as well as community members who come to our productions. This is an investment that will draw the kind of talented students we need to continue our growth in the performing arts at Hesston College." – Laura Kraybill, Theatre Director
Campus Entry

Hesston College promises to educate and nurture each student within Christ-centered community. One of the many ways we deliver on this promise is by being a hospitable campus. We want everyone to feel welcome from the moment they arrive. Sometimes, though, the trick is getting people to find campus in the first place. Whether they're prospective students, new members of the Hesston community or alumni who haven't been on campus since the mid-1990s, it's common for visitors to miss our campus entrance along Main Street. As we strive to become a more welcoming and inclusive campus, we are particularly aware of the vital role hospitality plays in nurturing each student – and visitor – in our community.
Plans to create an enhanced campus entry provide:
Increased campus visibility along Main Street
A welcoming and inviting entrance to campus
Landscaping to improve campus aesthetics and make strong, positive first impressions
Additional parking and drop-off area to better serve campus visitors
Hesston College hospitality at a glance
Five major events – Opening Weekend, Homecoming, Anabaptist Vision & Discipleship Series, Thanksgiving Weekend and Commencement – draw thousands of visitors from across the United States to campus each year.
About 400 prospective students and their families visit campus each year.
Four theatre productions and multiple musical concerts bring community members to campus throughout the academic year.
Community neighbors and children visit the campus daily for walks and other informal purposes.
View a gallery of artist's renderings of the new campus entry