Bible and Ministry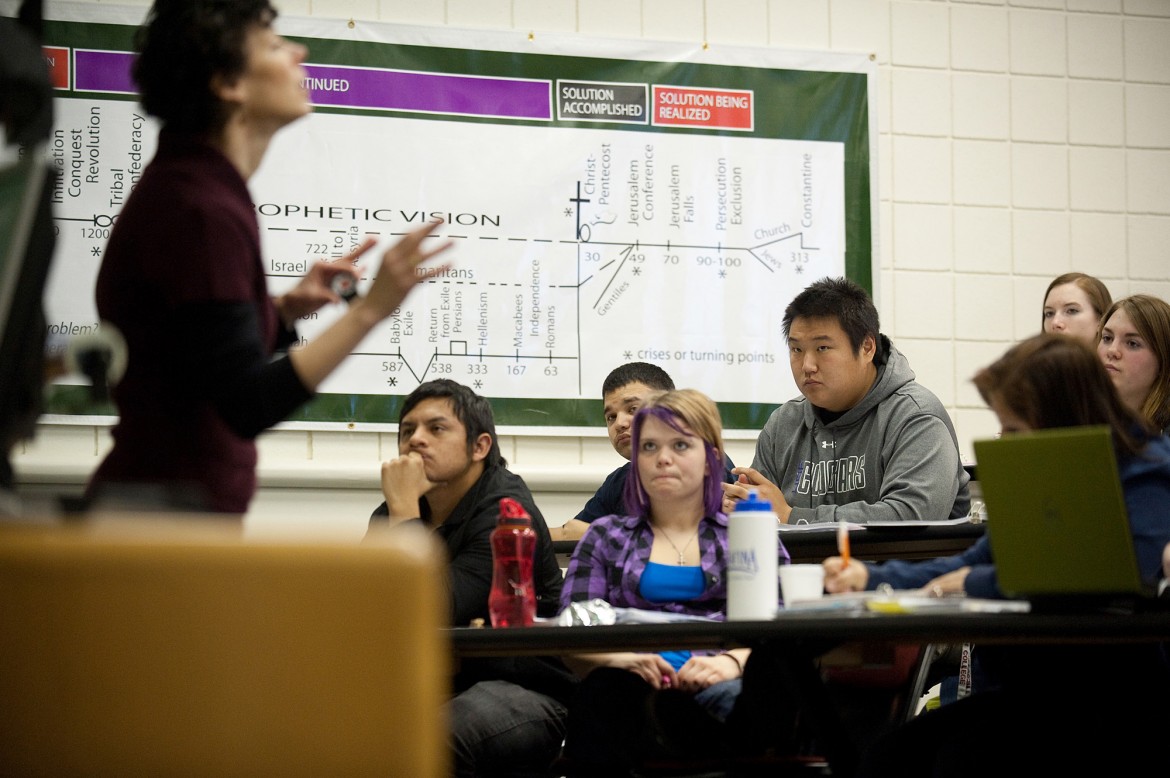 What does the Bible and Ministry program offer me?
In-depth inductive Bible studies. Research in the different biblical genres. Hard questions about peace, justice and ethics. This is what you will find in the Bible and Ministry department at Hesston College. Here you will find yourself in classes and community that will encourage you to think deeply about your life of faith and service in the church. Studies are interwoven with ministry opportunities on campus and beyond. Students and faculty work at integrating their ethics with their theology. They practice spiritual disciplines, and they reach out to a hurting world. Influenced by Anabaptist history and theology, instructors model the belief that the church is the body of believers. The journey is both inward and outward.
How will these studies prepare me for future studies and work?
With a two-year associate of arts degree, you will have completed 60 credit hours and be on your way for transfer to a baccalaureate degree course of study and further theological training. With an advanced degree you might choose work in one of many areas of ministry.
While at Hesston College, you may experience a one-semester supervised field ministry. By working in a congregational setting, you will be able to apply your classroom learning and experience in youth ministry, Christian education, preaching, or pastoral counseling.
What makes Hesston College unique?
The campus community. The relationships. What happens after class and around the coffee table enhances the academics. The conversations between students and faculty nurture the field experiences. At Hesston, we view students as whole persons with beliefs and feelings as well as intellect, and we view all aspects of the college experience as significant: classroom, dorms, activities and religious life. The atmosphere enhances learning and growth.
What are the strengths of Hesston's Bible program?
Introduction to Biblical Literature, or "Bib Lit" as it's more affectionately known, uses a unique approach to teaching the Bible. Most Christians know the major stories, but they don't know how all the stories fit together. Bib Lit provides "hooks to hang your hat on," or ways to connect and remember what God is doing throughout the entire biblical narrative. Students learn to ask three important questions of every story:
What is the sin problem?
What is God doing to solve the sin problem?/li>
How faithfully are the People of God cooperating?
Two other strengths of the program are worth mentioning: our emphasis on spiritual formation and our intentional focus on integrating strong academics with practical theology. We provide a spiritual formation class for both Bible and Youth Ministry majors. We understand the importance of self-reflection and time spent in prayer and sharing our lives. Our motto is this: We minister out of who we are.
We also believe in the importance of both theological thinking and practical application. Almost all of us find ourselves off-balance at times, but a synergy happens when we intentionally and critically reflect on what we do—and why we do it. One way to be intentional with this integration is through an annual fall conference called the Anabaptist Vision and Discipleship Series. Its main purpose is to apply solid theological thinking to practical ministries in our congregations.
Why Hesston College?
Solid Academics. A community where faith is lived out. Relationships. Dialogue. Informal gatherings. A love for the Bible.
What courses can I take at Hesston College?
A typical course of study for Bible and Ministry majors at Hesston College would include 24 hours from the required general education curriculum and 21 hours of Bible and Ministry courses.
Biblical Studies
Biblical Literature
Jesus and the Gospels
Biblical Studies: Psalms and Epistles
Biblical Studies: Prophets and Revelation
History and Theology
Anabaptist History and Thought
Peacemaking and Justice
Introduction to Theology
Religions of the World
Ministries of the Church
Evangelism and Church Growth
Faith and Discipleship
Worship and Celebration
Christian Education
Leadership and Pastoral Care
Introduction to Youth Ministry
Programming for Youth Ministry
Preaching
Drama in the Church
Related courses and electives
Speech Communication
Introduction to Literature
Advanced College Writing
Human Sexuality
Developmental Psychology
Supervised Ministry
Cooperative Education
The Helping Relationship
Sociology of Families
Are there opportunities to participate in practical ministries while I am at Hesston?
Hesston offers many opportunities to participate in ministries on campus and in the area. Some students lead Bible studies, working as ministry assistants to the campus pastor. Others serve at the Newton Homeless Shelter or participate in the M2 program, a mentoring program at the Hutchinson Correctional Facilities. These are but a few of the many opportunities to serve while at Hesston.
Affiliated Departments
Meet the Faculty