When I was deciding whether or not to join the business cohort this past year, what finally made me decide to stay was the travel experiences I would have, and here we begin probably the biggest and most exciting trip of them all: Thailand. Before we can start enjoying and learning though, we have to get there somehow, which means we've got to do a lot of flying. We all met at 4:30 a.m. on the 15th in Bontrager parking lot to get in a van to Wichita for the shortest flight of our trip. Our flight from Wichita to Chicago O'Hare. Not much happened here, just making sure we all had our tickets, passports, and anything else we would need for the trip. Once we landed in O'Hare, we walked to our next gate, set up camp since we wouldn't be leaving for six hours, and then split up to get food and stretch our legs.
Most of us took this time to work on our homework assignments, while others took a long nap to start getting accustomed to being 12 hours ahead in Thailand. I personally went and got some coffee from Starbucks, lunch from McDonalds, and then a little later got a smoothie from Smoothie King. I also went with some of my classmates for a walk before the boarding process started. We also tried to race on the walking escalators which worked for the most part, until we got stuck behind some slow people and then we couldn't do anything about it.
Our next flight was from O'Hare to Haneda, Japan; a 13-hour flight that would test our ability to sleep on planes, get comfortable in small spaces, and try to stay entertained while not really being able to move around much. Most of us slept when we could while others took the time to catch up on any movies they missed in the last few years. I was able to watch five movies and also catch about 2-3 hours of sleep somewhere in there. Once we landed in Haneda, we got to see how they were still very much in a COVID-19 lockdown situation where they still have very strict COVID-19 policies. Since we weren't actually entering the country, we didn't have to worry about it, but it was interesting to see how the country was still being very vigilant about the virus when other countries had completely reopened.
Our layover in the Haneda airport was 13 hours! We spent our time sleeping, recharging, and relaxing before getting on our final flight that would take us to Bangkok, Thailand. We found an empty section of seats in the airport and everyone made themselves comfortable to sleep, work on more homework, and get ready for our last flight. Since we arrived in Haneda very late in the evening, we got to witness the airport go from super packed with people walking back and forth to completely silent with barely anyone anywhere. Around 2am, some of us got up from our attempts to sleep and walked around our empty terminal and it was very interesting to see it so quiet and almost abandoned. I was so used to being in airports during the busiest time of the day when there are super long lines for everything and you have to really plan ahead to make sure you have enough time to get to your next gate. Now, all the shops are closed, there are no lines, and it's quiet. I appreciate getting this new view of the airport, especially while in a new country.
Finally it was time to board our final flight to Thailand. This flight was only 6-1/2 hours so not as long but still a lot of time to be sitting in one place. Acharn Joe (President Joe) told us we should try to stay awake on this flight since we would be landing in Bangkok in the afternoon local time and this would help us become more accustomed to the time change. Most of us were successful while others did fall asleep for some of the flight, but even with that we were all still exhausted from the flights. When we took off from Japan, we got to fly right over Mt. Fuji which was also very cool to see.
Once we landed in Thailand, we had to go through customs which was packed full but didn't take too long for us to get through. Then we went and exchanged our US dollars for Thai baht and got a Thailand SIM card so we could communicate with each other easier and also stay connected with our friends and family back home. We also met up with Lynnelle Allison, mom to Luke Allison, who will be on this trip with us as well. Luke is a senior on our Management program at Hesston College and is along to assist Acharn Joe on this trip. We grabbed all of our luggage, passed through customs, and was met by Acharn Pam (our Thai host and mom), She met us with a couple vans which took us to the Bangkok Christian Guest House where we dropped off our luggage before hitting the streets for our first authentic Thailand meal. I got to enjoy a noodle-soup dish with crispy pork, fresh onions, and noodles that really hit the spot after all of our traveling. After that, Acharn Joe took some of us on a walking tour of the Bangkok night life where he explained the backstory of the "underground market" of Bangkok while also letting us sample some fresh fruit. We then all returned to our rooms, showered, and fell asleep in a bed for the first time in what felt like forever.
Overall, these first days of travel were very enjoyable because we all were going through the same thing and it really helped us connect with each other. We were all tired together, all hated being cramped on planes for long periods of time, and just wanted to get to Thailand and begin learning. I'm so excited to see what all we have already learned in our very short time here.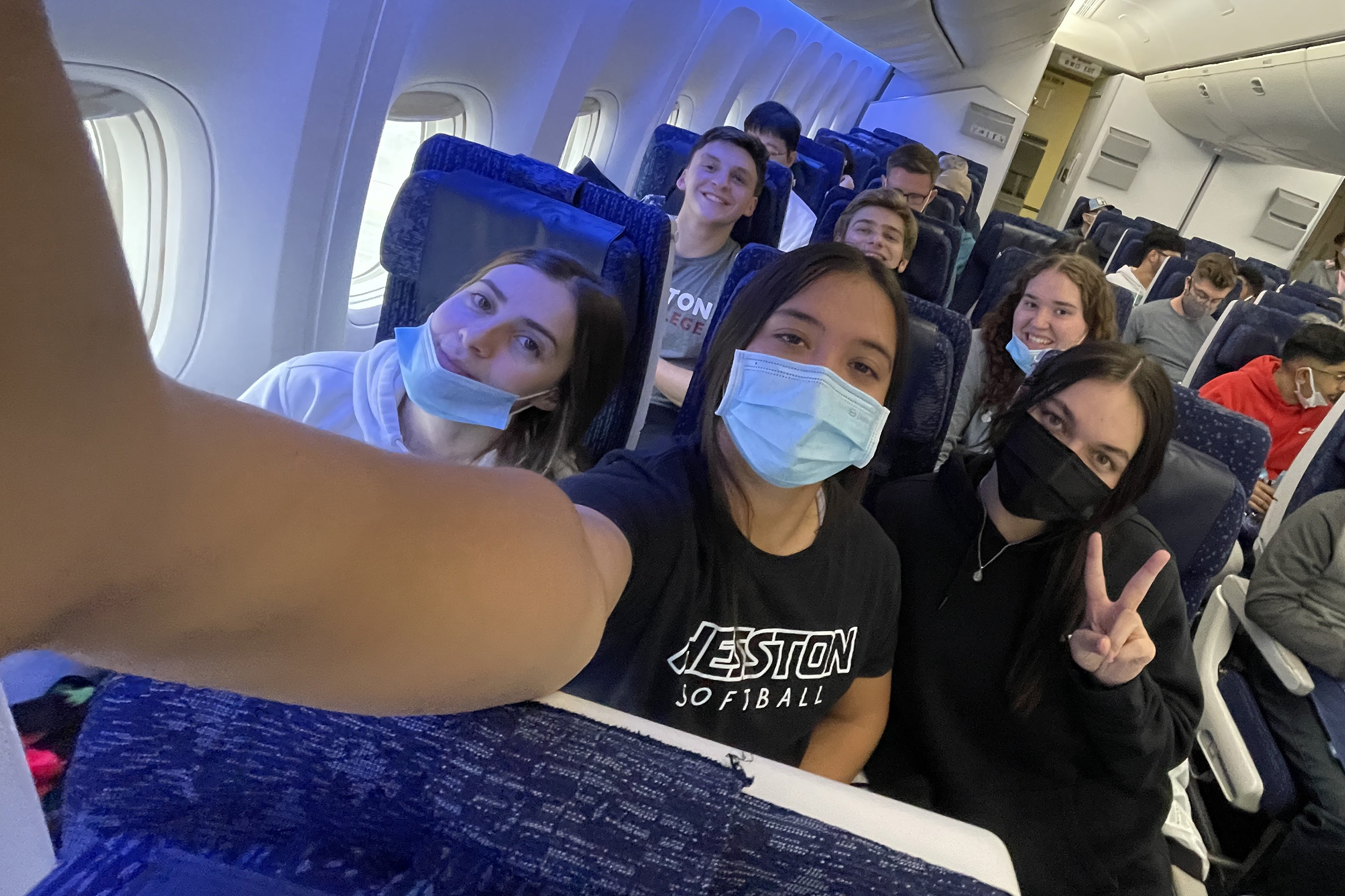 18 February 2023
by Shelby Bontrager
Our first full day in Thailand after our long flights was full of enlightening adventures. We started the morning with orientation led by Acharn Pam, who is our local host here and a Thailand local, where we learned some simple Thai language phrases, a little Thailand history, and proper etiquette. For example; our feet must always point toward the ground (our feet are seen as the dirtiest part of our bodies so pointing the bottom of our feet at someone is seen as very disrespectful), treat money with respect (the Thai currency has the image of the current King on them and some of them have the prior King as well so treating money with respect is also treating the King with respect), and the proper way to show respect when addressing an elder. These forms of etiquette are very different from America because in America basically everything goes compared to here. I think it's neat how disciplined Thai people are when it comes to respect because it shows how much they value one another over themselves.
We then went to a mosque and met with Imam Thanarut, the head of the Muslim community here and leader in worship and prayer, where we learned about Islam and were treated with some welcome tea, snack size cakes, and a home cooked lunch. Everything was very good and learning about Islam and the Qur'an was interesting. I really enjoyed comparing what Imam Thanarut was saying to what my beliefs are. For example, he mentioned how virgin Mary got pregnant through a flood of wind that came up her sleeve, and Moses is the most handsome man, and their graveyard is a garden with unmarked graves just layers of buried bodies fertilizing the ground.
I am realizing everyone is more alike than we may think. Everyone believes in something, most everyone believes in some sort of higher power and everyone has experiences to base their beliefs off of. We all just want to live for a bigger purpose than ourselves and typically it's in the light of a greater good that's just interpreted a little differently across the board. Following lunch, we were invited to witness a Muslim Wedding ceremony and to celebrate with the bride and groom.
On our way back to our guesthouse, we grabbed a snack before riding the elevated train. Back at the guesthouse, we quickly showered and made our way to catch a subway to the train station. The subway was packed tight as this was rush hour as folks were heading home. It felt like we were in the way of the daily riders with all our luggage but everyone was very nice and understanding which I was not expecting. Acharn Pam talked to us about how Thai people are very flexible and chill and relaxed and I think that really showed in the subway where I was expecting it to be a high stress high judgement area.
We got off the subway at the train station where we awaited our twelve hour ride to Chiang Mai. The seats were two bench seats facing each other and the conductor converted our chairs into bunk beds so we were able to sleep comfortably. Most of us were pretty tired so it was an early night to bed. However, or most woke up before 6:00 the next morning. We did homework, played some Uno, and just kept ourselves entertained. It was much more relaxing than the planes and easier to keep our sanity and not go stir crazy.
Today was a great day! Thank you for all the prayers and blessings to you all!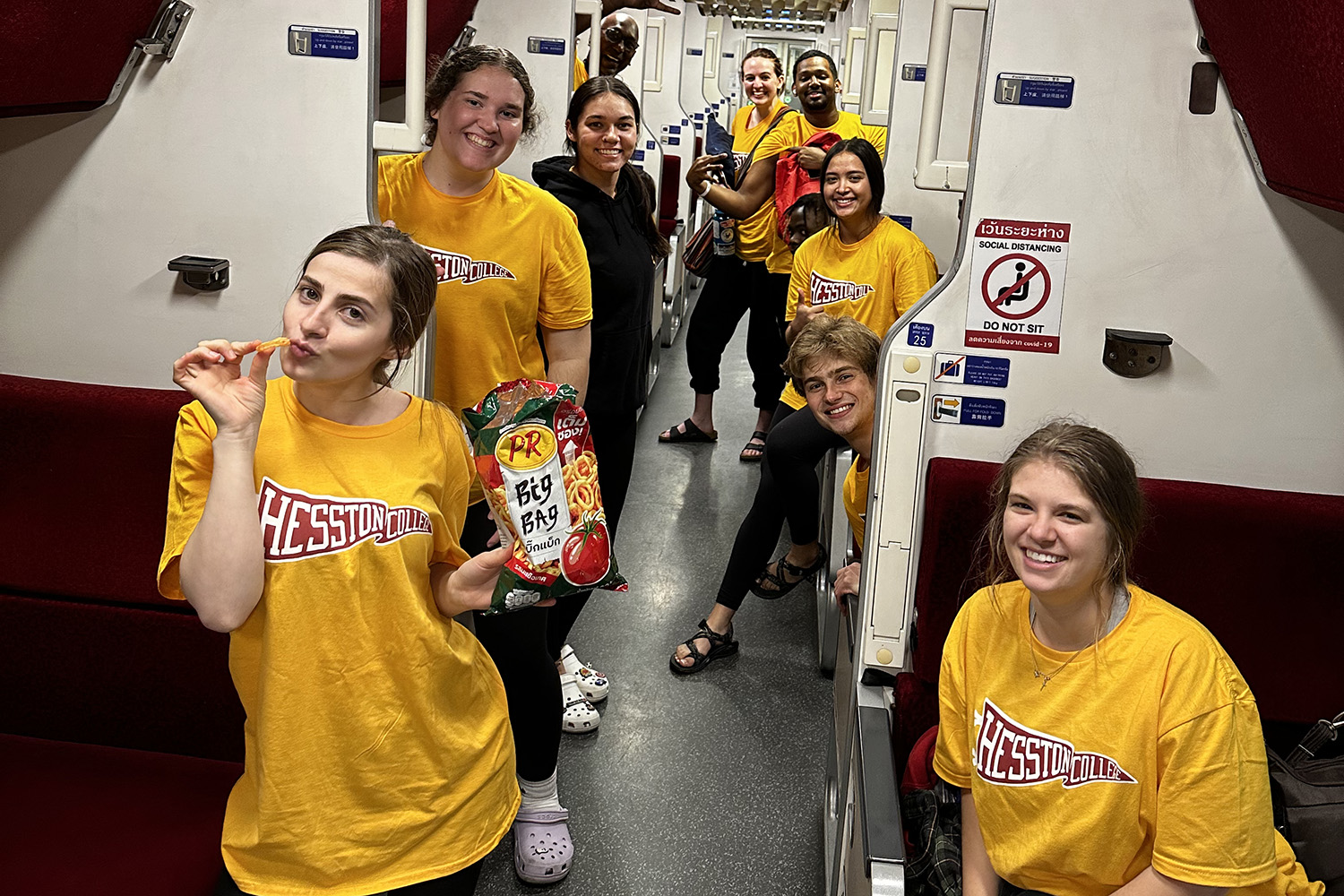 22 February 2023
by Fortesa Hysenaj
After two long nights in the hospital, the four of us (Aiden, Katie, Shelby and I) were able to get out of the hospital and join the rest of the group today. We started the morning by having breakfast at the hospital while the rest of the group ate a street food breakfast near the clock tower in Chiang Rai.
After rejoining the rest of our class, we went to visit Mae Fah Luang Art and Cultural Park, which has the region's largest collection of folk art and teak artifacts from the Lanna Kingdom. It has a rich cultural and historical heritage which is still evident in the traditions and beliefs of the local people in their arts and culture. The region of Lanna takes a large territory from the Shah States in Myanmar, the northernmost provinces of Thailand (Chiang Mai, Chiang Rai, Phayao, Prae, Nan, Lampang, Lamphun and Mae Hong Son) and on eastward to Lan Xang in northern Lao PDR, Sipsongpanna in the southern part of the Chinese province of Yunnan and even to ethnic Thai hill tribes in northwest Vietnam. Haw Kham is a beautifully sculpted landscape built and presented by the people of Chiang Rai as a gift to Her Royal Highness Princess Srinagarindra the Princess Mother to celebrate her 84th birthday. My favorite part of Mae Fah Luang Art and Cultural Park was the walking through and there were a few mirrors which were gorgeous. Also, I enjoyed walking through the building and seeing all these artifacts. I also enjoyed learning about how the Buddhist people would clasp their palms together at the chest level as a way of respectfully greeting each other and the Hun way of kneeling.
After we visited Mae Fah Luang Art and Cultural Park, we stopped at a local restaurant in Chiang Rai, to get lunch. After our lunch, the next stop we had was at the White Temple, which is the creation of Thai artist, Chalermchai Khositpipat who was born in 1951 in the village of Rong Khun in the Chiang Rai area. This project represents the act of faith by the internationally praised artist who has invested large amounts of his own money to create the temple. The white coloring symbolizes the purity of Buddha. The dressing is adorned with small pieces of glass representing the wisdom of Buddha and self-reflection. The water shimmers in the sunlight. Statues of dragons and mythical creatures protect the temple from evil. We spent about an hour at the White Temple, and we got coconut Thai ice cream, which we all enjoyed and liked. After the White Temple, we jumped on the trucks and got back to Chiang Mai. My favorite part of White Temple was the aisle walking through hell to heaven. As we were walking through the aisle to the Temple, there were "hands" that were trying to grab, which represented the side is depicted with human suffering.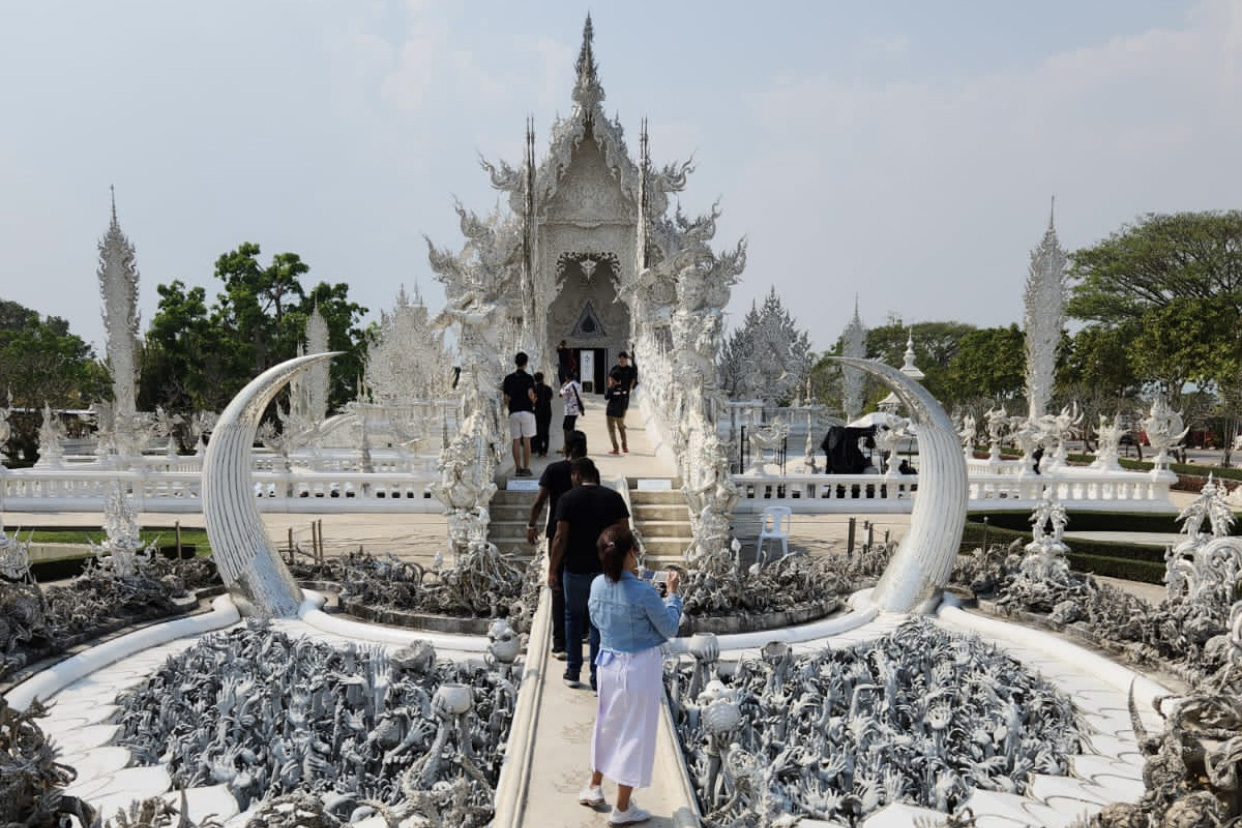 24 to 25 February 2023
by Katie Robeck
Friday rest day
Today we had a rest day where we all did homework for pretty much the whole day. We had one class we needed to do several assignments for. We are heading up to the mountains tomorrow morning for our village stay and most likely won't have very good internet service so we needed to get our homework done before then. At 6 p.m. we met up to discuss what our weekend trip was going to look like and a bit of background on the village we were staying in. Afterward we headed out to dinner at the local night bazaar where they had an outdoor foodcourt with live music. There were several street vendors so we all got to eat whatever we wanted. When there was a break in the live music, our classmate Tahj performed one of his songs and several people got up to listen and record him. We did a little shopping and then headed back to the hotel for the night.
Saturday
The morning started off with getting up at 6 a.m. to collect our laundry from a local laundry service. Some of the clothes were not yet dry because all our clothes were washed by hand the day before. We took the laundry back to the hotel and started packing. The vans were coming to pick us up at 7:30 a.m. for a four-hour drive to the village of Hua Hom. Hua Hom is the home to a Karen (pronounced Ka-Ren) indiginous group.
On our way to Hua Hom, we stopped in the border city of Masareung where we met with folks working on border issues. We were given an overview of the key issues with border violence and refugees. We were shown a map of several refugee camps set up along the whole border to provide aid to those who are harmed because of the fighting and violence committed by the Myanmar military. We heard of how the ASEAN economic alliance, an economic alliance of the 10 Southeastern Asian countries, cannot interfere with the governance of other member countries. Given this, Thailand is not allowed to say Myanmar can't use military force on its own people. It was a surreal experience to see the wounded and maimed fighters because even though we were there for such a short period of time it was eye opening. I have only ever heard a little bit about the border fighting which takes place on this border but I never fully appreciated the depth of this issue. Seeing all of these people with my own eyes was very sad.
We went to the border village of Mae Samlab where we could look across the Thanlyin River and see Myanmar on the other side. Currently, this is a peaceful region on the border due to bloody conflict which took place a year ago where the Karen tribal rebel group defeated the Myanmar army. The fighting on the border resulted in the death of many whose bodies were strewn on the beaches with some floating down the river just one year ago. We were able to walk down to the river itself to get a sense for this place which has witnessed much violence. This was something quite interesting to see for me because after hearing that just a year ago this area was filled with so much violence and now it was peaceful it was hard to wrap my head around. It didn't make sense to me that there could be so much violence and killing and then become peaceful so quickly. I feel as though it is important that people realize the issues that are going on in this region that are not really talked about much at all outside this region of the world. People are fleeing from all of the violence in Myanmar and there is no real news about the situation back home.
We then drove another 2 plus hours inland before reaching the remote village of Hua Hom where our hosts were waiting for us with a meal. This village was an experience that none of us had ever really been through. Our hosts met us with open arms and were very nice. All of us girls went up to our room to put our stuff away. There was a huge spider on the wall and we all freaked out especially me. Our hosts and guides were just laughing at us for being fearful of the spiders as this was normal for them. After we ate, our guide Acharn Sombon told us a little bit about his own story. He grew up in a Karen village about 1.5 hours from the river border of Thailand and Myanmar we were at earlier in the day. He was able to get funding for his schooling where he was able to leave the village and get a good education. He was explaining that that is not the case for most of the kids in the village. After he told us his story we all went up to bed. This was our first night of the three of us staying at the village.
26 Feburary 2023
by Aidan Swartzendruber
Today was our first full day in the village of Hua Hom. This is a village of the Karen (pronounced Kah-Ren) tribal group. Many members of this community have their Thai citizenship though there are some without documentation. All members of this community speak the Karen language and a large number also speak Thai.
We started out the day in a beautiful house, the home of our host family, overlooking the valley. We were served a breakfast of rice, eggs and a chicken vegetable soup. Along with this food, we had access to bananas grown in the village. These were the best bananas I have ever tasted.
As we started our walk to the church on this Sunday morning, we were stopped by our host mom. She gave each of us a hand made shoulder bag as a gift. These are very traditional Thai bags and we were all surprised and delighted by this unexpected gift.
This particular Karen community is a Karen Baptist community. Missionaries from the American Baptist Mission brought the Christian faith to this community many decades ago. The church worshiped in a large building supported by many concrete stilts. The ground floor area was a wide open area used for fellowship and community functions whereas the sanctuary above is considered a sacred space reserved for worship primarily.
The sanctuary had many open windows to let the air flow through. When the service started, I was surprised by the amount of singing and the energy that went into it. Everyone sang loud and proud. I did not understand what they were saying but I could feel their energy. These people have struggled with so many factors in their lives and yet their faith is unwavering and joyful. I was very moved by this.
After the congregation was done singing, four of us went forward to sing some special songs of our own and they were received graciously. Acharn Joe gave an inspiring and meaningful sermon about hope that was translated into Karen by Acharn Somboon. This was followed by more singing. Even the children sang their own song!
Following the service we ate lunch back at our host family home and took a break until around 3:00 when we met back at the church with the youth of the village. This was a time of singing both with and for the youth. Following our time of singing, we had a time of question and answer. The youth and their leaders asked us questions like "How are your houses different than ours?" And, "What kind of food do you eat in America?". Our group asked the Karen people questions about their marriage rituals and how they celebrate certain holidays.
This session was followed by an invitation to come play soccer and other games with the youth and their friends. The area we went to play games was at the top of a hill above the village. I think it is safe to say we were exhausted by the hike to the area before even starting the games. Some of our group played soccer, others volleyball, and the rest did various activities around the area. This went on for about three hours before it began to get too dark to stay. This game session was impactful because we were able to connect with the villagers on a more personal level. I played soccer with the kids and was able to connect with them through high fives and other celebrations while we had fun together.
We walked back to our host home, ate a marvelous supper and all retired to recuperate from the days activities.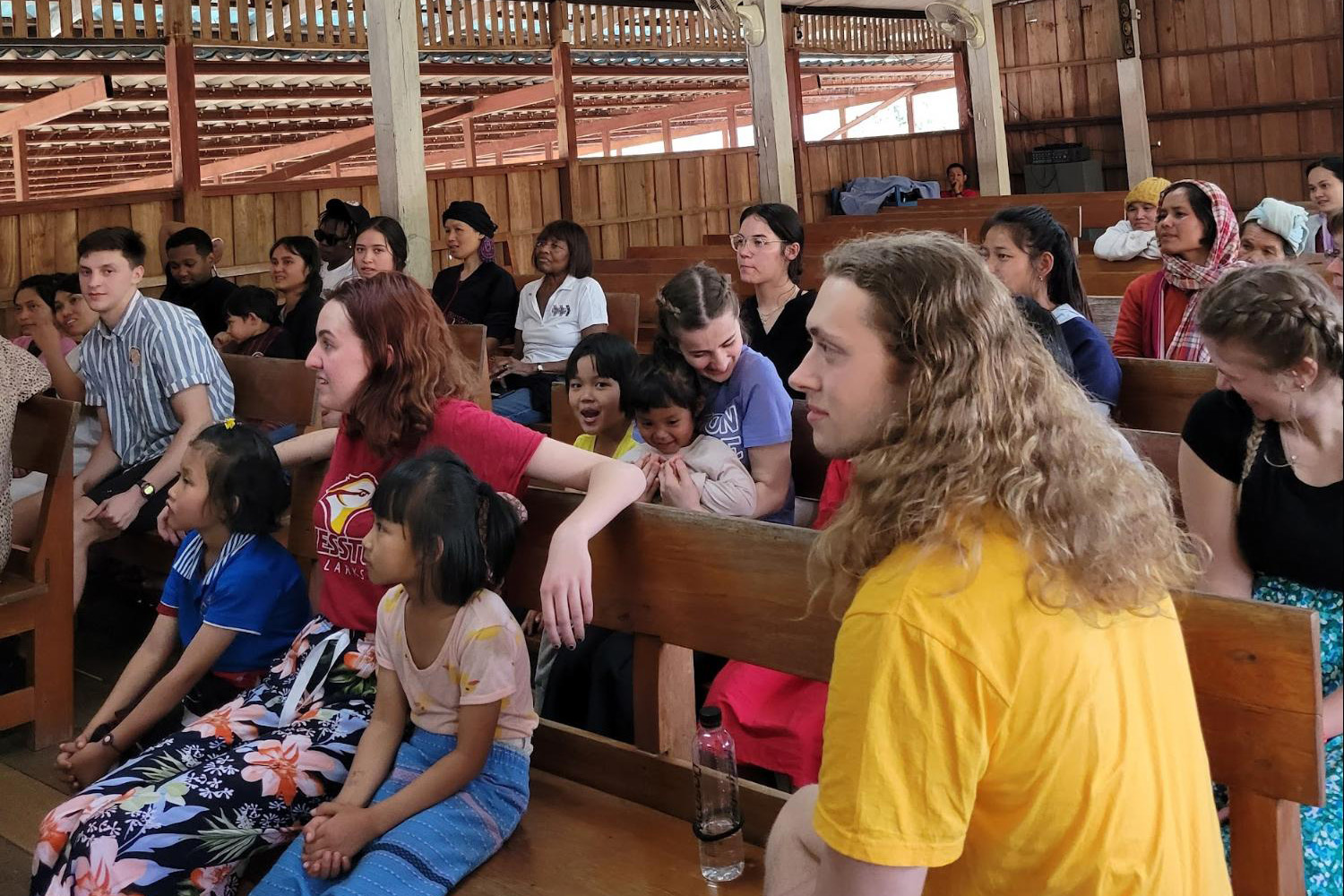 28 February 2023 – "Stay Longer"
by Meg Beyer
This morning we said goodbye to our amazing friends, and now family, of the Hua Hom Village in the mountains and headed back toward Chiang Mai and our hotel. We were going to stop at another coffee roaster facility but plans changed and we decided to give ourselves more time to rest and reflect on what we had just experienced in the last three days. Since nothing really happened today, I was asked to share my reflection on what the village stay meant for me. So here we go.
First off, I want to admit that when going into this village, I was not excited at all. I mean, no stable internet connection or electricity for three whole days? How would I ever survive?! If you know me, you know those statements are dripping in sarcasm, like almost gushing a mighty river of sarcasm. Back to my reflection, I just didn't really understand why we were going to a village in the middle of nowhere on this business trip. Acharn Joe did say they had a coffee growing business up there, but he also mentioned that it wouldn't be the main focus of our stay. You can see now where I got confused. So on the morning we left for the village, I was just kinda going along with it and hoping it would start to make sense. Little did I know I was about to get slapped in the face with a whole lot of sense and a new and very real perspective.
Before we reached the village, we had a few stops to make to give us some background into where we were going and the story of the people we would be meeting and living with. As others have explained in their blogs, we were staying with the Karen Tribal people who had been separated from family over the decades as political borders cut across their communities and war took their livelihoods and lives. Their real reality was a blended life.
Our first stop was at a hidden hospital where an organization works to heal and save the lives of anyone who has been shot or injured by a hidden mine while they were trying to escape. Hearing the story of their efforts was daunting enough, but when they said we were actually going to see some of the patients, I began to realize why we were here. I saw people with bandages covering their arms and legs, some with large casts, and a few who had lost a limb. It hurt my heart to see these people lying in these make-shift hospital beds in pain and suffering just because they were from a certain tribe/people group. I could barely look at them, so all I did was smile and nod my head as if to say "I see you, and though you're not speaking to me, I still hear you." And the story only became more real as we were taken to the border between Myanmar and Thailand. All that separates the two countries is a river. On one side there are people running, fighting and fleeing their military. On the other side, there are people sitting, watching and waiting for the day when they can return to their homeland and hopefully be reunited with their family once more.
After seeing all of this, we finally took our trek up to the village we were staying at, and seeing the way they used whatever they could find to build their village was so eye opening for me. I couldn't believe the stories I had heard from people about the situation in Myanmar and Thailand were this bad. I never thought I would actually see it, but here I was at the age of 20 getting an up close and personal look at the lives of these people. It broke me. I was in pain looking at the people, and yet they were smiling. They cooked us amazing meals when they had so little to give. They gave us a bag and a shirt that usually would cost almost 500 baht without a second thought about it. How could they live daily with so little yet the moment they knew we were coming, they threw as much money together as they could so we would have enough snacks and food and gifts at the end. And then it hit me.
This village is mostly Christian. We got to attend church on Sunday morning and worship with them which was incredible. The joy they had as they sang was unexpected but welcomed. They didn't care about what they didn't have. Only what they had. All that mattered to them was they had guests from America and they wanted us to feel at home with them. They wanted us to feel like we never even left our home churches because when we were there, we became a part of their family. These people literally lived out what Jesus preached of loving all people and praising God for everything he gave them, no matter how large or small the amount was. It hit me even harder when we went and spent time with the children. I got to share a small message about the love of Jesus with them in church, but then I actually got to show them that love by playing with them. I couldn't speak their language, but we communicated through signs, hand gestures and simple sounds. The entire time I was with them, none of them ever lost their smile, that was until we had to leave. One little girl I hung out with the most began to cry and I comforted her the best I could. It broke my heart that I had only known her for about 4 hours and she was so attached to me that she never wanted me to leave her. I didn't know what to do, how to feel or what I should do. I love all the children I have met in my life, even the ones that annoyed me the most or knew just the right way to push my buttons, I still loved them. And now here I was seeing these children who are growing up in this place where hope is running low and no one knows if they'll ever get to go home, their real home. I was breaking down and I needed some hope of my own.
The next day, we were told we were going back to the field to play again. We didn't know how many people would show up, but we were gonna go there and play with whoever showed up. Will my little friend show up again along with all her friends? The moment she saw me again, she sprinted at me with her arms wide open and when I got a hold of her, she couldn't stop smiling or laughing. We then ran around for two hours, never slowing down for a minute! The joy I felt seeing how just my presence alone made them feel good made me feel good too. When I saw we were having to leave though, I knew the tears were coming and I prepared myself for it. I was ready until the little girl and her friend ran up to me, looked me straight in the eyes, and in perfect English said, "Stay longer" and then ran to their mom and were gone. I was stunned. I started walking down the hill with the rest of the crew, then got a surprise ride down the hill on a motorbike (haha the cohort from last year didn't get to do that), walked into our host house, and made it to my bed before the tears fell down my face. All it took was two little words and I knew why I was there. I needed to bring the children a bit of hope and a lot of joy, and I did. I accomplished that goal I didn't even know I had.
This village stay was exactly what I needed right now and there is so much more I could talk about, but that will have to wait for another time. Until then, I leave you with this: don't underestimate the power words hold, especially when they come from the smallest of voices.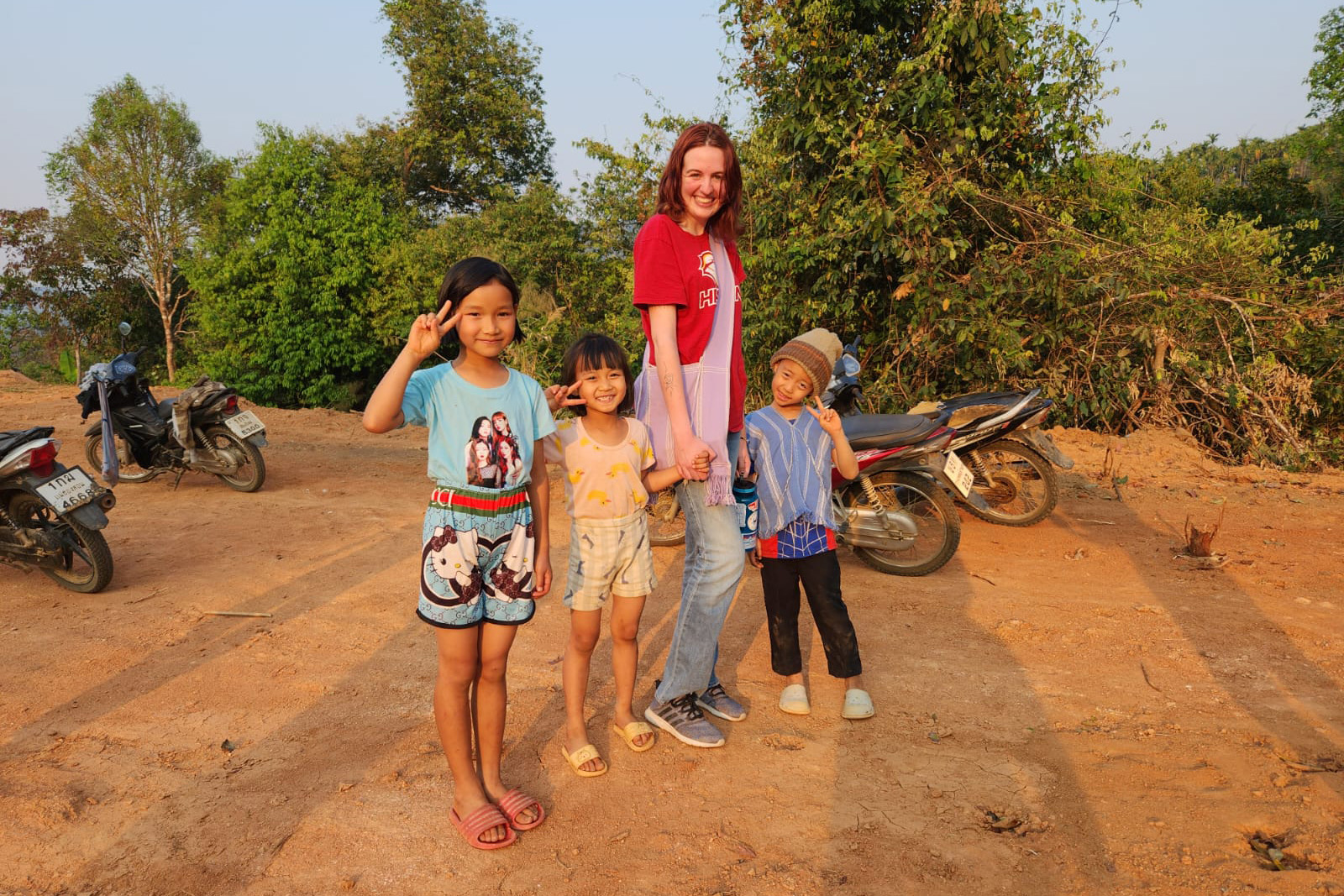 1 March 2023
by Shelby Bontrager
Today was 100% a learning and lecture day. After breakfast we went to the Buddhist temple Wat Soun Dok (Flower Garden Temple) and participated in a Monk Chat with a Buddhist Monk. During the Monk Chat, we learned the story of the Buddha (Siddhartha Gautama) they follow. He is originally from India and was self-enlightened. Enlightenment is full detachment from the world and the ending of their rebirth cycle. This is also called Nirvana. Enlightenment is achieved through the Middle/Eight-fold Path. This path includes right view, right thought, right speech, right action, right livelihood, right effort, right mindfulness, and right concentration. The first three are moral training. The second three are mental training and the last two are wisdom training. All three groups must be achieved in order to reach enlightenment.
The Buddhist equivalent to the 10 Commandments are the 5 Precepts: abstain from killing/respect life, abstain from stealing, abstain from sexual misconduct, abstain from telling lies, and abstain from intoxication.
We also learned two forms of meditation used by monks. The first is Samatha or concentration meditation. This is done through breathing exercises, or mantras, in order to cultivate a calm and focused state of mind. The second is Vipassana or insight meditation. This is done by examining the nature of one's own mind and the world around to gain insight into the nature of reality. The second method cultivates wisdom and has been used to achieve enlightenment by many. One quote that I liked from the monk chat was "there is no happiness other than peace."
After the monk chat we walked around the temple grounds for a little bit (it was beautiful) and then we went and had a fantastic lunch. I had sweet pork and rice. Once we were done eating we headed to a chocolate factory.
This specialty chocolate factory is owned by an American who started the company from the ground up with a partner here in Thailand. We asked him so many questions about international business, his business model, marketing strategy, target market, growth plans, economies of scale, and how he works with the local laws. He does market some of his chocolate internationally but the majority is sold in Thailand.
He is also expanding into small stores acting as third party sellers. His business model is wholesale and consignment sales while focusing on manufacturing. Their marketing strategy is to get eyes on the chocolate and get the chocolate into mouths. Going to chocolate festivals, markets, and events all over the world in order to make connections is one way they do this. The current target market in Thailand is wealthier Thai people, foreigners living in Thailand, and tourists.
This company has been growing pretty rapidly since they started up about five and half years ago. They hope to grow their business by 80% this year which would have them producing two tons of Cacao per month. With this growth comes scaling because the chocolate market is seasonal. He has figured out that he has to be ready for the high order months (Christmas and Valentines) and not just the monthly average because if they are only ready for the average then they will be under producing during the high months. He said they are still figuring out the whole scaling issue and that he wishes they would have thought it through sooner to avoid all the complications.
Working with the Thai law as a foreign business is a bit of a headache in Thailand. You have to get a bunch of paperwork to become a legal business. You also do not have access to local bank loans unless you're a Thai citizen so you have to get investors or borrow from family abroad. Taxes are value based here so that's a little confusing too.
After we got all our questions out, we got to make our own chocolate bars! Then we went back to the hotel, did homework, got supper, and did more homework. We had a pretty full day today but it was a good one.
Thank you for all the prayers. God bless.