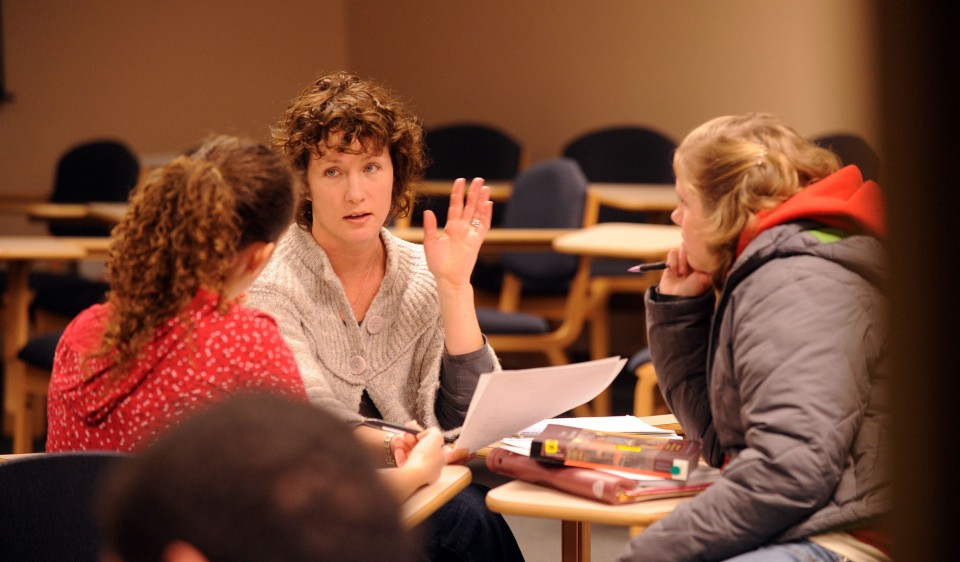 About the Department
The English Department's mission is to teach students close reading, critical thinking, and research and writing skills that enable them to be more compassionate and responsible human beings. With careful attention to how life experience, cultural conventions, and historical contexts contribute to meaning-making, faculty and students together develop a working knowledge of textuality-the dynamic processes of producing and interpreting texts-as a cultural practice that shapes life experience and world view.
Writing and publication opportunities are available with The Hesston College Horizon, our student newspaper, and The Journal of Writing and Art (JWA), both publications housed in the Hesston College Communication Arts department.
Majors
English as a Second Language
Faculty
Villa Writers Project
The Villa Writers Project, a collaborative effort between Hesston College and Schowalter Villa, a local retirement community, also offers students opportunities to share their writing with the larger campus community.
English Department news
Hesston College ESL instructor and fiction author André Swartley (Newton, Kan.) presents to the campus community about writing in an Oct. 2 pre-release celebration of his fourth book, The Wretched Afterlife of Odetta Koop, set to be released Oct. 31. Swartley, along with his wife, Kate, owns the independent publishing company Workplay Publishing, which has […]
Hesston College will host Wyatt Townley, Kansas Poet Laureate, on campus Friday, March 20. Townley will read her poetry at an 11 a.m. forum and lead a 3 p.m. workshop for select Hesston College students. Her presentation and workshop center around the theme "home." Forum will focus on Townley's work and the work of other […]
Hesston College, along with Fresno (Calif.) Pacific University, will co-sponsor the seventh in a series of Mennonite writing conferences in the United States and Canada at Fresno Pacific University March 12 to 15. The conference focus on the theme of Movement, Transformation and Place and will include readings, scholarly paper presentations, panels, writing workshops, performances, […]
André Swartley, English as a Second Language program director at Hesston College, presented at the After JET (Japan Exchange and Teaching) conference in Chiba, Japan, Feb. 9 and 10. JET is a one-and-a-half-year teaching fellowship through the Japanese government where native speakers of other languages, especially English, teach in Japanese public schools. The After JET […]