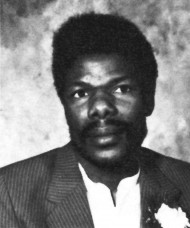 For Quiet Ncube '83, Hesston College was a place of transition into a new culture and inspiration for a career. In two years, the college and community became so much a part of him that his experience would inspire six more students to find their start at Hesston.
Quiet's story speaks to the fact that family legacies are not always left within the immediate family – from parent to child – but are sometimes through the extended family – from uncle to nephews and nieces and between cousins.
Quiet, who grew up in Zimbabwe, heard about Hesston College from Mennonite missionaries in Botswana when he worked with the United Nations. Their missionaries descriptions of the college caught his attention, and he arrived on the Hesston campus in the fall of 1981.
Quiet continued his education at Bethel College (North Newton, Kan.) and the University of Kansas (Lawrence), yet Hesston held a special place in his life.
"I was touched by the college and the Hesston community as a whole," said Quiet. "With its strong academics and focus on the student and community, I felt that it was an ideal place to get an education."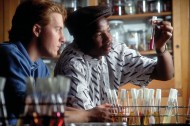 African culture is very family oriented, so as a way of giving back to the five brothers and sisters who played integral roles in his life, Quiet made it his goal to bring at least one child from each of their households to benefit from the "Hesston Experience." Though he didn't quite reach his goal, three nephews, one niece and two of his cousins' children attended Hesston with his financial assistance.
"I wanted to make sure I gave back for what my family did for me as I grew up," said Quiet. "From my own experiences, I knew that if my family attended Hesston, it would be easier for them to achieve their goals."
Quiet's start, with mentorship from Jim Yoder, Hugo Boschmann and Nelson Kilmer in the Science Department, led to a successful career as a medical scientist working in radiation oncology in Los Angeles since 1989.
"Hesston College molded me and prepared me to live in the United States," said Quiet. "The community made it easier to mingle, find my way and be ready to go out and meet the world. If I had been in a big city, it would have been a nightmare."
His family members also settled into careers in the U.S. Muzobanzi "Muzi" Ncube '91 is a pharmacist; Mkhululi "Muki" Ndabambi '93 works in marketing and communications; Mlibazisi "Prince" Mabandla '98 is a computer engineer; Cynthia Ncube '00 is a nurse; Lenin Mazinyane '02 works in communications; and Mbongeni "Bongeni" Ndabambi '02 is a flight attendant.
"I am who I am today because of Hesston College," said Quiet. "I am glad my family also got the opportunities Hesston provides.