In the ultra-connected community that is Hesston College, it's normal for alumni to send their children off to the place they attended years earlier. Moms and dads, sons and daughters – it's sort of a family thing.
In the early and mid-1980s, three young men from three different communities came to Kansas to study and play baseball. And a generation later, those same three men, now fathers, sent their daughters to Hesston to play softball for the Larks.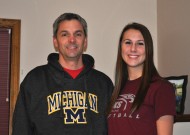 This spring, pitcher Erin Albrecht, Sebewaing, Mich., and infielders Ashlyn Knepp, Millersburg, Ind., and Olivia Miller, Newton, Kan., daughters of Barry Albrecht '85, Terry Knepp '82 and Forrest Miller '85, will lace up their spikes as freshmen for the Hesston College softball team.
In addition to her father, Ashlyn also has an uncle, Daryl Haarer '89, who played baseball for the Larks and encouraged her to start her college career at Hesston.
"When I committed to Hesston, my dad and uncle were excited for me," Ashlyn said. "I think it's been fun for them to see me follow in their footsteps."
"I grew up hearing stories about this place," said Erin, whose parents (mother is Cheryl (Litwiller) '85 Albrecht), along with an older sister, Brittany Albrecht '10, all attended Hesston.
"It's been fun to see my own story develop as I'm walking around the same campus as my family did," she added. "I've felt a lot of support from them in coming here."
Both of Olivia's parents work on the Hesston campus, with her dad also serving as assistant softball coach. Still, Olivia sees herself carving out her own path as she balances softball with the rigors of Hesston's three-year nursing program.
"It's been fun to be on a campus that my family has so much history with," Olivia said. "At the same time, I feel like it's been a new adventure for me – something uniquely my own."