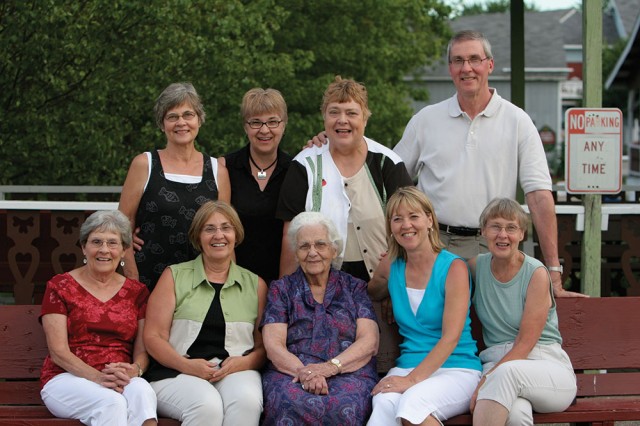 The Milo and Clara Kauffman family name is a fixture at Hesston College. Milo Ac22, '26 was the college's second president. He served with humility for 19 years, guiding Hesston through the Great Depression and dangerously low enrollment, making his legacy memorable and lasting.
The end of Milo's tenure as president in 1951 came shortly before his six daughters would step up to make a name for the Kauffman women, embracing and embodying the Hesston College mission statement of educating and nurturing students for service to others in the church and the world.
The six women – Marilyn, Joy, Evelyn, Gloria, Bonnie and Phyllis – along with their brothers, Charles and Milo "Junior," were brought up in a home dedicated to family, the church and education. As Milo served as the face of the college, Clara focused on raising the children, taking care of the home and supporting Milo.
"Mom saw her role as being a helpmate to Dad," remembers Marilyn (Kauffman) Ac55, '57 Miller. "She sensed the best way she could do that was through taking care of the children and home so Dad could be free to devote most of his time to the work of the college and church. I never once heard her complain about all the work she did alone – laundry, cooking, sewing our clothes, milking the cow and feeding the chickens and turkeys. I am extremely thankful that Mom knew who she was, what her Creator desired her to be and lived that role."
With two strong parental influences, the Kauffman women would also learn to discover who they were, live that role and inherit hearts for service. As adults, all six established careers that put them in the business of serving others – Marilyn (Kauffman) Miller Ac55, '57 was a teacher and pastor and is now retired; Joy (Kauffman) Ac57 Sears served as a registered nurse and is now retired; Evelyn (Kauffman) Ac59, '61 Shellenberger served as a nurse practitioner and is now retired; Gloria (Kauffman) Ac61, '63 Yoder was a teacher working specifically in special education and is now retired; Bonnie (Kauffman) Ac65, '67 Sowers served in the Hesston College nursing department from 1970 to 72 and again from 1975 until present, serving as Director of Nursing since 1985. She also served as interim academic dean during the 1997-98 and 2006-07 academic years; and Phyllis (Kauffman) '74 Hysong worked in customer care and is now retired.
"We all seem to value people for who they are," said Joy. "I think this trait came from Mom who had a knack for finding the best in everyone."
Hesston College was all the children knew growing up as all of them but the youngest, Phyllis, were born during Milo's tenure. Therefore, family life revolved heavily around the college.
"Hesston College is simply interwoven with our identity as a family," said Bonnie. "The faith and values of Hesston College were instilled into our home life. Growing up, we learned that college was a place where we would receive help with integrating our thought, life and faith."
Those values were also passed to a third generation with 15 of Milo and Clara's grandchildren attending Hesston College.
Editor's note – The Kauffman men also contribute greatly to the family legacy and are not to be forgotten. Charles Ac52, '54 was in medical school when he died of a brain tumor. Milo "Junior" Ac63, '69 served as Hesston College athletic director, physical education instructor and coach from 1973 to 74 and worked many years in camp administration and recreation.