Alyssa Rychener '13, Hesston, Kan., knew for a long time – for most of her life really – that she would start at Hesston College. Growing up she heard family members' Hesston stories, explored the campus and attended college events. Months before she started her own Hesston Experience, she knew her roommate, where she would live and her class schedule.
There was one thing she didn't know – her major.
According to the National Academic Advising Association, Alyssa's situation is not unique; between 20 and 50 percent of college freshmen are still deciding on a major.
With interests across several disciplines, Alyssa wasn't sure which road to take. She dabbled in various disciplines, and although she enjoyed many things about each path, she was still deciding.
Classes in several disciplines helped expand her learning to things she otherwise may not have discovered.
"The classes that I enjoyed and that challenged me the most were those where the instructor taught key elements and ideas that required my own exploration, learning and interaction with the text," said Alyssa. "My education instructor (Marissa King '05) always said, 'Claim your education,' and that is what I try to do."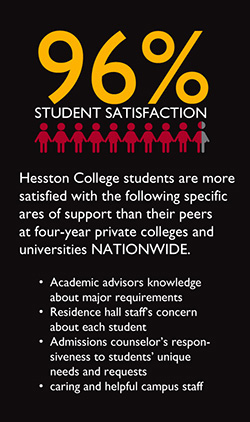 She found herself in the Career Development course, designed specifically for deciding students to have opportunities for self-discovery through occupational research, observation of current trends, interviews and reflections. A class-assigned survey put teaching at the top of her professional personality profile, and it finally felt right.
"I like kids, learning and the classroom setting, and I want to help society, so elementary education really fits me well," she said.
As she settled into her path, Alyssa's experiences exploring education broadened her intellectual growth and inspired future plans. A practicum in a bilingual Newton, Kan., elementary classroom allowed her to see how Teaching English to Speakers of Other Languages (TESOL) works. A visit to a bilingual school in Wichita where 70 percent of the student population was of low socio-economic status gave her a glimpse into the diversity within classrooms and education in general.
"My Hesston Experience allowed me to discover a passion for education and to appreciate the diversity of learning styles and backgrounds coming together."