Delivering the Promise
For the past year, the Development Office has been working hard to raise funds for the five pieces of the Delivering the Promise campaign. The funds will provide updates and refreshing to the aviation program, pianos across campus, provide a renovation of Northlawn, new tennis courts and a campus entrance. Also during the 2012-13 year, the college created and began using a new Hesston College logo, replacing its predecessor with a bold, confident message that Hesston College is THE place to start. Both projects have made huge strides during the year – see where they stand to date and how they are refreshing the Hesston College of today.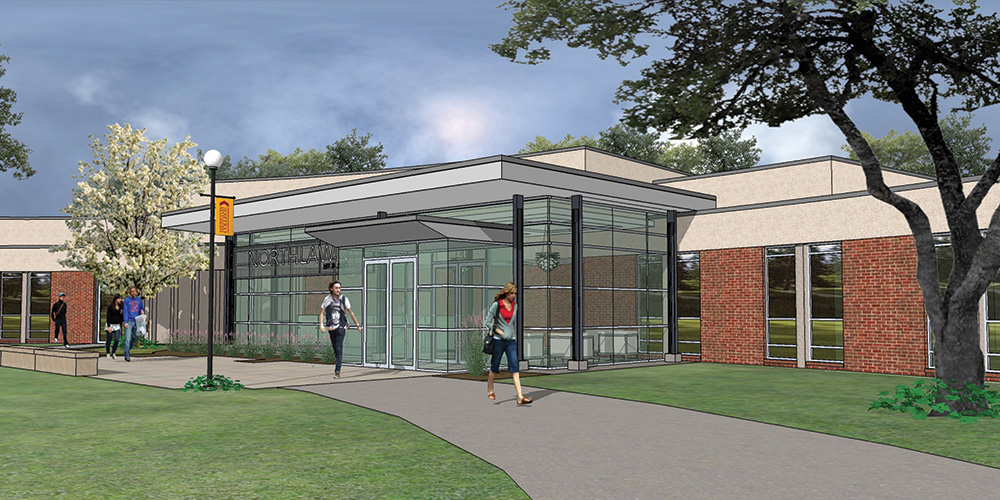 Northlawn renovation
Funds are being raised to give Northlawn, performing arts and Campus Worship new energy. The renovation will include:
New windows, HVAC system and other energy saving measures
Acoustical work to isolate and calibrate sound
Creation of dedicated spaces for theatre, Campus Worship, Hesston College Chorale, Bel Canto Singers and Concert Band rehearsal and instrument storage
An additional classroom
Student gathering spaces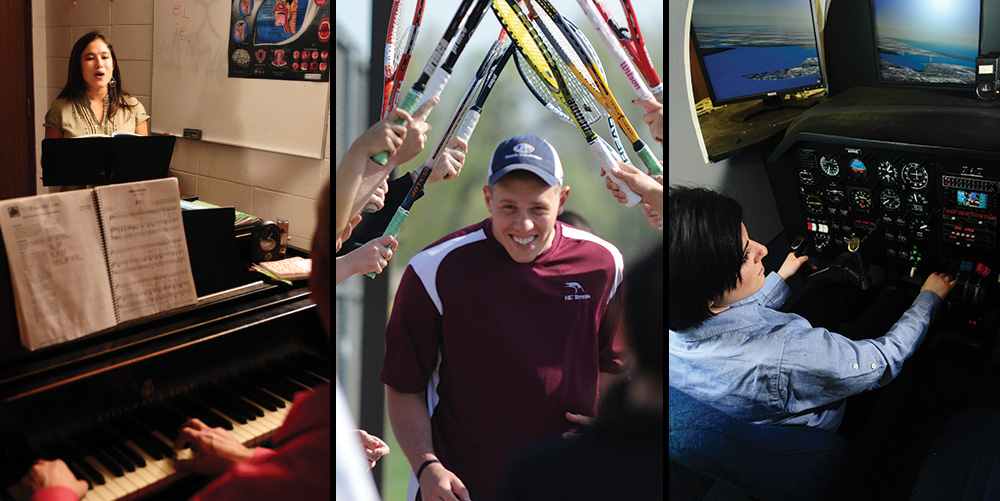 Pianos
Replacement of a 1969 Baldwin D nine-foot grand piano
Rebuilding and refurbishment of pianos in instructor and voice studios
Three new upright pianos for practice rooms
New baby grand piano in Northlawn
Tennis
Two additional courts
Landscaping to serve as a protective barrier from Kansas wind
Improved spectator experience
Aviation campaign
In mid December, thanks to a generous anonymous gift given in honor of Wilbur Bontrager '73 (Middlebury, Ind.), the college was able to purchase a Redbird MCX C182 G1000 GFC700 full-motion flight simulator geared toward Crew Resource Management and two-pilot cockpit training with single and multi-engine configurations.
In mid March, thanks to a substantial lead gift, a new plane joined the fleet – a 2005 Cessna 172S Skyhawk with Garmin 1000 avionics. The remaining five planes in the fleet are receiving avionics upgrades.
Also this spring, updates and enhancements to the Hesston College Aviation offices and hangar were completed. New paint, furniture and general updates have given the space a fresh feel.
Thanks to many supporters, the aviation portion of the campaign is complete.
Campus entrance
Increase campus visibility along Main Street
Create a welcoming and inviting campus entrance
Add landscaping to improve aesthetics and make a strong, positive first impression
Add parking and a drop-off area to better serve campus visitors

Logo
The new Hesston College logo is part of a larger visual identity system that established guidelines and parameters for the way the college presents itself visually. The old nameplate represented the college well for 21 years, but the college needed something stronger to stand out and make a more pronounced statement. The arrow emphasizes both parts of Hesston's promise of "Start here, go everywhere."
Hesston College Today has also been refreshed. The magazine reflects the new visual identity and has grown by 12 pages so we can provide you with better coverage of our alumni and campus happenings. Watch how it continues to evolve and grow into its own throughout the coming year.