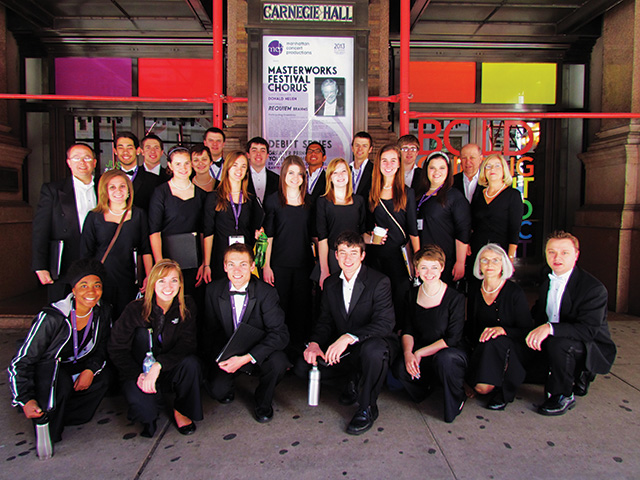 The Bel Canto Singers celebrated the group's 30th anniversary May 6 to 16 with an east coast tour highlighted by a four-day New York City excursion and a performance at Carnegie Hall.
The 21 singers and three alumni, under the direction of Bradley Kauffman, joined the Masterworks Festival Chorus mass choir to present Johannes Brahms' Requiem under the direction of Donald Neuen and with the New York City Chamber Orchestra in Carnegie Hall's Stern Auditorium May 12.
"It has been the ultimate goal for performers to perform at Carnegie Hall for more than a century," wrote Morgan Martin '14, New Holland, Pa., in the group's Facebook travel journal. "Now it was finally our time to perform the Brahms' Requiem that we worked for five months to accomplish! Performing on stage felt unreal. It was an incredible experience that we will remember for a lifetime."
Hesston College alumni and friends joined Bel Canto in New York for five days of sightseeing and connecting with each other, students and the college.
Bel Canto Singers performed 10 concerts in six states on their 10-day tour. Other concert highlights included New York City concerts at the 15th Street Friends Meeting House hosted by Manhattan Mennonite Fellowship and at New York's Cathedral of St. John the Divine.