Hesston College has long been known as a great place to start. Since 2006, the college has placed a new emphasis on researching specific elements of the learning experience and implementing classroom changes to continue providing an educational experience among the best in the country.
The nationally normed student surveys used by the college demonstrate strong academic preparation, course excellence and overall student satisfaction with the Hesston Experience. Hesston faculty have always worked to improve the classroom experience. Thanks to this data-driven approach, however, the college is able to make smart shifts and tweaks to courses and instructional methods.
"Our faculty and staff care about improving the student experience," said Dr. Nelson Kilmer, who chairs the science and math division and analyzes and interprets Hesston's survey results. "We always want to know how we can improve. We care deeply about our students' learning."
That attention to student learning is paying off in big ways. Hesston's results from the most recent round of surveys position Hesston as a leader in outstanding academics and overall student experience – and not just among two-year colleges nationally, but four-year institutions as well.
According to the 2012 Individual Developmental Education Assessment (IDEA) – which measures instructional effectiveness at two-year, four-year and graduate colleges and universities – three fourths of Hesston College courses rank in the top half of all courses taught nationwide.
"Our results show that we are finding success in the efforts we make to be caring and people centered," said Dr. Sandra Zerger, vice president of Academics.
Hesston's student-centered approach is closely aligned with items students consider most important. The Student Satisfaction Inventory (SSI) – a widely used survey administered by Noel-Levitz – helps Hesston College understand both what students consider important in their college experience and how the college does at satisfying those needs and expectations. The results also show how Hesston compares to private four-year institutions nationwide. Hesston students' top three priorities for their college experience are faculty knowledge, excellent instruction and valuable course content within their major – the same priorities for four-year students. In 2009, Hesston College students' satisfaction was an average of 20 percentile points higher than the national average at private four-year colleges. Three years later, the average difference was 23 points higher. The 2012 SSI results also show that the average Hesston College student satisfaction was 96 percent in relation to the importance of an item, compared to 85 percent of students at private four-years on the same items.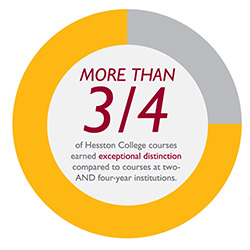 Student learning and intellectual growth are explored by both the SSI and the Community College Survey of Student Engagement (CCSSE), which measures Hesston against itself and other two-year institutions.
According Mallory Eicher '13, a President's Scholar and Dean's List student from Berne, Ind., (seen on the cover)students don't want to passively listen to lectures and memorize miscellaneous facts. She says they want an interactive environment that challenges them to work together to solve real problems.
"My interactive class discussions and projects at Hesston push me to think critically and to think for myself," Eicher said. "I am encouraged to integrate learning from across my classes in a way that helps me discover things in meaningful ways." Eicher and her classmates started at Hesston the fall after the college was ranked the number 2 two-year college in the nation by Washington Monthly magazine. That ranking was heavily based upon the college's graduation rates and data from the 2009 CCSSE. Data from the 2012 CCSSE indicate positive change on campus.
Hesston College has exceeded the results in every CCSSE benchmark area that garnered the No. 2 ranking. The college now has the highest reported scores in the nation in the areas of student-faculty interaction and support for learners. In addition, Hesston is hundredths of a percentage point shy of the highest reported score for academic challenge.
"These results affirm the hard work our faculty and staff do day in and day out to provide our students with an exceptional learning experience," said President Howard Keim. "Instead of using them to sit back and say 'We've arrived,' we use them to get better."