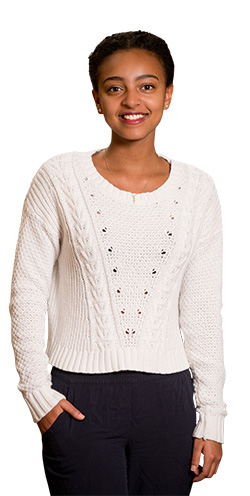 Addis Ababa, Ethiopia
MAJOR: Health and medical occupations
INVOLVEMENT: Ministry assistant, student ambassador
Start Here
I learned about Hesston College through my childhood friend. She came to Hesston and I knew she had had a good experience and was glad she had started here, so I thought it would be the same way for me. Taking an important step like college is always a big deal, but I think there is added nervousness and worry when you do it in a new country. Being an international student is a challenge because aside from school work, you're also learning about a new country and culture. My resident assistant, resident director and ministry assistant all did a really good job of welcoming me and introducing me to the community. The other Ethiopian students who are here also played a big role in making me feel at home. Although it takes time to adjust, it's a worthy experience.
An International community
The campus community is one of the most unique aspects of Hesston. I experience community through relationships with the other women in my mod and activities that engage all students. I will always cherish the relationships with my mod, faculty and staff, international students and all the other students here. I love that I have met people from all over the world and that we can learn about and from one another. I feel accepted as I am and allowed to express myself and my culture.
Making adjustments
The class setting was one area I had to get used to in coming to Hesston. Classes in the United States are held differently than in Ethiopia and the teachers interact with students differently, but the professors here were understanding and helpful as I got used to a new way, so it didn't take me very long to adjust to that difference.
My experience at Hesston so far has been quite transforming. It was a platform for me to step out of my little bubble and broaden my worldview. The Hesston community is teaching me to function as one body and yet celebrate our differences. As an international student, I get opportunities to express myself while loving and learning from others. Chapel and mod Bible studies have contributed a lot to my spiritual growth. Being a ministry assistant this year is also helping me learn and grow spiritually, and service opportunities throughout the surrounding communities has made my time here worthwhile. Hesston is definitely a great place to start! I especially appreciate the leadership opportunities and meeting students from around the world who have a common goal of education.
What happens next?
I am studying healthcare at Hesston. I always had an interest in the health fields, but the health care issue in my home country inspired me to pursue it. After Hesston, I plan on transferring to complete my education. In the long run, I hope I will take part in making a difference in Ethiopia's health system.