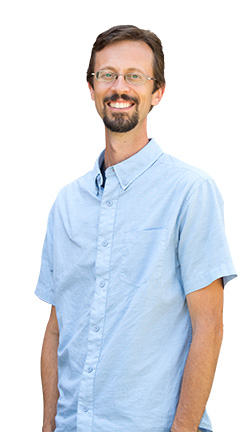 Pipersville, Pa.
MAJOR: Biology and international agriculture from Eastern Mennonite University (Harrisonburg, Va.)
CAREER: International agriculture in service
Making service a career
Much of my work after college has been spent in service. My wife, Jenny, and I served in Mozambique with Mennonite Central Committee (MCC). In our first term, I was a sustainable agriculture consultant seconded to the Christian Council of Mozambique to work with a food security project in Manica province which also led to work with sand dams and conservation agriculture. Sand dams are low-cost, low-maintenance methods of conserving water in dryland environments.
In my second term, we moved to the capital city, Maputo, where I was part of a team developing agriculture programming. We worked at developing a vision and program to support the expansion of sand dams and sustainable agriculture within the Christian Council network in other provinces. I worked with the engineers to develop monitoring and evaluation systems and assisted in organizing conservation agriculture and sand dam workshops and training with our partners and in-country staff.
I was always interested in working with MCC. It is interesting that I had a chance to work with sand dams. I had seen them in an article prior to going to Mozambique, and I thought it would be a neat thing to be a part of. I also have always been really interested in ecology and water issues. Prior to MCC, I spent time in voluntary service working with an environmental group who was trying to preserve sensitive land in the southern Rocky Mountains and another group whose intention was to restore the Rio Grande River in the San Luis Valley of Colorado.
The Importance of service
MCC's work in Mozambique is especially important because hunger is a huge issue there. Many communities, even communities that have substantial agriculture, can go several months each year without enough food. The soil is excellent and has potential, but there is simply not enough water at the right times to make agriculture really productive. This is why sand dams and conservation agriculture have such potential. Sand dams are environmentally sound practices in that, if done correctly, they add value to the environment rather than tax it.
Start Here, Go Everywhere
The biggest thing Hesston College did for me is help me understand that my life is part of a larger story that God has written. This has helped me visualize and be a part of that story in Mozambique, and the other places our work intersects internationally and with the global church. Hesston also had many international students, and it's a huge gift in that I rubbed shoulders with people from around the world.
We came back to the U.S. for a little break from international work. I am working as a landscape maintenance foreman where I can still utilize my background in agriculture. I recently began a degree in international development at Eastern University (Philadelphia, Pa.). We may serve another term in leadership with MCC at some point, and having more education will be helpful. Beyond that, only God knows, it is somewhat an act of faith.
Joel kicked off Homecoming and Inauguration Weekend as the chapel presenter talking about his "go everywhere" work in Mozambique. Hear his Sept. 22 presentation at hesston.edu/chapel.