The world needs more opportunities to learn about, listen to and be in a common space with the other. Therefore, Hesston College aims to be a laboratory of the Church. It's a place for people of all faith backgrounds, cultures and perspectives to engage with one another, build relationships together and create a community from which the world can learn.
Through academic, spiritual and social learning experiences, Hesston College aims to have graduates with cultural competence, a Gospel ethic and career readiness. Students who start here are energized about making a positive difference wherever God leads them.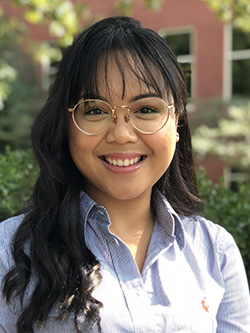 "My experience here at Hesston College is beyond my dreams, and I am truly thankful for each person who has played a part in making the Hesston Experience a reality for me."
Navy Widyani '20, Jakarta, Indonesia
Hesston College depends on alumni and friends to keep the Hesston Experience affordable and thriving.
Individuals and households who commit to supporting the Hesston Experience on an annual basis are our Partners. These funds help Hesston College offer competitive scholarships and opportunities that promote academic, spiritual and social growth.
Partner giving goes toward the annual fund, which we are now calling The Hesston Experience Fund, as that is what the dollars are used for – supporting and sustaining the Hesston Experience.
Partner facts
Partner giving makes up roughly 88% of Hesston Experience Fund giving. Other sources include Phonathon, golf benefits and church- and denomination-related giving.
Partner giving in 2018-19 increased by about $50,000. We hope to double this increase by July 2020 by adding 75 new Partners.
Of about 730 total partners, 275 are located in Kansas, 80 in Indiana, 45 in Ohio, 36 in Pennsylvania and 294 in other U.S. states and Canada.
To find out more about the Partner Program, call the Development Office at 620-327-4221.