Coaching basketball is about more than coaching basketball for Kari Heusinkveld '10. As head girls basketball coach at Hillcrest Academy in Kalona, Iowa, (formerly Iowa Mennonite School), Heusinkveld knows that her influence goes beyond the court, and it's that attitude that has helped turn the program from a 1-37 record over two seasons to a .500 team two years later.
"My goal is to provide a positive athletic experience for each of my athletes and I believe that starts with creating a safe, controlled environment that is conducive to learning," said Heusinkveld.
"I believe in the importance of setting standards and holding each member of the program accountable to those standards, emphasizing discipline, responsibility and accountability to both yourself and others. Then we can work on controlling what we can and forgetting about the rest. We can always control our attitude and our work ethic, by which much can be accomplished." 
A two-year starter as both a Hesston Lark and a Goshen (Ind.) College Maple Leaf, Heusinkveld was known for her intensity and passion on the court, exhibiting a never-quit attitude that has followed her into her coaching role.
After graduating from Goshen, Heusinkveld served as assistant coach for the Maple Leafs for one season before becoming an assistant coach for one season at Hillcrest. In 2015 she stepped into the head coach role, persevering through a few difficult seasons with few wins before a 10-11 record in 2018-19 and a turn-around for the Ravens.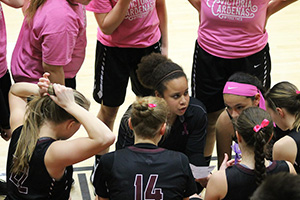 "Our program has been through quite a few ups and downs in the four seasons I've been there," said Heusinkveld. "I obviously love the game of basketball and the goal is to help my kids grow in the sport each season, but the bigger goal is to help them grow as people." 
In March 2019, her efforts and successes as coach were recognized more widely when she was one of three statewide recipients of the E. Wayne Cooley "You Can" Award from the Iowa Girls Coaches Association. The award is meant to recognize coaches early in their coaching career who are building up varsity programs. 
Heusinkveld's influence also extends beyond the court to her other jobs in the agricultural world as business manager for Miller Hybrids, Inc., an independent seed company, and general manager for onlineseedsales.com.
"My days are busy, sometimes non-stop, but I enjoy working in an industry geared toward helping others," Heusinkveld said.
With service and relationships fueling Heusinkveld's passions for coaching and science, Hesston College's nature of launching students into roles that feed their interests was a natural start for her journey. 
"Hesston challenged me in the classroom and helped me learn balance," said Heusinkveld. "It opened the door to a passion for science and being a leader, which is what I'm living out in my career today."