As is sometimes the case, Hesston College contained a "boy meets girl" story for Eric '07 and Lauren (Janzen) '07 Eberspacher. He was a farm boy from Nebraska; she was used to the amenities and faster pace of Kansas City. But they hit it off and the rest is history.
Ending up in rural Milford, Neb., didn't come as a surprise to Lauren. She'd known since their first date at Hesston College that Eric dreamed of returning to the family farm. After spending their first five years of married life in Kansas City – her working as an oncology nurse, him as an arborist – they transitioned their blacktop urban life to farm life off the dirt road.
The surprising part of it all was what they found God calling them to do with this new chapter of life, how Lauren's blog, "From Blacktop to Dirt Road," would become their ministry, and how they have responded to the unexpected call with relentless obedience.
"As we prepared to move from Kansas City to Nebraska, I started blogging as a way to keep people updated on the process, our life and our growing family," said Lauren. "Then all of a sudden I felt compelled to write about my relationship with the Lord and how he was meeting me in this change. It just kind of organically unfolded from there. The Lord kept putting promptings on my heart for how to encourage other people."
People across life stages were able to relate to Lauren's blog posts about life transitions and the joys and challenges of raising young children. The couple and their two daughters – one a newborn – were living in a small machine shed-turned-guest house on Eric's parent's farm while Eric, with help from his father, was working to build their dream farmhouse just down the road in between the work that 1,500 acres of farmland demands. Life was busy, and Lauren's posts were increasingly going viral.
Before long, she was a regular contributor for "Her View from Home," a faith-based social media community of women sharing their stories of everyday life and struggles. She then started her own "Blacktop to Dirt Road" Facebook community as a way to connect with her followers more directly. Then the Today Show came calling, also wanting to publish her writing to their followers.  
 
"There was never really a closed door," said Lauren. "I think when you have this idea of a calling, it can be viewed as having things to overcome along the way, but for me, it was like it was meant to be. God kept saying, 'Walk through this door. Be obedient.'"
Then, about two years ago, Lauren's writing and ministry took on new meaning when she shared with her online community that she was struggling with postpartum depression and anxiety following the birth of her third child. 
"Sometimes I think we just like to hear how God works in our lives and fixes things and we see redemption and it's all tied up with a pretty bow," she said. "But I felt like I needed to be real with my community and share about my struggles. It started being more of writing in the moment; writing the raw, middle of a mess stuff, following it with 'But God,' and weaving the gospel into every single thing we do. Because if there's not a 'But God' in our story, we're not doing the Gospel justice."
As she shared honestly and vulnerably from some of her messiest and most difficult moments, she saw an even greater uptick in reader response. Sharing the realness of life and the hope that exists in Christ, even in pain and darkness, gathered a community of women, in particular, from the many stages of life who, despite whatever differences might be part of their stories, find solidarity in their similarities and encouraging and support one another through everyday situations both big and small.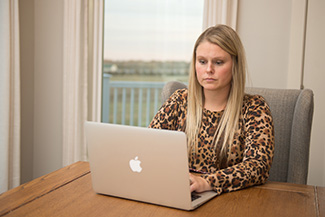 "I have found that people really like to see that they aren't alone in whatever mess they may be in," said Lauren. "Our messes are relatable and that's comforting. I am broken – we all are – but again, 'But God.' I am not what the world says I am. I am not my depression. I am not my anxiety. I am not all these imperfections. I am justified and sanctified by God. I think if we can come together and be honest about what we have going on and see what God has to say about it, that's all we need."
The online community that was forming soon turned into face-to-face meetings when moms groups around the state began inviting Lauren to share her story in person. Eric would accompany her when he was able, and would also speak to the struggles from the perspective of husband and father. Last year, they began incorporating him into the online community, offering a new perspective and expanding the community to a place where men could also feel comfortable.
In her obedience to vulnerability in her struggles, Lauren felt that her message wasn't just meant for online communities. She started exploring the idea of writing a book to be an encouragement to other moms. 
"The idea for a book started because I really wasn't finding anything that was faith-based for women walking through depression and anxiety," she said. "There were big, thick books, but not something that a tired, crying, anxious mom could pick up for five or 10 minutes and find encouragement backed by scripture."
Lauren decided to fill the gap with her own reflections and lessons learned through her journey.
In April, her 31-day devotional, Midnight Lullabies: Moments of Peace for Moms (FaithWords), was published.
"It's sometimes hard to rehash your hardest, most embarrassing moments for all the world to see, but God used it in such a great way," recalled Lauren of the writing process. "When I didn't feel like I had the words on something, it just started coming. There's something really profound that happens when you choose to be obedient to what God has called you to."
As they navigate each day of parenthood, farming, preparing for their fourth child in March and more, the Eberspachers remain attentive to what God is calling them. Lauren's work as writer and speaker has turned into a full-job alongside her full-time job caring for her growing family.
Being a fully self-employed family, allows for a balance for both Lauren and Eric to continue to pour into the callings that inspire them. Lauren regularly shows up for her online community – you can join her for a weekly live "Coffee at the Farmhouse" on her "Blacktop to Dirt Road" Facebook community every Tuesday morning – even with her speaking engagements expanding to include more of the country, and ideas are brewing for more books. Eric attends to the demands of crops, and in slower times on the farm operates his own tree-care service in the community. Yet they also feel God telling them to slow down and refocus, so they're trusting that call as well and adjusting once again to a new normal.
"Our core call is to be disciples," said Lauren. "As Christians, that's all of our calling, but it looks different for different people. Not everyone wants to go on Facebook and do videos, but for us, our calling was to be obedient in this way. God is continuing to use it for good. We're choosing to walk in that and share the good news that Jesus came to seek and save the lost, and we're just as lost as everyone else."
Editor's note: Find the "From Blacktop to Dirt Road" community on Facebook or at fromblacktoptodirtroad.com. Lauren's book, Midnight Lullabies: Moments of Peace for Moms, can be found wherever books are sold.