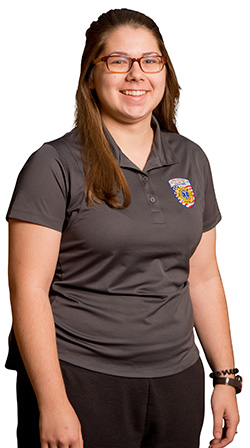 Goshen, Ind.
Major: Emergency Management
Activities: Student Ambassador, RA, Bel Canto Singers, theatre, Hesston Fire/EMS
Parents: Calvin '91 and Karen (LeFevre) '91 Swartzendruber
Start Here
I always thought it would be interesting to have a job in the medical field, however, the idea of being stuck inside all day either in a hospital or doctor's office never appealed to me. With many family members who are Hesston College alumni, Hesston was already a strong option for me, but then as I was browsing through the list of majors and saw they offered Emergency Management and it included work experience, I was even more interested. When I visited campus for the first time, I felt the sense of community I had heard so much about both on campus and in the town as well and I decided it was where I wanted my start to be as well.
Of work and study
The Emergency Management major was new when I was exploring my college options – it had only been around for about a year – and I was excited by what it offers. The program operates in cooperation between the college and the City of Hesston Emergency Services Department. Hesston students can apply for part-time work through the city department, gaining real experience while also a full-time student. I had to go through an interview process with Hesston Fire/EMS and after being hired, I enrolled in an EMT class and was given a pager.
Since Hesston is a smaller town, most of the Fire/EMS employees are on call and carry pagers with them, which has its benefits and difficulties. One of the greatest benefits is that I am able to work and gain practical experience as a college student. A challenge of being on call all the time is not being able to schedule when I work. Yet at the same time it means I can attend regular college classes and participate in extracurricular activities, but with the understanding that I might have to dart out at any moment.
I love having the ability to be involved in a wide variety of things on campus. I deeply enjoy the performing arts and am part of Bel Canto Singers and participate in theatre productions. My professors and directors understand that in order to balance these areas of my life, I may sometimes have to miss a class or rehearsal, and they're willing to work with that.
Uncovering the call
I love that at Hesston College I am able to participate in so many opportunities and have experiences and fields to grow in. My interests are so different from each other, but my professors and friends are understanding and supportive of this time I have to explore these different areas that excite me. I've learned a lot about myself while balancing the different aspects of my life, and that's a process I continue to work on.
After I graduate in the spring, I plan to take a whole new path, transfer to Goshen College and take a on a new major of film production. I hope to be able to tell stories of real people, create documentaries and maybe even tell a ficitional story or two. I also hope to continue growing in my medical knowledge and skills. I am so thankful for the people who have helped me grow and learn about myself in my time here.