As Hesston College prepares its new church leadership program – the Center for Anabaptist Leadership and Learning (CALL) – in fall 2020, it is also offering its famous Biblical Literature course to individuals, congregations and other groups across the country in a couple of different formats.
Weekend College: The Bible as story
One of the offerings is called The Bible as Story and takes the course to congregations or other groups in an arrangement called Weekend College.
"Weekend College is a non-credit educational experience for congregations or other groups in their own setting where Hesston College Bible and Ministry faculty teach on a variety of topics," explained Jessica Schrock '02-Ringenberg, director of the CALL program.
In its more than 30 years of existence, Bib Lit has become iconic to both the Hesston College student experience and known in the wider church as providing sound foundational context to understanding the Bible as a narrative of God and the people of God instead of a compilation of individual stories.
Hesston's Bible professors have taken Bib Lit on the road for several years by special request, but Weekend College provides a more formal approach. The course will be taught by Nick Ladd '14, a Pastoral Ministries graduate who spent about four years as pastor of Salem Mennonite Church in Waldron, Mich., before returning to Hesston on the Bible faculty in 2018.
"The Bible as Story course changed my life and faith, helping me to see God's same mission from Genesis to Revelation," said Ladd. "It is my passion and a true blessing to be able to share it with others and watch them come to new realizations about God and their own faith stories."
Weekend College typically lasts from Friday evening through Sunday morning, but can also be customized to fit a congregation's needs. The cost is $2,000 plus travel, lodging and meal reimbursement. Churches and communities who cannot afford the full rate may be eligible for a discounted rate.
To learn more about the Weekend College experience, contact Director of Alumni and Church Relations Dallas Stutzman at 620-327-8110 or dallas.stutzman@hesston.edu.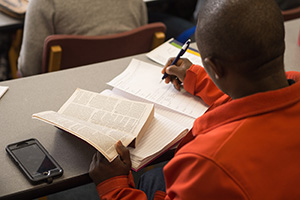 Online Bib Lit
Starting with the spring 2020 semester on January 15, Hesston College will also offer Bib Lit online in a 16-week format, making the course accessible to people outside of Hesston College.
"Online Bib Lit will allow students in the course to get the full Bib Lit curriculum and learning," said Michele (Schrock) '81 Hershberger, Bible and Ministry professor. "It's for people who want the immersive Bib Lit experience and, perhaps, a new way of understanding the biblical narrative and their own faith journey."
Hershberger, who has nearly 20 years of experience teaching Bib Lit, and who is co-author of the course's textbook The Bible as Story: An Introduction to Biblical Literature, designed the online course and has taught Bib Lit online in the past. Nick Ladd will teach the online course.
Throughout the course, students will wrestle with three major themes: Bible study that includes the original contexts, biblical interpretation and the biblical narrative as a connected story. Students will explore cultural, historical and literary contexts of the Bible stories as they work together to complete an inductive Bible study. Students in the course who live locally will be welcome to do the in-class inductive on campus, offering a bit of a hybrid learning option, while students at a distance will connect remotely.
"Students will discuss ways to work through the 'problem' of the Bible seeming to disagree with itself on key ethical issues," said Hershberger. "Most of the class will reveal how individual Bible stories connect with each other and how they work together to show God working to heal broken relationships through a Shalom people of God."
Online Bib Lit can be taken for credit for $1,200 or audited for $240. Financial aid is not available.
Interested participants should register for the course by January 8. Non-degree seeking students can enroll by completing the community application at hesston.edu/communityapp. Degree-seeking students should apply at hesston.edu/apply.