Music
After more than a year of virtual and on-campus concerts, Hesston College's Bel Canto Singers hit the road after commencement to perform a program entitled "Lift Every Voice" at locations in Kansas, Nebraska, Minnesota and South Dakota. The choir used the Hesston College campus and Swan Lake Christian Camp in South Dakota as their home bases, holding all performances outdoors. The concerts brought a message of new life, resilience and reflection after a year of challenging COVID-19 restrictions.
As we move forward into the fall 2021 semester, the Fine Arts department at Hesston College looks forward to the return of many familiar music events. On November 20, Hesston will again host a Keyboard Festival for elementary, middle and high school students who study piano or organ from across the state. The annual Masterworks concert featuring college and community singers will take place on November 13 at Hesston Mennonite Church.
– Dr. Russell Adrian, music director
Theatre
Adapting to performing shows outside and in other venues was an exercise in extreme creativity. It was a blessing to have in-person audiences and was an opportunity that many other colleges were not given this past year. For the seventh summer running Hesston College Theatre hosted a two week day camp for middle school- and high school-age actors on June 7 to 18. Camp participants prepared and produced the musical The Jungle Book. Campers had the opportunity to experience every aspect of staging a production from set construction to performing.
In Fall 2021 we hosted TheatreFest for area high school students during the day on Wednesday, September 29. The morning offered selections of acting and tech-based workshops and concluded with a Hesston College matinee performance of the murder mystery/comedy The Game's Afoot by Ken Ludwig. Additional public performances were September 29 to October 3 in the Hesston College Black Box Theater.
– Rachel Jantzi, theatre and communication professor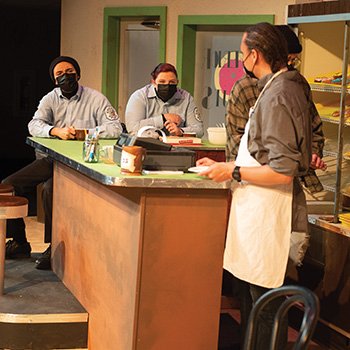 What's Next
Masterworks Concert – Nov. 13

7 p.m., Hesston Mennonite Church

Keyboard Festival – Nov. 20

for elementary through high school students

"Home for Christmas" – Dec. 4

7 p.m., Hesston Mennonite Church

Sunflower Performing Arts presents Canadian Brass – Dec. 7

7:30 p.m., Hesston Mennonite Church