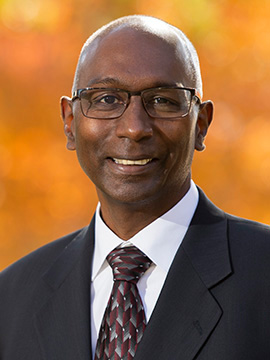 Friends,
Greetings to you on the cusp of a tenuous but seemingly brighter future. While we are by no means clear of the COVID-19 pandemic, our communities have come through tremendously difficult circumstances and are better positioned to move into the future now than they were last winter, in the very heart of the pandemic.
Even as Hesston College met COVID challenges, we grew in other ways, including adding a Bachelor of Arts in business management. As the article says in "Business Management, the Hesston Way", one of the core values that sets Hesston College business instruction apart is an emphasis on "leadership for the greater good."
As HC alumni, I suspect you and I intrinsically understand why Hesston is uniquely positioned to graduate business leaders who value the greater good as much as profit. The challenge will be to effectively position that outcome for incoming first-year and transfer students.
I am confident that we will meet that challenge. As John Sharp's article on the history of business instruction at Hesston underscores, Hesston faculty and staff have risen to meet and overcome the obstacles they faced. From computerization to an increased emphasis on site visits and internships, the business department at Hesston College continues to evolve and grow to meet the world's demands and needs.
But this emphasis on ethical management is more than just a marketing ploy. We need leadership for the greater good now more than ever. From climate crises to political unrest and cultural polarization, we are morally obligated to nurture leaders who will care for all of God's people and all of God's creation with every decision they make. In this year's theme verse, Paul instructs the Ephesians to "bear with one another in love." All Hesston College graduates, in business management or otherwise, should leave this place with Paul's exhortation firmly in mind. "How does what I do now bear with the other in love?" It's questions like this that inform our vision of "leadership for the greater good."
As you make your way through this issue of Hesston College Today, I encourage you to pray for your alma mater; for its students, faculty and staff; for health, for safety, for friendship; and that a vision for a more ethical, moral leadership model that bears with the other in love.
Peace to you,
Dr. Joseph A. Manickam '87
President