Quelling repeated calls for a bachelor's degree program at Hesston College, incoming President Tilman Smith announced in his inaugural speech in October 1959 that Hesston College would become the "strongest possible junior college." There would be no more talk of a four-year college curriculum.
Why this talk of a four-year program?
Because the college had granted bachelor's degrees from 1919 to 1927. Four years earlier, the administration had begun expanding the college curriculum from one year in 1915 to four years in 1919.
That year Hesston College was on the move. It was the largest MC Mennonite school with an enrollment of 187, larger than Goshen College and Eastern Mennonite School combined. All three schools counted academy, Bible school and college students.
Nevertheless, in 1925 the Mennonite Board of Education with oversight of colleges required Hesston to scale back its curriculum to two years. The logic was that the church was too small to support more than one four-year college and Goshen would be that school, while Hesston should consider itself a feeder school.
So yes, Hesston College once conferred bachelor's degrees. One should also note that in the 1950s, a Bachelor of Theology degree was offered in cooperation with Goshen College.
Now in 2021, a bachelor of arts in business management becomes Hesston's third bachelor's degree program, after nursing and aviation.
So what has changed? The times, of course, and the demand.
A recent study submitted to the Higher Learning Commission, Hesston's accrediting organization, showed that prospective students inquiring about Hesston College programs expressed more interest in business than any other program of study except for nursing and aviation.
Enrollment growth is promising from current students as well as from possible transfers to Hesston. As an example, admissions reported that from 2016 to 2019, 84 potential freshmen interested in studying business chose four-year schools over Hesston. And in a 2019 survey of Hesston College business students, sixteen of thirty-nine said they would or definitely or probably stay to complete a four-year degree.
Moreover, among Kansas high school students taking the ACT each year, business administration or management is the top self-identified major. And according to the Bureau of Labor and Statistics, currently there are many opportunities for business graduates to find jobs with good salaries. The job market is expected to be strong for the near future.
What will it take to grow the curriculum from a two-year degree to a four-year degree program?
Certainly, new courses. The business faculty expects to add no fewer than 52 new upper-level courses that will include internships and professional development.
And faculty.
Hesston has a long history of competent business teachers. Loren Reusser has surely been one of the most enthusiastic. Even now, when he talks about teaching business courses at Hesston, he exudes excitement.
While a student at Bethel College, he began teaching at Hesston in the fall of 1958. He received an offer on Wednesday and two days later, Loren Reusser walked into a Hesston Academy classroom and began to teach. He had learned typing, accounting and shorthand at Bethel, so he was ready to assist Ellen Miller in teaching those courses.
In addition, he designed a new course, Introduction to Business, for both academy and college students. When Ellen Miller left for an overseas assignment, Loren Reusser was ready to carry a full load: shorthand, bookkeeping, accounting, beginning typing, typewriting for business and business machines. By the mid-1960s, the academy was smoothly transferred to the newly created public school district which became the Hesston area's high school.
About the same time, computers were beginning to transform the business world and consequently, business education. Hesston College saw it coming and offered its first computer courses in 1976. Of course, computers took business machines to a level few could have imagined. Administrative computer use dated from the late 1960s when the college leased computer time from Excel Industries to run payroll and registration. Leonard Lichti had trained for these tasks.
Data processes courses were offered in 1967 and the computer science department was established in 1971.
Bob Harder, hired in 1978 to teach aviation, was also instrumental in establishing Computer Science and Computer Information Technology programs. His teaching helped to grow the enrollment of business students taking computer courses from 24 in 1976-77 to a phenomenal 244 in 1981-82.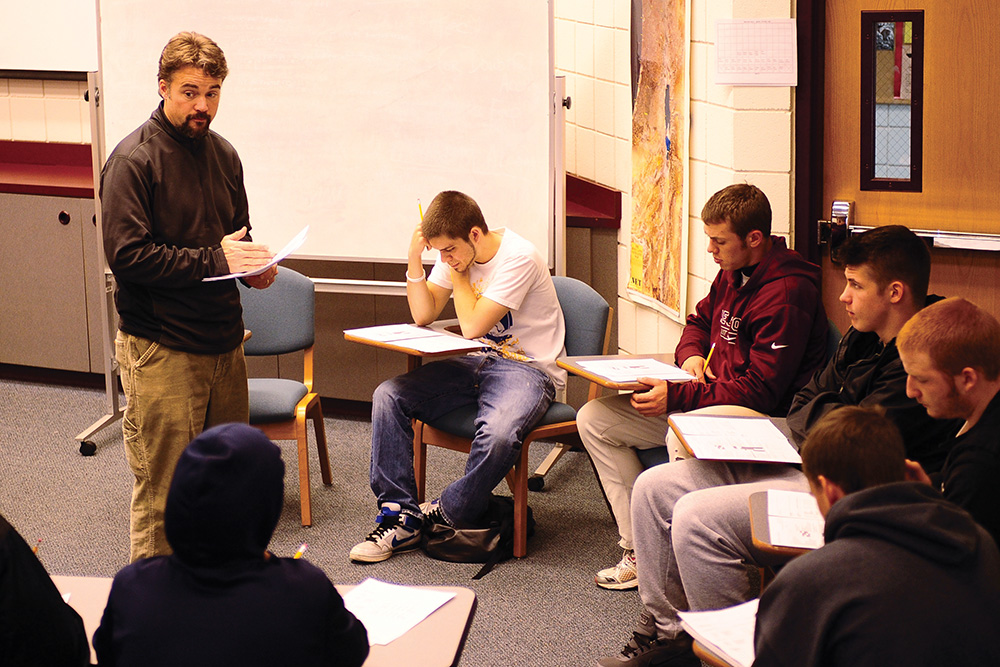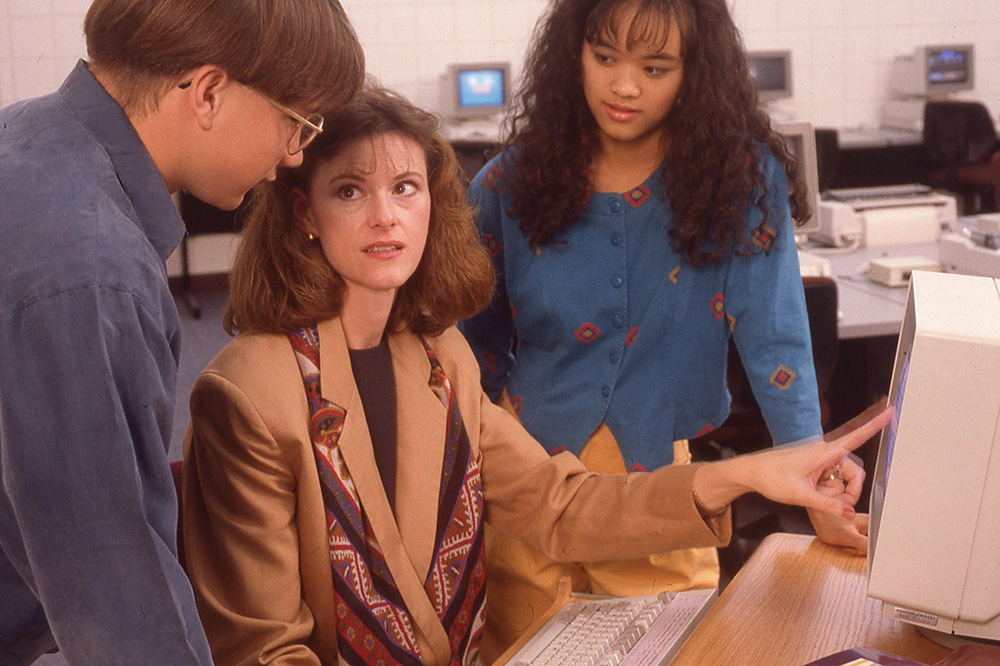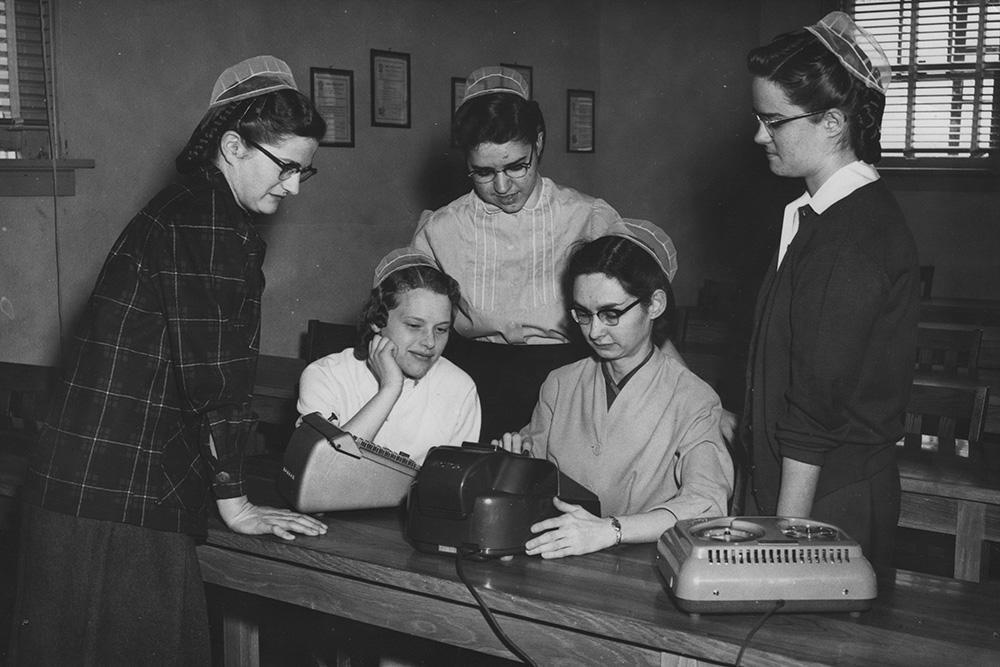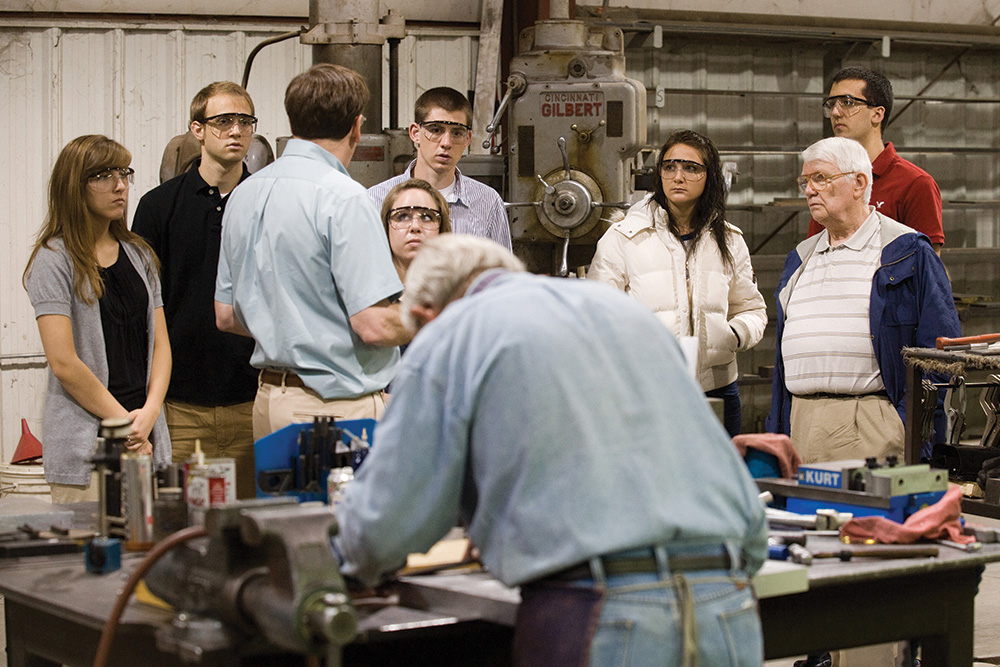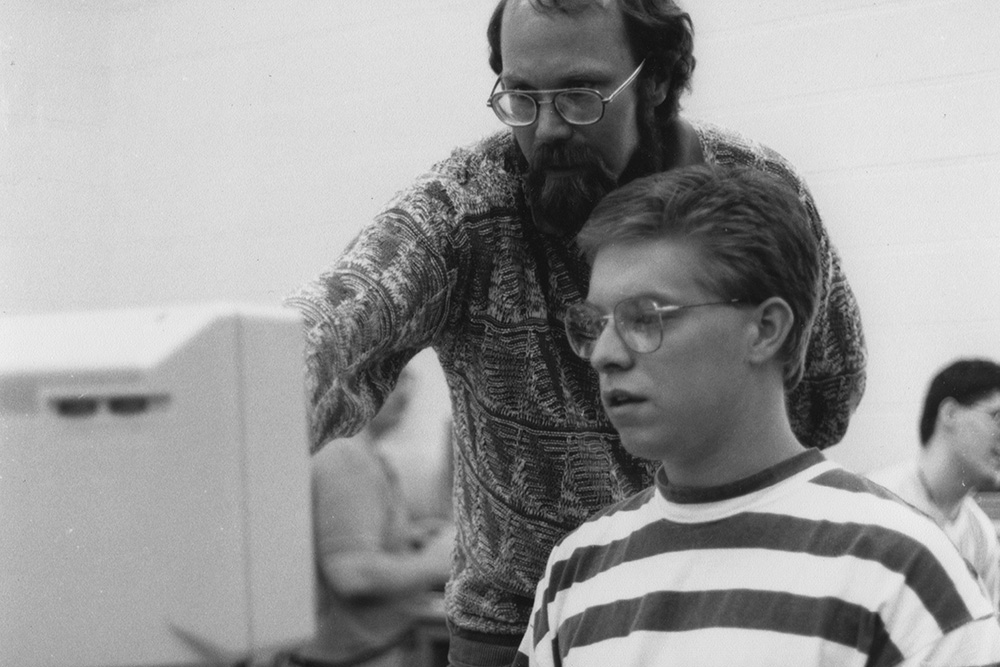 The decade of the 1980s could be called the age of computerization. In the fall of 1981, Dean Jim Mininger told faculty that "we must expand our definition of a 'literate person' to fit the 1980s and 1990s. Our concept of basic literacy must include visual and computer literacy." So the college would have to add "C" to the traditional Three R's of education—reading, writing and 'rithmetic.
The first computer was an IBM Display Writer, donated in 1982 to train business students. By December 1983, six instructors had achieved computer-related courses, conferences or on-the-job training. In the following years, grants funded technology upgrades.
President Kirk Alliman reported in 1985 significant changes in business education with the redesign of administration, medical and legal secretarial courses to train students "for today's modern electronic offices that are built around computers and information processing."
By the spring of 1988, Hesston College Today reported that business was the single largest program of interest on campus and that a quarter of the student body had chosen business as a major. Fifteen courses were offered ranging from business accounting to hotel/restaurant/institutional management.
The following year, 280 students were taking computer science courses and nearly every student was using a computer for other courses.
Vickie Andres was hired in the fall of 1978, joining faculty members Bob Harder, Carole Malin, Rachel Martin, Marcia Miller and Clark Roth '82. For sixteen years, Vickie Andres served as department chair overseeing the disaster management program and behavioral science programs.
Bill Mason, former student services director, drew students to his business marketing class. Field trips to thriving businesses were a cornerstone of his teaching. He also helped students discover their strengths and weaknesses by paying for personality profile testing that for some changed vocational direction.
Professors currently teaching business courses are Bob Harder, Vickie Andres, Leon Leachman and Debbie McAlister. Debbie McAlister recently joined the staff as a professor and director for business education and, along with Bob and Vickie and VP of academics, Brent Yoder, designed the new bachelor of arts in business education.
Hesston College business education has come a long way from a few courses designed primarily to prepare women for teaching or secretarial work to a full-fledged four-year program.
Despite President Smith's call for developing the "strongest possible junior college," Hesston College is now a widely recognized two-year college with three bachelor's degrees. The four-year business program began this fall, and an engineering program is on the horizon.