The 2020-21 season featured a very hectic school year for Hesston College as all fall sports were moved to spring of 2021 because of COVID protocols set by the NJCAA. All Hesston sports competed during the same season which created scheduling challenges for sports that share game and practice spaces. But the Larks were able to make the best of it! In a season that had a lot of cancellations, the Larks did their part by trying to remain as safe as possible and only had a few games cancelled or postponed. Overall it was a successful season for all of Lark Athletics as some of our programs had their best season in program history.
This season the Hesston Athletics has already started out hot as our Men's Soccer team holds a 3-0-1 record and is ranked 20th in the nation, this is the first time in school history that the Larks have been ranked. Our Volleyball team also secured their first win of the season when they defeated Bethel at home 3-0. We are excited for another outstanding season in Lark Athletics.
Volleyball
Kassidy Pflughoeft has been named interim head volleyball coach for the fall 2021 season. Pflughoeft takes over for former head coach Taylor Littleton. She was an assistant coach last season for the Larks as they went 1-22, 1-16 on the season.
Prior to Hesston College, Pflughoeft attended Barton Community College and graduated with her associate degree in science. She plans to continue her education in leadership and coaching. She has coached two seasons for Velocity Volleyball Club, and plans on coaching again this year.
Golf
Lowell Stephens takes over a Larks golf team that finished in sixth place in the KJCCC Conference tournament this past season. Stephens was a graduate assistant of the men's golf program at University of Indianapolis (Ind.) as he finished up his master's degree. During his time at University of Indianapolis, he has helped coach the team to eight team tournament wins and nine individual tournament wins. Stephens also coached three all-conference players.
Stephens played college golf at Central Christian College of Kansas (McPherson). He was a top four golfer all four years at Central Christian and is number two all-time in competitive rounds played. He earned one first place tournament finish as an individual and recorded many top 10 finishes.
Women's Soccer
Thomas Gaskell comes to Hesston College after spending last season as the head girls and boys soccer coach at Wichita South High School. He played collegiate soccer at Independence CC and Tabor College as a goalkeeper. He graduated from Tabor College in 2017 with a B.A. in marketing/management, then went on to coach at Wichita Independent for a season before taking assistant coaching roles at Coffeyville Community College and Tabor College. He graduated from Tabor College with an M.B.A. in the spring of 2020.
Thomas was born and raised in Swadlincote, England, and played semi-pro soccer for Gresley FC, where he was a goalie until he left for the United States in 2013. Gaskell takes over for Bryan Kehr, who transitioned into the athletic director position for the Larks last spring.
Cross Country
Hesston College Athletics revived their cross country program after a season hiatus as Joe Capuchino was hired as coach. Capuchino was a four year letter winner in cross country and a two year letter winner in track and field during his college career at Central Christian College of Kansas in McPherson. In 2016, Capuchino became the first athlete at Central Christian to qualify and compete at the NAIA National Championship. He also qualified for the NCCAA National Championship during the 2018 and 2019 seasons.
Under Capuchino's leadership, the Larks cross country team will look to return to being one of the top cross country teams
in the NJCAA.
Women's Basketball
Hesston College removed the interim tag from women's basketball head coach Michael Smalley's title on February 9, 2021. Under Smalley's guidance, the Larks finished last season with a 5-13, 1-9 record. Hesston recorded its biggest win of the season over KJCCC opponent Highland Community College in their final regular season game, with a final score of 58-44. With Smalley as full head coach the Larks will look to have an outstanding 2021-22 season.
Men's Basketball
Hesston also removed the interim tag from men's basketball coach Matt Hiebert's title on February 9, 2021. Hesston men's basketball finished with 6-12, 0-8 on the season, and recorded a season-long win streak of three games. The Larks will look to become one of the top teams in the KJCCC next season after bringing in a huge recruiting class.
Baseball records historic season
The Hesston College Larks baseball team finished their regular season with a 29-21 record, breaking the school record for wins in a season. The Larks also broke many team and individual records in Kyle Olson's first season as head coach. Eli Prine led the team in batting average (.356), RBI, hits, saves and ERA. The pitching staff was led in wins by Edgar Vera (5-4) and Devin Catlin (5-3) last season. Dawson Winter led the Larks in both doubles (14) and home runs (12). HC's 2021-22 team also shattered the record for home runs in a season, crushing 58 home runs.
New coaches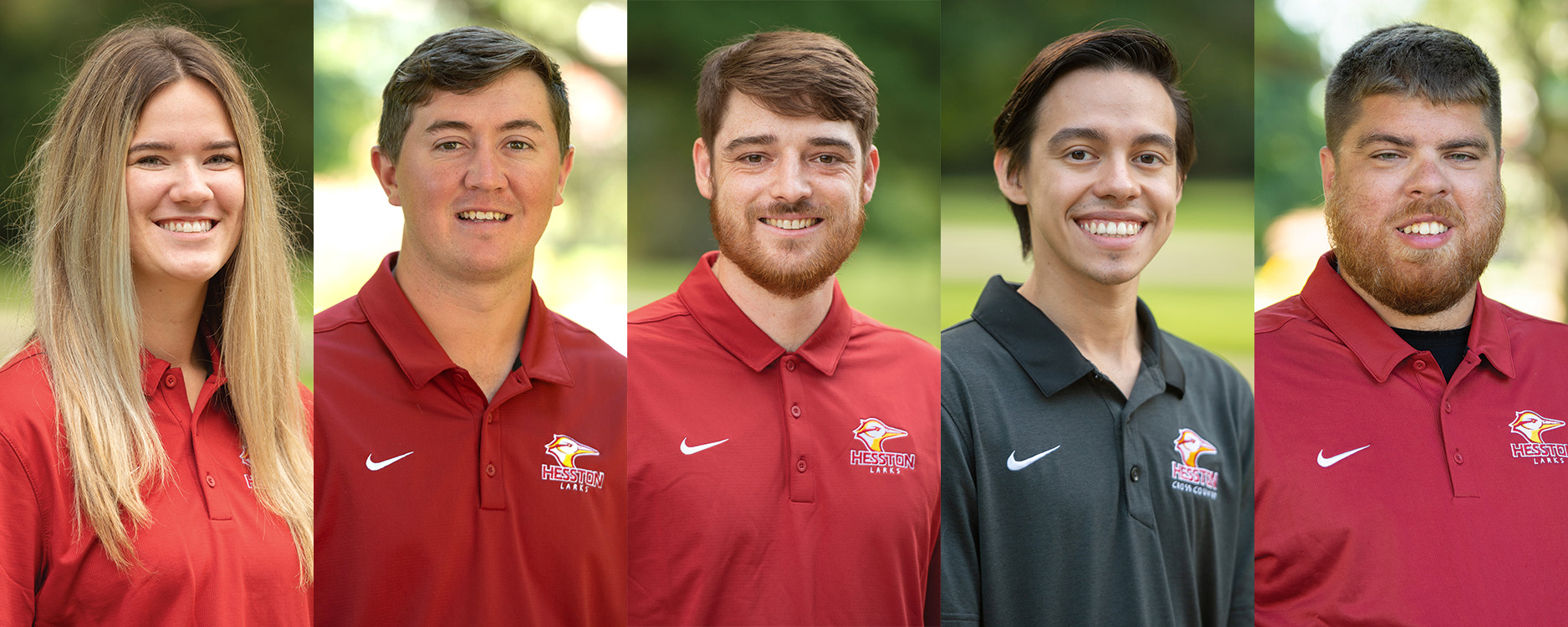 Kassidy Pflughoeft (volleyball), Lowell Stephens (golf), Thomas Gaskell (women's soccer), Joe Capuchino (cross country) and Max Switzer (flag football)