Hesston College's 111th Commencement features in-person and online ceremonies
Hesston College graduates received their diplomas and took pictures with President Dr. Joseph A. Manickam on the steps of Alliman Administration Center on the afternoon of May 1. The outdoor "walking ceremony" was the centerpiece event of an uncommon commencement weekend which featured a blend of in-person and online elements.
President Manickam conferred 46 bachelor of science in nursing degrees, four bachelor of science degrees to students majoring in Aviation Professional Pilot and 81 associate degrees. The graduating class of 2021 includes members from 16 different countries, U.S. territories and sovereign nations.
The 46 nursing program graduates were honored at an in-person "walking" Nursing Pinning ceremony on the steps of Alliman Administration Center on the morning of May 1. Graduates and family members arrived throughout the morning to receive their nursing pins. The traditional blessing of hands occurred at a private ceremony held on the morning of Friday, April 30.
Other commencement weekend events included several livestreamed music recitals and a virtual theatre showcase. On the evening of April 30, Bel Canto Singers presented an outdoor concert in the roundabout at the end of Mullet Drive.
The Aviation department honored the first graduating class to receive bachelor of science degrees in Aviation Professional Pilot. Roger Yoder '73, a Hesston Aviation graduate and college board member who recently retired after 35 years as a commercial pilot for American Airlines, delivered the reception address. Yoder encouraged the four members of the inaugural graduating class to be "a light to the world" as modeled by Jesus. Yoder gave each graduate a flashlight to help them complete early morning flight checks.
Watch a video of the full commencement exercise and other livestream events from the weekend at hesston.edu/commencement.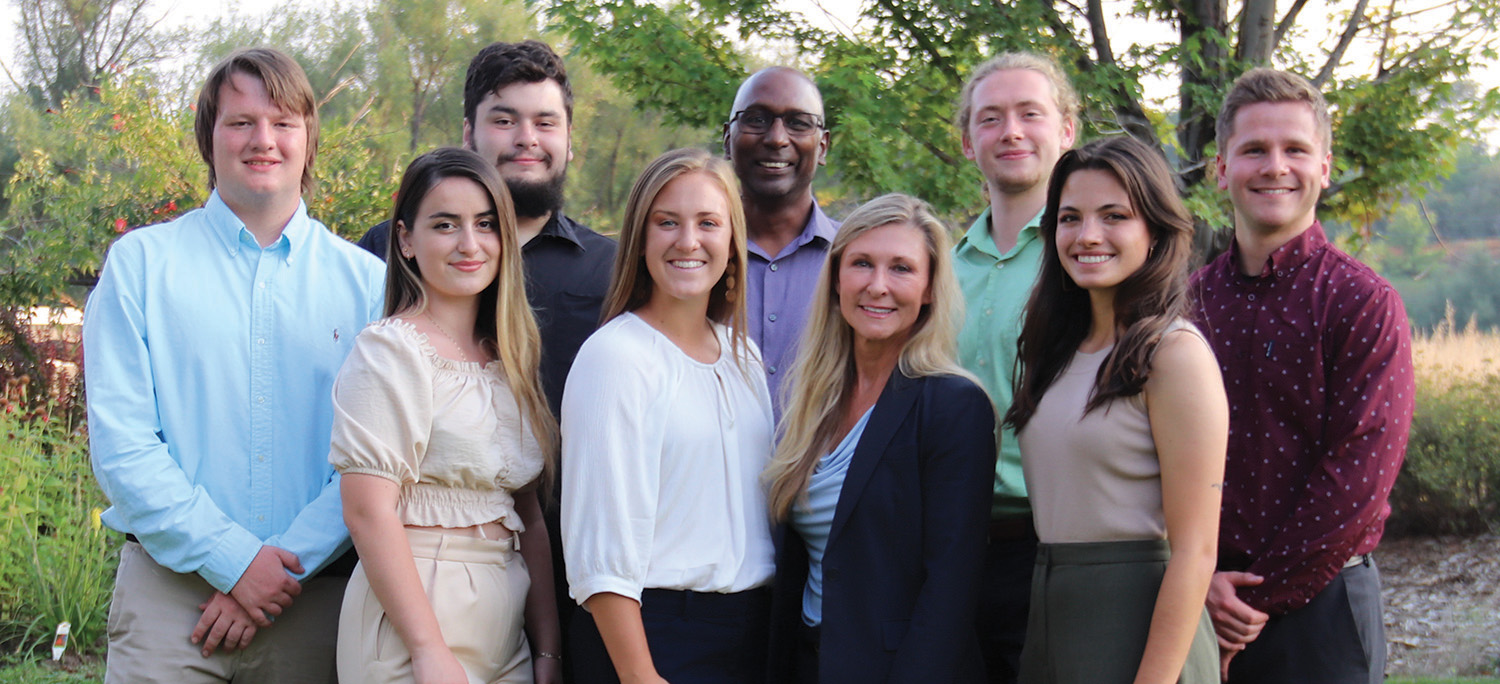 Hesston College School of Management welcomes first junior cohort
Hesston College welcomed a small but high-energy class in August 2021. Among the 129 new faces on campus, a group of seven students came together to form the first ever junior cohort studying in the Hesston College School of Management's bachelor of science in business management program.
Among those seven students, all started at Hesston College, and three students come from countries other than the United States.
During a challenging recruiting year for the college resulting in a continued downward trend in enrollment, the energy surrounding the new bachelor's degree program is one of several areas of excitement.
The bachelor's of arts in business management was approved by the Higher Learning Commission in early spring of 2021. Hesston's approach to business management education is unique in its emphasis on the greater good, collaborative approach and immersive experiences, including a full internship and group trips to domestic and international locations.