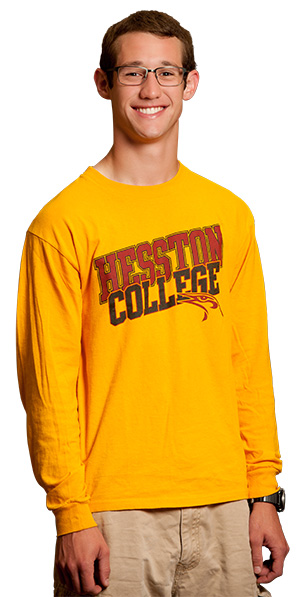 PARENTS: Dan '83 and Shelley (Martin) '82 Kauffman
MAJOR: Mechanical engineering
INVOLVEMENT: Tennis, Campus Activities Board, Student Ambassador, Bel Canto Singers, RA (2017-18)
Starting here
I chose to start at Hesston because I wanted to attend a college where I could make healthy friendships and solidify my faith, and I knew that Hesston could give that to me. My parents and oldest sister (Kayla (Kauffman) '14 Rudy) came to Hesston, so I visited campus periodically while growing up. Those visits introduced me to what Hesston has to offer. I also had heard stories of all the fun times and unique experiences, and that made me excited to try it for myself.
Experiential learning in the classroom…
During LarkFest 2017, I presented on my STEM project that involved the distillation of acetone to create mesityl oxide. The project was a good way of becoming familiar with operations applied in the lab, and it was also different than any other experiment I had performed. Instead of following instructions in a lab manual, we were looking for specific results, so creativity was essential. With some guidance from chemistry instructor Jim Yoder '62, my lab partner, Nick Eichelberger '17, and I produced mesityl oxide. I learned many operations such as soxlet extraction, rotary evaporation and fractional-atmospheric distillation which helped broaden my understanding and appreciation of chemistry.
For now, my future career goal is to find a job in mechanical engineering. I am open to see how God will use me. If I do not end up in the engineering field, I know I will be fulfilled wherever God puts me. Hesston is helping me realize that there are times when it is good to just go with the flow and see where God takes you, and that is how I want to live my life. Sometimes spur of the moment events create the best memories, and I am always ready to create a good memory!
…and beyond
My freshman year was one of the best years of my life. I not only had a wonderful academic learning experience, but I also learned about myself as an individual – who do I want to be? What steps do I need to take to make that happen? I became much more confident. My time at Hesston has also strengthened my faith. People come here from all over the world with different views on life, and this has helped me decide what I believe in and what I think is right. The greatest thing by far has been the relationships I have made with my peers. I believe God works in and through all relationships, and I love having God active in my life!
For my sophomore year, I am most looking forward to making new friends, especially within my mod. My freshman year more than met my expectations of what college should be like, and my expectations were very high. I am excited to see what fun and adventure the new year will bring!