The Be Greater capital campaign seeks to improve Hesston College's ability to nurture, serve and educate students, particularly those preparing for nursing careers in the new BSN program and those who participate in the college's athletic programs.
Hesston College entered the public phase of a $6 million capital campaign in May – the Be Greater Capital Campaign – to address facility needs in the nursing and athletic programs. The campaign opened in the summer of 2016, and administrators and development officers have been working for the past year to secure lead gifts. To date, $2.4 million in formal pledges have been secured with several other pledges or gifts in process.
The campaign will improve and add to facilities within the college's two largest program areas. In the fall of 2016, nursing students made up 41 percent of total enrollment, while athletes made up 40 percent of enrollment. Yet the spaces for these programs – Lemons Center for nursing and Yost Center for athletics – are not sufficient to accommodate current program needs and inhibit the full student experience.
The nursing and athletics portions of the project each carry a $3 million price tag and will focus on the renovation of existing facilities plus building expansion with new spaces to better serve students. The college hopes to secure all funding by December 2018 and begin construction in early 2019.
"We are excited to shift into this public phase and continue making progress toward our $6 million goal," said Mark Landes, vice president of Finance and Advancement. "Once complete, these projects will absolutely have a positive impact on the Hesston College student experience. Nursing and athletics represent a significant portion of the college's student population, yet our facilities, originally built to accommodate much smaller programs, are lagging the enrollment growth in these areas. We need to catch up, and these projects will fulfill critical needs to serve our students well into the future."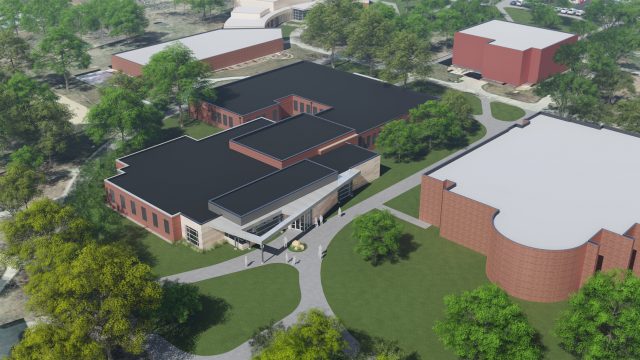 Nursing
Both portions of the campaign have received lead gifts in addition to other smaller gifts, and the nursing portion has been particularly successful so far. This issue of the Hesston College Today will focus predominately on the nursing portion of the campaign, while a future issue will provide more information on the athletics portion.
A building completed in 1952 – last renovated and added to in 1996 – is what has been the home to Hesston College Nursing for more than 20 years. The success of the nursing program and its continued growth over many years, has rendered the Lemons Center addition on the southwest end of Charles Hall, as inadequate to properly fit the program and address the needs of aspiring nurses.
The nursing program has a capacity of 112 student clinical spots each year – a maximum of 56 nursing student spots per class for each of two years (junior and senior). With program growth in pre-nursing, the college could have six nursing classes operating at once – four BSN classes and two RN to BSN classes.
Challenges for the nursing program include:
Dedicated in 1952, Charles Hall is the second oldest standing building on campus. The Lemons Center addition was constructed in 1996. Neither building has received updates in more than 20 years.
Limited space for simulation labs and other practice facilities. Lemons Center has only one lecture room with two simulation labs located in Charles Hall.
Commuting students have limited space during their down time when they are on campus all day. One small student lounge is too small for the number of students in the nursing program. Commuting students are often found studying or relaxing in the hallways between classes.
With program growth, some faculty members share offices with two, or in some cases three to an office in order to maintain the community that is embodied in the nursing program.
As the college expands the distinctive nursing program niche and seeks to meet the needs of commuting students and accommodate a growing number of residential students, the campaign will raise funding to renovate the existing nursing program space in Lemons Center/Charles Hall and build an addition to the existing facility.
Two lead gifts for the nursing portion of the campaign have been graciously provided by Carroll and Roberta Miller of Greeley, Colo., and Doug '62 and Connie Dorsing of Fruitland, Idaho. The donors and college administrators have agreed that the nursing building will be named in honor of longtime nursing director, Bonnie (Kauffman) Ac65, '67 Sowers, who stepped down from the role on June 30 after 37 years of leadership and more than 40 years as a faculty member in the nursing program. A 9,740 square foot addition that will be added onto the existing building will be named the Bonnie Sowers Nursing Center (new addition is lighter area in floor plan photo above).
Other campaign improvements will include:
Simulation lab
Student practice rooms
Fundamentals lab
Storage space
Faculty offices
Administrative suite
Student lounge
Study spaces
New restrooms
Some select areas within Charles Hall will also receive renovations and upgrades, which will benefit the natural sciences.
Cost breakdown
Nursing
9,740 square foot expansion…..$2,242,000
Charles Hall renovation…..$283,000
Furniture and equipment…..$200,000
Fundraising (9% of total)…..$275,000
Total Nursing expansion/Charles Hall renovation…..$3,000,000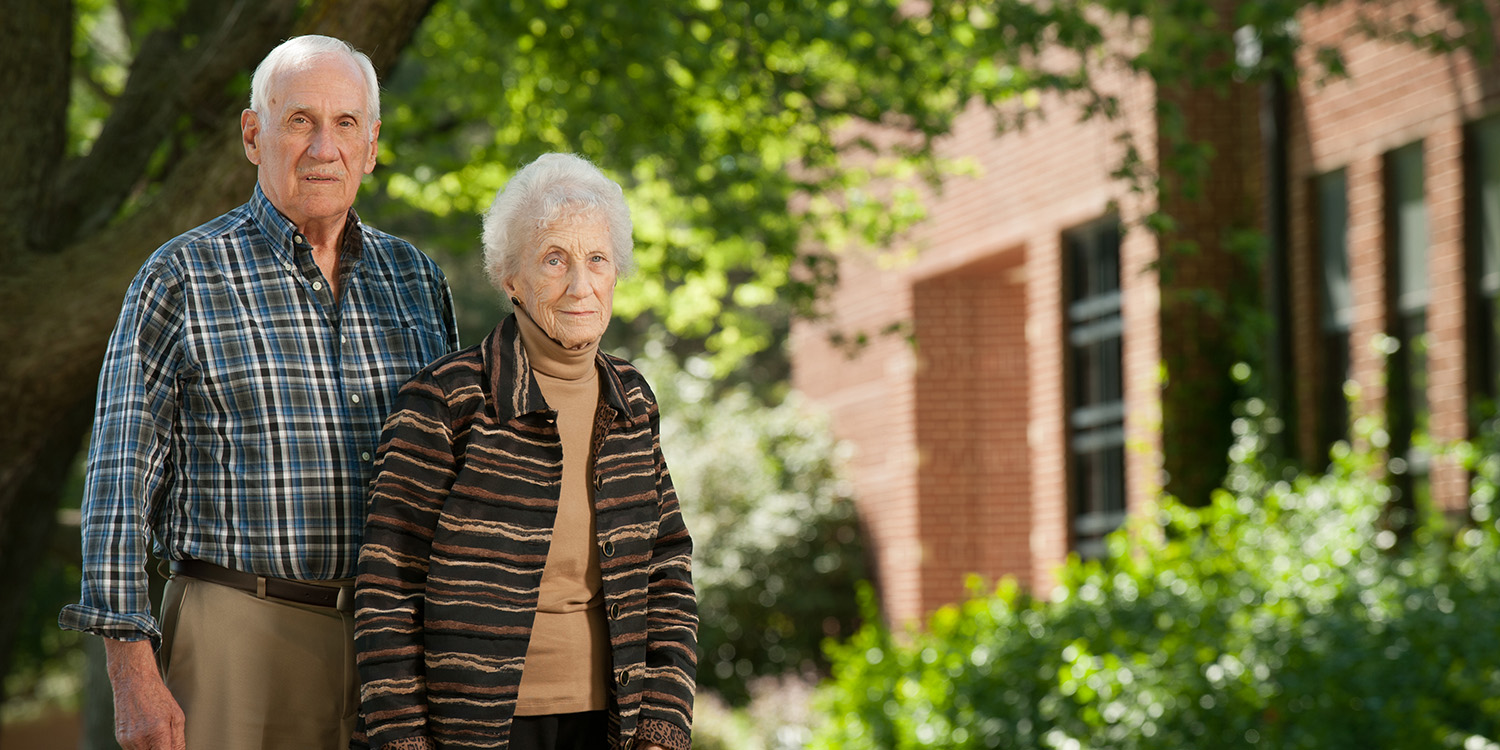 Meet the Millers
Deep commitments to the nursing profession and Mennonite organizations as well as proximity to Hesston College were the driving forces for a lead campaign gift from Carroll and Roberta Miller (Greeley, Colo.) (pictured at left).
While neither of the Millers are Hesston alumni, they are staunch supporters of programs in which they believe, and the nursing capital campaign is the perfect combination of their areas of interest.
"There were several things about this particular project that piqued our interest," said Carroll. "One of the connections is the college's proximity to Colorado's front range. The Mennonite colleges and Mennonite values are important to us, and Hesston is one of the closest Mennonite college to the Rocky Mountain region where we have lived for many years. We've also enjoyed a relationship with Hesston College, and our connections – particularly with Phyllis (Miller) '70 Weaver (development officer) and Howard Keim '72 (former president, 2005-16) – have been good. But probably the most influential factor is Roberta's passion for nursing and helping nursing students."
Roberta worked as a nurse for nearly 40 years in Colorado and Indiana, including director of nursing positions at Goshen (Ind.) General Hospital and North Colorado Medical Center (Greeley). She was also a vice president at NCMC prior to her retirement in 1995.
The Millers began their relationship with Hesston College nearly 20 years ago when they were on a trip in Paraguay with Mennonite Economic Development Agency. There they met a family whose daughter was getting ready to start at Hesston.
"They were an impressive family," recalled Carroll. "I knew they weren't making a lot as missionaries and we wanted to help them out. I called Hesston and said we wanted to help pay for their daughter's education. We wanted her to be able to leave Hesston debt-free."
After that experience, the Millers decided to keep helping Hesston College students by establishing a nursing scholarship that provides three non-traditional nursing students with financial assistance every year. Their passion for nursing extends beyond Hesston as they provide nursing scholarships at Goshen (Ind.) College and Aims Community College (Greeley) as well.
Their tie to Hesston College Nursing over the years also led them to become acquainted with Sowers and her equally deep commitment to the profession, institution and nursing students.
"Roberta and I are pleased to be a small part of helping to create a legacy to a person very deserving and who has given a lifetime of her time, talents and resources to helping educate people and promote the nursing profession," said Carroll.
The Millers attended the 2017 Nursing Pinning ceremony – the 50th for the program – and were touched by the sincerity and care for students they observed.
"The pinning was especially meaningful and the naming of the legacy to Bonnie was great to be a part of," said Carroll. "It [the building addition] will be a big plus for the future of Hesston College."