For the last five years, Hesston College has teed off to open Homecoming Weekend with the Homecoming Golf Benefit. Thanks to the generosity of Excel Industries, Inc., longtime friend and partner of the college, in sponsoring the event, and organizer Floyd Sowers '71, each year's efforts greatly benefit the Hesston student experience and the college's operations.
The 2017 benefit on Sept. 21, will honor three longtime Hesston College athletic department coaches and administrators – Joel Kauffman '80, Art Mullet and Gerry Sieber '64.
Registration for the event is $125 per person. The deadline to register is Sept. 18. Hole sponsorships are also available.
The fifth year for the event will also be marked with some changes as it will be the last year of sponsorship for Excel and for Sowers' efforts. It will also feature the company's newest product as an auction item – The Hustler®MDV utility vehicle.
The history between Hesston College and Excel dates back to the company's earliest days in the 1960s when Roy Mullet '61, Doug Stutzman '57 and social sciences instructor Cal Redekop became involved with the company as owners and employees. The Mullet family bought a partial interest in the company in 1961, and members of the family continue to be involved as owners and senior management, including Paul Mullet '70, president and CEO, Bob Mullet Ac63, '65, senior vice president and COO, and Luke Roth-Mullet '99, vice president of operations and continuous improvement.
Over the last 58 years, Excel has supported the Hesston Experience, including giving lead gifts on recent capital renovation projects. In gratitude for the company's faithful support, Hesston College named the campus entry, constructed in 2015, Mullet Drive in honor of the family and the company.
"We are grateful to Excel and the Mullet family for their commitment to the Hesston Experience and the college's mission over several decades," said Mike Zucconi, director of Development. "Their support encourages us in our work. We are also grateful to Floyd for his work in organizing a successful event every year."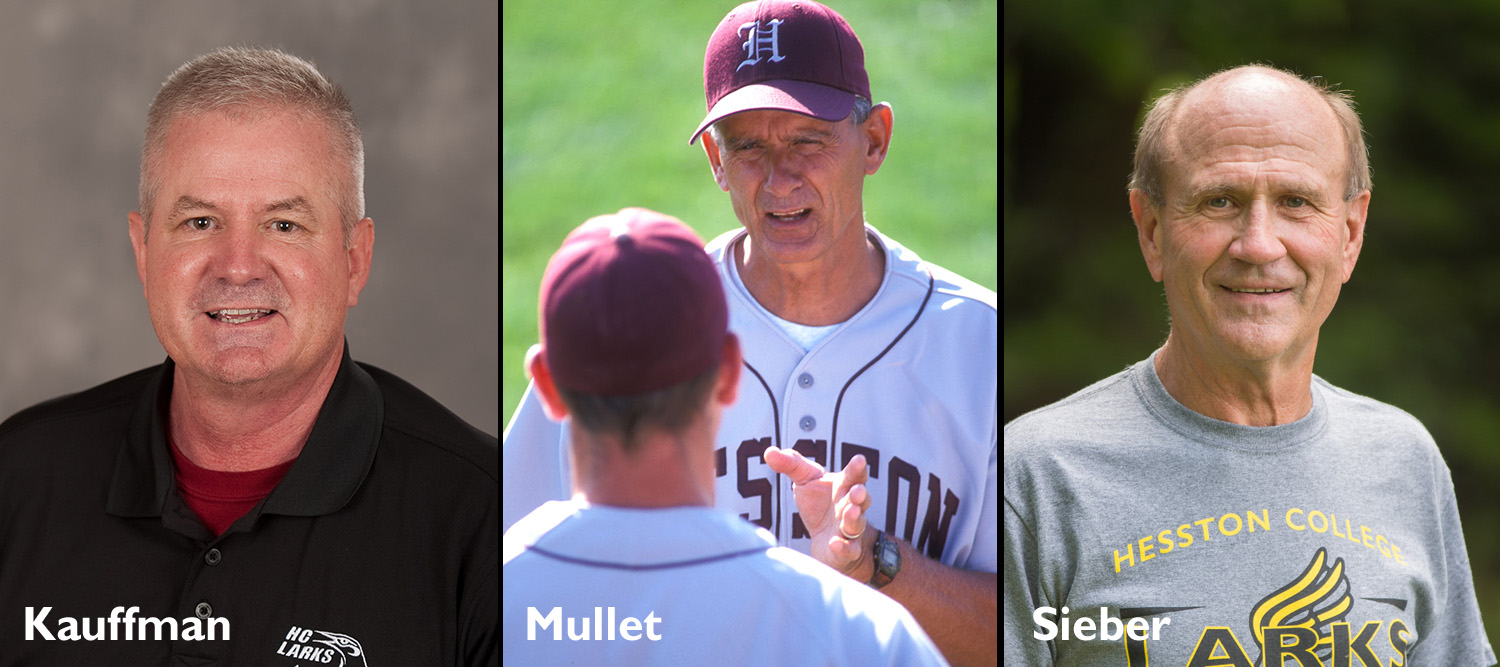 Joel Kauffman

27 years as women's basketball coach, athletic director, softball coach, instructor, Vice President of Admissions and Financial Aid, and Vice President of Student Life. He left the college in 2015.

Art Mullet

baseball coach and athletic director for 31 years, retiring in 2011.

Gerry Sieber

30 years to date, including men's soccer coach, track coach, and as cross country coach for the last seven years. Inducted into NJCAA Soccer Hall of Fame in 2015.