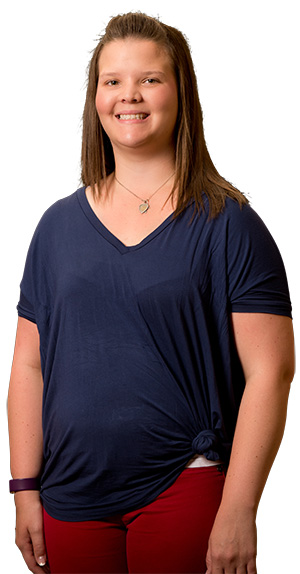 MAJOR: Nursing
CAREER: RN on medical unit
Growing up with leukemia
I was diagnosed with leukemia when I was three years old, but I don't really remember a lot from that time. I finished two-and-a-half years of treatments at the age of six. I was then in remission until two months before my five-year appointment in October 2004 when I relapsed. I did another two-and-a-half years of treatments, finishing in April 2007 before relapsing again two years later when I was 15 years old. My third round of treatments ended the summer before my senior year of high school. That time included 16 rounds of radiation, and we were hopeful it would be the end of treatments.
My journey with cancer led me to study nursing, and I'd like to work in pediatric oncology. My mom also influenced me to study nursing because of a heart problem she lived with from childhood. Needless to say, I spent a lot of my life in and out of hospitals.
Starting at the right time
I started the Hesston College nursing program in 2013 right out of high school. Four days before classes started, I had surgery. The recovery was more difficult than I anticipated, and I withdrew from the program four weeks later. I was barely passing my tests, and I thought maybe if I withdrew and recovered properly I would come back later. Instead I transfered to Bethel College (North Newton, Kan.) the next year and changed my major to social work. I attended Bethel for two semesters, but I knew social work wasn't what I truly wanted to do, so I came back to Hesston in the fall of 2015. I knew God was telling me to come back to Hesston and get my nursing degree. Two months before the start of the fall semester, my mom passed away. She was my biggest supporter and my best friend. The timing seemed wrong for me again, but the Hesston nursing faculty are so caring, supportive and loving. They help students get through rough times. I knew I would be ok in that environment.
Giving back
I grew up attending Camp Hope, a week-long camp for kids with cancer. It's a chance for kids whose lives are so different from that of others to feel "normal." I was a camper for 13 years, and it was always a highlight for me. To be a kid with cancer and to be around other kids who understand what it means and what you're going through is pretty incredible. Now I'm lucky enough to be able to give back to a place that was so important to me. This summer, I spent the week as a camp counselor and house parent. Maybe next year I'll even get to be the camp nurse. It's important to me to use my own experiences in my work and in relating to other people.