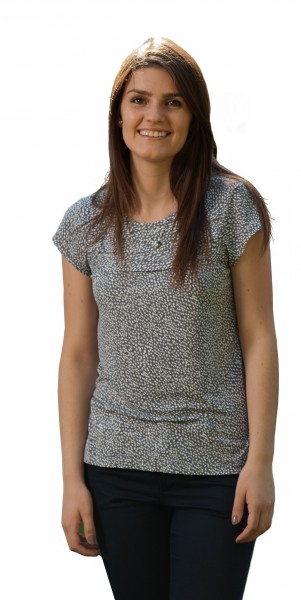 Parents: Mersim and Arta Xhari
Major: History
Choosing Hesston
I attended high school at Lezhë Academic Center, a school financed by Virginia Mennonite Missions with both Albanian teachers and American volunteer teachers. One of my teachers, Lisa Mast '02, told me about Hesston. I wanted to come to the United States for college because I wanted a better education than I would have received in Albania. I chose Hesston because it is a small Christian school with a warm community, and from what I had heard, they help international students succeed by being available in all areas of the student experience.
A Home away from Home
I have felt very welcome at Hesston from the first day I was on campus – especially when a faculty member gave me flowers. Everyone here is so welcoming and caring and it is the Christian environment that I was very eager to be a part of. Campus Worship, hymn sings and gathering together to have a good time are things that I really value about Hesston. People say hello when you meet them in passing, which is very different than where I come from.
Change and Exploration
At first, I was afraid of the things I didn't know about. I was nervous about the language and communicating with others, since English is not my first language. It hasn't been a big problem, but I have had a few incidents when I've felt uncomfortable in the conversation. I am the only student from Albania so I've had to figure out the differences myself and I haven't been able to just become complacent in only talking to others who speak Albanian, which has helped me improve my language skills.
Setting Goals
One of my future career goals is to work in international relations. During my senior year of high school I participated in Model United Nations which made me interested in the way countries communicate with one another.
What her Instructors say
"Simply put, Irena raises the quality of classroom interactions. With thoughtful questions and responses, Irena pushes herself to try to more fully understand her own and others' experiences. She has a sense of self and sensitivity to others' perspectives often uncommon in someone her age. Irena obviously brings a multicultural perspective to our class as well, and I value the vulnerability and eloquence with which she shares the complexities of such a perspective. Importantly, however, her sensitivity does not damper the flair and intelligence with which she confronts analysis. It is clear that Irena is deliberately pursuing her education." – Karen Sheriff LeVan, English faculty