Volleyball demonstrates competitive spirit
The Hesston College volleyball team battled many challenging teams this season under the guidance of fourth-year coach Jessica Cleveland '06, and came away with a strong winning record of 21-8. Cleveland assembled a talented and athletic roster for the 2014 season that proved it could compete with the region's best teams, some of whom were ranked nationally. A loss at seventh ranked Cowley County Community College (Arkansas City, Kan.) brought an end to an 11-match win streak, the longest since an 11-match win streak in 2006. The Larks' season came to an end Nov. 8 with a loss to Fort Scott (Kan.) Community College in the regional tournament.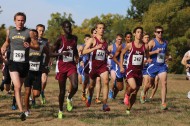 Men's cross country has consistent season
The men's cross country team competed consistently during the 2014 season. Muoch Keak '16 (Lincoln, Neb.) and Ryan Dungan '15 (Wichita, Kan.) were the top Lark finishers at every meet, and both competed at nationals Nov. 8 in Lubbock, Texas. Out of 256 runners, Keak finished 113th and Dungan finished 134th. Nine Lark runners represented the men's team during the season.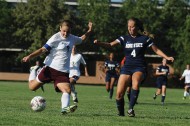 Women's soccer relied on sophomores for leadership
The women's soccer team looked to a strong group of sophomores for leadership during the season, and the challenge was enthusiastically accepted. Megan Baumgartner '15 (Hesston, Kan.), Dusti Diener '15 (Harrisonville, Mo.), Cadie Kiger '15 (Jeffersonville, Ind.) and Rachel Short-Miller '15 (Bellingham, Wash.) were often instrumental in Larks victories, while Skylar Tripp '15 (Craig, Colo.) provided solid protection in the goal. The Larks ended their season Nov. 1 in the first round of playoffs against Hutchinson (Kan.) Community College. They finished with a 4-10-3 record.