"I say hey, wave to the world, this is my day…this is my time, I'm going to shine."
For singer/songwriter Aaron Young '12, the lyrics from his first single, "Say Hey," become more applicable every day. Since graduating from Hesston and returning to his hometown of Kansas City, Mo., Young has brushed elbows with some of the biggest names in music and made great strides on his journey of making it in the music world.
In a little more than two years, Young, known by his stage name AY MusiK, has competed as a contestant on FOX's The X Factor, opened for performers including T-Pain and Aaron Carter, released one album, Above and Beyond EP, with a second, FareWell, slated to be released January 1 and performed on more than 100 college campuses with his innovative power system as part of his #BatteryTour. In November, he appeared on MTV's reality show MADE as a premiere concert band in the "It Girl" episode.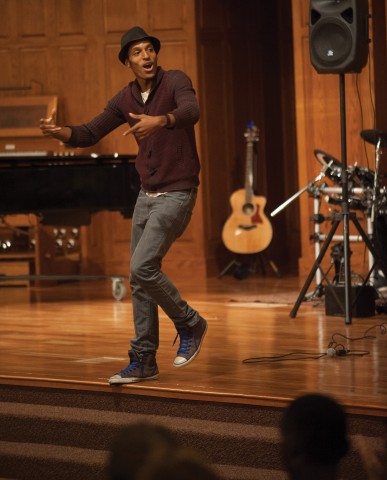 In short, Young is achieving something he has always dreamed of – reaching people with his message of "be true to who you are."
"The biggest journey I've had has been accepting my own music," said Young. "I didn't have the courage or complete confidence to do that for a long time. I thought people wouldn't like me because I'm a rapper. Once I started being genuine to who I am, I saw people respond in a great way. I think I'm onto something good."
In a industry that reflects ever-changing trends and pressure to conform to popular standards, Young refuses to compromise himself and his message just to make it big. His songs resound with positive messages of "be you," "believe in yourself" and "never give up."
So far, his high-energy personality and imaginative techniques have been enough to get him noticed.
Young's success hasn't come by chance, but by acting on opportunities, taking risks and careful networking, he says. For his most recent endeavor, the #BatteryTour, Young incorporated two pre-existing technologies into one that doesn't require electricity, allowing him to perform live anywhere and at any time. Many of his connections stemmed from being discovered while performing on street corners and in parks.
As he rises in the ranks of the music world, Young credits his years at Hesston as the most important in his musical growth.
Young had only just begun exploring his musical talents when he transferred to Hesston from the University of Missouri-Kansas City in the fall of 2010. He was recruited as a member of the men's basketball team, but with a desire to launch a music career, he also found time to be a part of the Hesston College Chorale, take private voice lessons with Matthew Schloneger '92 and create new music.
"Hesston was the single most significant move in my career to date," said Young. "It's there that I grew as a writer and musician. My Hesston Experience gave me material that shaped my music. Some embraced it, others didn't, but it helped prepare me for the realities of the music industry. People can do whatever they set their minds to. I hope I'm living proof of that."
Young's music and videos can be found as AY MusiK on YouTube and wherever digital music is sold.
Young's music and videos can be found as AY MusiK on YouTube and wherever digital music is sold.