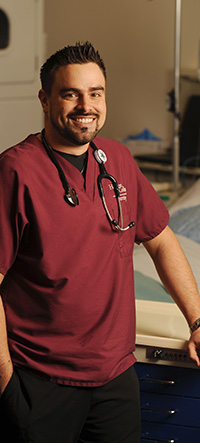 Chad Jones '14 (Halstead, Kan.) realized he had to make a life change when he found himself in the hospital with health concerns due to long work hours and job stress. He knew his situation was critical, yet he was frustrated by the grim prognosis he received.
"I didn't appreciate the way I was treated in the hospital," Chad said. "My nurse told me I was going to die, so for a few days I believed it. Then I realized that I just had to change my lifestyle."
Chad bounced around from job to job for more than 10 years after graduating high school, not really knowing what he wanted to do. Though he was always successful in his jobs – topping out the pay scale or earning management status – he was never really fulfilled.
Shortly after returning to his construction job from his hospital stay, Chad was laid off. Taking his unemployment as a sign to begin making that necessary change, he decided to start nursing school – taking prerequisite classes while working to support his family.
"I didn't want other people to be treated the way I had been in the hospital," he said. "I decided that by becoming a nurse, I could make a difference."
Chad knew about Hesston's nursing program from its local reputation and friends who had graduated from the program.
"Hesston looks good on paper with the high pass rate, and its reputation is well known," he said.
He applied to three nursing schools, including Hesston College, and was placed on a waiting list for all of them. He reapplied the following year and was accepted into Hesston's program.
That's when he began to realize there was more to the program than what he read in promotional materials.
Chad applied for a CNA position at the Axtell Clinic in Newton, Kan., and when the nurse manager saw he had applied to Hesston's nursing program, he landed the job.
As he progresses through the program, Chad knows he is finally doing something he loves.
"It has not always been easy, but I have an amazing group of people personally and at Hesston – both with my classmates and instructors," he said. "I read about the personal attention instructors offer, but until I was receiving that help, I didn't realize how important it was. My instructors offer help before I have a chance to ask for it. That alone makes the challenges well worth it."
Despite the program's outstanding reputation and outcomes, Chad says he has received more than he expected.
"The people are what make Hesston College Nursing so successful. Instructors and even the staff in financial aid and the business office that you don't see every day give you the tools you need to succeed. There is so much more to the program than what is on the brochure."