Awards for outstanding care and patient satisfaction line bookshelves and walls at the Progressive Home Health and Hospice corporate office in Wichita, Kan. Glimpsing the drive and professionalism of president and CEO Dorothy (Gathungu) '89 McPherson, it's no wonder – she's not one to back down from a challenge. In fact, she's likely to search for new challenges, which explains the success of her 18-year-old business.
Providing the perfect symmetry of a nursing degree and a business degree, Progressive is a testament to the passion with which Dorothy approaches life. It's also a far cry from anything she imagined when she arrived at Hesston College from Nairobi, Kenya, in the spring of 1984. Yet she used the obstacles she encountered along the way as an opportunity to learn, improve and, ultimately, thrive.
"I can't explain how all of this came about," Dorothy said. "It has all just been a part of God's plan. But the good thing about the journey of life is that it always makes you stronger, smarter and better."
Dorothy's plan started to unfold when she was a young adult working in a bank in her East African nation's capital city. She wanted to come to the United States to study business and began searching for colleges. Along with Hesston College, she also applied to Hutchinson (Kan.) Community College and a college in Buffalo, N.Y. International admissions counselor Dave Osborne Ac64, '66 was quick to reply to her Hesston College inquiry, and before she knew it, everything fell into place for her to start at Hesston.
After a while, paying for school became difficult, and Dorothy left Hesston without graduating. She remained in the area and began working as a CNA, a choice that inspired her to return to Hesston in the nursing program.
"Hesston's nursing program was exactly what I like – it was a challenge," said Dorothy. "The instructors were no-nonsense and made me work, but they also coached me, encouraged me, supported me and made me feel at home."
When finances again became tight, nursing program director Bonnie (Kauffman) Ac65, '67 Sowers made a phone call to Via Christi St. Francis Hospital in Wichita and found a scholarship for Dorothy with a commitment of one year of work following graduation.
"Everything worked out," Dorothy said. "I was able to finish school, and when I graduated, I knew I had a job waiting for me."
Dorothy worked in the medical-surgical unit at St. Francis before moving on to Via Christi Riverside Hospital (Wichita) to a position in the intensive care unit. After her first daughter was born, she began working part time in home health, and the seeds of her own business venture were sown.
"I worked for a small, privately owned home health company, and I realized if they could make it work as a business, I could, too," she said.
Dorothy partnered with her husband, Shawn, and a friend, who was also an R.N., to found Progressive Home Health and Hospice in 1995. Shortly after establishing Progressive, Dorothy recognized the potential for success and earned a bachelor's degree from Tabor College (Hillsboro, Kan.) in business administration in order to more efficiently deal with the company's business aspects.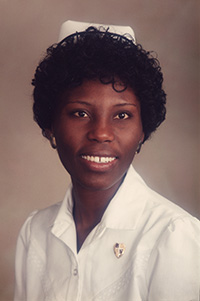 Progressive started small, working primarily in home health care for patients with acute conditions who had recently been released from the hospital. In 2002, they added pediatric home care, followed by hospice care in 2005. Over the years, the company has grown to include more than 200 employees working from seven locations – three in Wichita and one each in Newton, Kan., Hutchinson, Kan., Salina, Kan., and Omaha, Neb.
The company's rapid and successful growth is a reflection of Dorothy's own competitive nature and drive for success.
"After I master something I need a new challenge," she said. "There is also a large demand for these kinds of services as more people prefer to stay in their homes instead of going to a hospital, and the competition is plentiful."
Looking back on all the surprises and opportunities she has encountered along the way, Dorothy is grateful for her start at Hesston in a program that set high standards and demanded the best.
"I believe that if you give the best and strive for excellence all the time, you can go anywhere," she said.