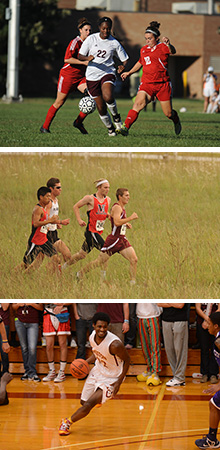 Fall break soccer matchups split
The Hesston College men's and women's soccer teams traveled to sister institutions, Bluffton (Ohio) University and Goshen (Ind.) College, during fall break Oct. 13 and 14 for friendly competition with the schools' junior varsity teams.
Both the Lark men and women split their games with their competitors. The women lost to Bluffton's JV team and defeated Goshen's JV team while the men defeated Bluffton and lost to Goshen.
Cross country keeps steady pace
The men's and women's cross country teams, coached by veteran Hesston College coach Gerry Sieber '64, proved to be steady competitors during the 2013 season, as has been the case since the program's inception in 2011-12.
The women's team was led by four returning sophomores and strengthened by three freshman. The men's team looked to five returning sophomores for leadership and four freshman rounded out the team.
Both teams traveled to Colorado during fall break Oct. 11 to 15 for altitude training, team building and sightseeing.
Men's basketball envisions bright season
Sixth-year men's basketball coach Dustin Galyon '04 is eager to unleash a roster he expects will bring excitement and energy to Yost Center. Nine new faces complement five returners from last year's 21-win team that fell an overtime period short of the Region VI championship game.
The Larks feature a stout schedule, including eight non-region contests versus in-state NJCAA Division I opponents and a 10-game Region VI slate that features traditional powers Johnson County CC (Overland Park, Kan.) and Brown Mackie College (Salina, Kan.), last year's Region VI tournament winner.
"This group has the potential to be the best defensive and rebounding team that I have ever had," said Galyon. "We have an incredible non-region schedule, and I believe we'll be a tougher and more focused team because of it."