As a mediator and international peacebuilder, John Paul Lederach's '75 professional career has been about having and learning from important conversations around the globe. Conversations that he says began at Hesston College.
Just days before arriving in Hesston to resource his alma mater as homecoming keynote presenter, John Paul Lederach '75 witnessed the signing of the Colombia peace accord – an agreement that ended a 52-year war.
It was an extraordinary moment for Lederach, for the Colombian people and for people around the world to see that even a half century of unrest and violence could arrive at a point of reconciliation.
Lederach has built a career around the very thing Colombia is experiencing – peacebuilding and conflict transformation. But in a world that is so fragmented and divided, how does one even begin the process for moving in that direction?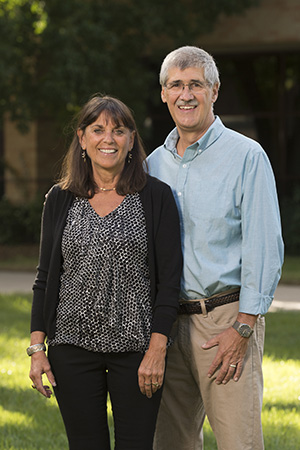 Lederach's theory is pretty basic.
"I think it has a lot to do with the ability to have good conversations," he said.
As a mediator and international peacebuilder, Lederach's professional career has been about having and learning from important conversations around the globe. Conversations that he says began at Hesston College.
Lederach pinpoints a Hesston College January term trip to the Middle East as significant to his early professional development. The group, led by Dave Osborne Ac64, '66, traveled through Lebanon, Egypt, Jordan, Palestine and Israel, visiting refugee campus and discussing with people the challenges and conflicts in the region.
"That trip sparked a deep interest in pursuing language, peace related work and international understanding," Lederach said. "It was the beginning of what has become an abiding curiosity in the arts, literature, social change and peacebuilding that have marked significant portions of my work and writing."
Courses at Hesston in Anabaptist history and the work of the church inspired Lederach to do an assignment following graduation with Mennonite Central Committee's Pax program, which was established as alternative service to the military draft following World War II. Lederach found himself in Brussels, Belgium, where he worked on a housing initiative with university students from Africa and Latin America, and spent part of his time responding to problems with cross-cultural and ethnic threads of conflict.
"In those years, I really explored what [Anabaptist] peace theology means and began to look for ways that I could study this more seriously," Lederach said.
After a few years of service abroad, Lederach earned an undergraduate degree from Bethel College (North Newton, Kan.) in history and peace studies, and eventually a Ph.D. in sociology with a concentration on social conflict program from the University of Colorado (Boulder).
Over the course of his professional career, Lederach has led and consulted in good conversations in more than 25 countries, including peacebuilding efforts in Somalia, Northern Ireland, the Philippines, Tajikistan and Nepal, and most recently, in support of the High Commissioner of Peace, one of the chief negotiators of the Colombian peace agreement. He's also the author or editor of 18 books and six manuals, including When Blood and Bones Cry Out: Journeys through the Soundscape of Healing and Reconciliation (Oxford University Press, 2011), co-authored with his daughter Angie Lederach '04, a Ph.D. student in anthropology and peace studies at Notre Dame (Ind.) University.
Lederach founded the Center for Justice and Peacebuilding at Eastern Mennonite University (Harrisonburg, Va.), where he was professor of conflict studies and sociology from 1990 to 2001, and is now professor of international peacebuilding at Notre Dame's Kroc Institute for International Peace Studies, one of the world's leading centers for the study of the causes of violent conflict and strategies for sustainable peace. He is also a Senior Fellow at Humanity United, a philanthropy dedicated to peacebuilding and ending modern day slavery.
In his travels around the globe, Lederach's wife, Wendy (Liechty), former staff, Lederach, who started and managed a Ten Thousand Villages store in Harrisonburg, Va., has actively participated in locations where he has been engaged in peacebuilding with a deep interest in supporting women's fair trade groups, most recently with Nepalese artisans involved in jewelry making. Wendy provided most of the photography of Lederach's recent book, Memoirs of Nepal.
John Paul and Wendy met at Hesston College when Wendy was a resident director, and they remain closely connected to the Hesston community through Wendy's sister and brother-in-law, Janie and Bob Ac63, '65 Mullet of Excel Industries.
Conflict transformation and peace work is not something that works only in areas of extreme violence and unrest, but as Lederach reminded the audience at his homecoming chapel presentation, it's completely relevant to any individual in everyday life.
"Commit yourself to reach out to another person who is outside your normal bounds of contact and conversations," Lederach challenged. "I think it's at the core of 'start here, go everywhere.' Why not have the curiosity to adventure out to a conversation with somebody who is different? I think that simple thing is what this country needs."
Handling issues of diversity or disagreement with respect, courage and love are the key starting elements to having good conversations.
"There is no place you will go in this world today that you can remove yourself from the God-created diversity of this wonderful place we have been gifted," Lederach said, "so why not learn to have a decent conversation?"
John Paul Lederach's homecoming presentations are available to watch online