A dual alumna of Hesston High School and Hesston College, Dr. Herrera presented in a medical professionals Go Everywhere Seminar at Homecoming 2016 along with other dual alumni, Dr. Greg Sawin '93 and Dr. Josh Suderman '01.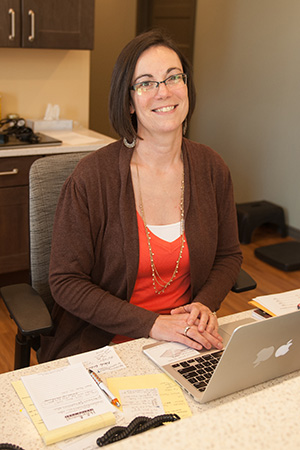 When patients walk in the door at Great Plains Family Medicine (McPherson, Kan.) they may be greeted at the front desk by Andrea (Weaver) '97 Herrera, who is busy answering phones, sending faxes and scheduling appointments. When they go back to see the doctor, it will be Dr. Andrea Herrera, a family medicine physician and owner of the direct primary care clinic.
The direct primary care model is born from the fact that countless patients don't have access to doctors or can't afford to use their health insurance.
"When I worked at the hospital I saw a lot of people who did not come in as often as they needed to because they couldn't afford it," said Herrera.
Herrera did not always dream of working in family medicine. She started at Hesston College with hopes of discovering ancient secrets and becoming an archeologist. With a variety of experiences leading her to where she is today, history class is not one of them. Herrera recalls her Introduction to Chemistry class with Jim Yoder '62 as surprisingly appealing, and it was the end of her junior year at McPherson (Kan.) College when she realized medicine was truly the path she longed to pursue.
While considering a variety of medical professions, Herrera set her heart on family medicine after completing a six-week summer mentorship program through the University of Kansas Medical Center (Kansas City) with her family doctor in Moundridge, Kan. In just six weeks she realized she had a passion for treating entire families, but it wasn't until a conversation with a patient 15 years later that Herrera realized she could take that passion one step further through direct primary healthcare.
With a different philosophy than traditional medical care, direct primary care keeps primary care costs down by, instead of accepting insurance, charging patients a monthly fee ranging from $10 to $100 depending on age. This monthly fee means no copayments, no expensive premiums and no complicated claims.
So what does the monthly fee cover?
Dr. Herrera's patients have unlimited access to her and her nurse, Hesston alumna Catie Monroe '10. Not only can patients go into the office, Dr. Herrera has the luxury of emailing or texting, video chatting or even making house calls. The benefits don't end at chatting with Herrera. Appointments and any procedure that can be completed in the office including tests, EKG's, breathing tests and stitches are all covered by the monthly fee. Herrera and Monroe also run an in-house pharmacy, allowing patients to receive generic medications at wholesale prices.
"When I was working at the hospital, it was very disheartening to hear I needed to see more patients because the hospital needed to make more money," said Herrera. "I wanted to spend more time with my patients."
Herrera noted the average patient load for a Kansas doctor is 2,000 to 3,000. As a hospital physician in rural Kansas she was seeing 1,200 patients. At her new clinic, she has a patient cap of 600, so on average, she sees three to eight patients a day, spending at least 30 minutes with each.
With direct primary care, Herrera feels like she has finally found her purpose in medicine.
"I want to be able to help the world in some small way, and Hesston College gave me an attitude of service," she said.